AwardWallet receives compensation from advertising partners for links on the blog. Terms Apply to the offers listed on this page. The opinions expressed here are our own and have not been reviewed, provided, or approved by any bank advertiser. Here's our complete list of Advertisers.
Aeroplan partners with a seemingly endless supply of other airlines, both within Star Alliance and outside of it. Plus, paying just 5,000 additional miles lets travelers build a stopover into a journey, potentially turning one trip into two. These two program features make Aeroplan a standout booking option for award flights.
Better yet, Aeroplan offers travelers access to award space that other Star Alliance programs do not. Specifically, we notice that Aeroplan members enjoy expanded access to Singapore Airlines' business class award space compared to other partner airlines. That's something other airlines can't boast.
Aeroplan's Exceptional Singapore Airlines Award Space
Historically Singapore Airlines has been fairly stingy in releasing premium cabin award space to partner airlines. The fact that Aeroplan even has access to these award seats should be a cause for celebration.
While not every single date will have award space, it didn't take much effort to find available seats on a variety of different Singapore Airlines routes originating in the United States.
East Coast
Singapore Airlines operates the longest flight in the world between New York and Singapore. Singapore used to only operate flights to Newark (EWR), but now it flies directly to both Newark and New York – JFK. Travelers can often find award space for two or more travelers on both routes via Aeroplan:
Singapore Airlines operates a separate, fifth-freedom flight between JFK and Frankfurt as well, which also offers multiple award seats for booking (and at a fantastic price!):

Central U.S.
Not located in the Northeast? Don't fret. Plenty of options exist outside of the New York City area. Award space exists out of Houston, as well.
Notice that the above award routing is direct, rather than nonstop. Singapore Airlines operates several fifth-freedom flights — including one between Houston and Manchester U.K.
This particular routing to Singapore would be all on the same plane and have the same flight number. However, the flight stops in Manchseter for about an hour and a half before continuing on to Singapore.
This award would be ideal for someone wanting to maximize their time in Singapore Airlines business class
West Coast
Not to be left out, travelers located on the West Coast enjoy the opportunity to book Singapore Airlines award flights via Aeroplan, too. For example, from Los Angeles, travelers can use Aeroplan miles to fly directly to Tokyo on yet another fifth-freedom flight offered by Singapore Airlines for 75,000 Aeroplan points in business class:
Similar to the example from Houston, one could fly from Los Angeles to Singapore through Tokyo, too:
Thanks to Aeroplan's unique program feature, travelers could book flights on Singapore Airlines from Los Angeles to Tokyo, enjoy a stopover and spend time in Tokyo, and then fly Singapore airlines again from Tokyo to Singapore. This journey would cost just 92,500 Aeroplan points per person — just a 5,000-point premium to add on another destination.
When to Book Singapore Airlines Awards Through Aeroplan vs. KrisFlyer
Singapore Airlines partners with nearly every transferrable points currency, making it easy to accumulate and book Singapore Airlines awards through KrisFlyer. However, booking Singapore Airlines award flights via Aeroplan offers a few distinct advantages.
Aeroplan Offers Lower Points Cost
Aeroplan's award chart blends zone-based and distance-based features together, which sometimes gives it an advantage over other programs for award pricing. Through Aeroplan, a flight from Singapore to New York costs 87,500 points in business class:
Meanwhile, booking the same flight through Singapore Airlines' own award program would cost 111,500 miles, or 27% more!
Aeroplan Offers Stopovers on One-Way Awards
As discussed earlier, Aeroplan allows stopovers on awards for only 5,000 additional points. Turning one trip into two becomes very easy thanks to this program feature.
Other airlines offer similar kinds of options, but not every program offers the same access to business class award space on Singapore Airlines.
Aeroplan Offers Expanded Partner Airline Network
Compared to Singapore Airlines (and virtually every other airline award program), Aeroplan boasts an unbelievable list of airline partners. Plus, these partners are available to mix and match on awards, such that essentially every destination imaginable can be reached using Aeroplan points.
Singapore Airlines flies to a lot of destinations and is a member of Star Alliance just like Aeroplan. But, Aeroplan's 23 non-alliance partners expand the possible award route network beyond what KrisFlyer can offer.
How to Earn Aeroplan Points
Luckily, Aeroplan partners with multiple transferrable points ecosystems. This allows travelers to transfer from multiple different programs, and at the following ratios:
Occasionally, American Express and Chase offer transfer bonuses to Aeroplan. Take advantage when these come up to spend even fewer miles on award flights with Aeroplan.
Aeroplan also offers a co-branded Chase credit card: Aeroplan® Credit Card. This card is currently offering an outstanding sign-up bonus: Earn up to 100,000 bonus points – 75,000 points after you spend $4,000 on purchases in the first 3 months your account is open. Plus, 25,000 points after you spend $20,000 on purchases in the first 12 months.
Keep transferrable points transferrable by building up a stash of Aeroplan points with the sign-up bonus, instead. Even better, Aeroplan Card holders can take advantage of a standing 10% transfer bonus from Chase to Aeroplan.
Aeroplan® Credit Card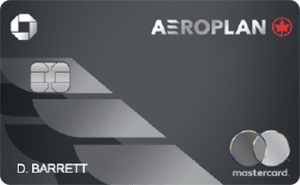 Apply Now
Aeroplan® Credit Card
Annual Fee$95
Welcome Bonus Earn up to 100,000 bonus points – 75,000 points after you spend $4,000 on purchases in the first 3 months your account is open. Plus, 25,000 points after you spend $20,000 on purchases in the first 12 months.
Earn up to 100,000 bonus points
Earn 75,000 points after you spend $4,000 on purchases in the first 3 months your account is open.
Plus, 25,000 points after you spend $20,000 on purchases in the first 12 months.
$95 Annual Fee
Redeem points for both international and domestic flights with the Aeroplan® Credit Card.
Fly to another continent and travel the world with the Aeroplan® Credit Card.
Earn 3X points for each dollar spent at grocery stores, on dining at restaurants, and Air Canada directly. Earn 1X point for each dollar spent on all other purchases.
500 bonus points for every $2,000 you spend in a calendar month - up to 1,500 points per month.
Member FDIC
3x points on dining, including takeout and eligible delivery services
3x points at grocery stores
3x points directly with Air Canada
1x point on all other purchases
Our Take
Singapore Airlines offers an amazing product to travelers all across the globe. In particular, premium cabin travel on the airline sets a high standard.
Unfortunately, Singapore Airlines typically limits partner access to premium cabin awards. That's what makes Aeroplan's access to these awards so exceptional — access to world-class premium cabin award space, and at lower prices, too, makes this a doubly appealing booking avenue.
Add to that the unique features of Aeroplan's award program — 5,000-point stopovers on awards and expanded non-alliance partner airlines — gives incredible potential to booking Singapore Airlines award flights via Aeroplan.
AwardWallet Tip of The Day
Did you know that you can automatically import all of your travel plans from AwardWallet into your calendar? All you have to do is to grab the iCal link from the left menu of
your timeline
 and create a calendar subscription in your preferred calendar.
Show me how
Hide image
The comments on this page are not provided, reviewed, or otherwise approved by the bank advertiser. It is not the bank advertiser's responsibility to ensure all posts and/or questions are answered.