AwardWallet receives compensation from advertising partners for links on the blog. Terms Apply to the offers listed on this page. The opinions expressed here are our own and have not been reviewed, provided, or approved by any bank advertiser. Here's our complete list of Advertisers.
Update: AA has subsequently eliminated all award booking and redeposit fees. The following post is being retained as originally published for reference. Please see this post for everything you need to know about American Airlines elite status.
American Airlines has finally announced the extension of elite status in response to COVID-19. When we covered Delta's elite status extension more than a week ago, we expected that the other major U.S. airlines would likely follow suit over the coming days and weeks. United announced its updated policy later that same day,
While AA took more than a week, it was worth the wait.
Elite Status Extension
First—and most importantly to many elites—current AA elite status is being extended to January 31, 2022. That gives elite members a 12-month extension on their current elite status. This extension applies to anyone who earned or received elite status with an original expiration date of January 21, 2021. That includes status earned by completing a challenge and status gifted as part of a promotion.
Additionally, it appears that Concierge Key members—AA's top-tier, invite-only status—will be receiving status extensions as well. This is notable considering Delta and United have not made an official announcement about corresponding Delta 360 or Global Services Members yet.
American Airlines will not be including any additional Systemwide Upgrades (SWUs) for current Executive Platinum (EP) members. EP members typically receive 4 SWUs for reaching the status. However, unlike Delta—who is gifting current Platinum and Diamond Medallion members additional Choice Benefits for 2021—Executive Platinum members will have to earn additional SWUs.
Other Extensions
Admirals Club Memberships — All Admirals Club memberships purchased directly from the airline will automatically be extended an additional 6-months past the original expiration date. This applies to all active memberships as of March 1, 2020, as well as any new memberships purchased between March 1 and May 31, 2020.
Admirals Club One-Day Passes — In addition, Admirals Club one-day passes with an expiration date between March 1, 2020 and May 31, 2021 will also be extended 6-months past the stated expiration date.
Systemwide Upgrades — SWUs earned in 2019 will be extended 6-months past the original expiration date of January 31, 2021. The new expiration date of July 31, 2021 will be updated in member's accounts by May 15, 2020.
Status Challenges — We've seen recent reports that the announced elite status extension does not apply to AAdvantage members currently participating in a status challenge. However, AA has instructed affected members to reach out to AAdvantage customer service once their challenge is over.
Mileage expiration pause — On April 2, 2020, American Airlines announced a pause on mileage expiration through June 30, 2020. Currently, any miles scheduled to expire by June 30 will expire on July 1, 2020 unless you've generated qualifying activity in the past 18 months.
All of these extensions are addressed directly at AA's AAdvantage Program Updates Page.
Earning Elite Status in 2020
American has lowered the requirements necessary to earn status in 2020. Once it's safe to travel again, earning AAdvantage elite status will only require the following:
That's a reduction between 33% and 50% from the standard requirements for American Airlines elite status.
While on the surface this certainly makes elite status seem much easier to earn, it's hard to determine just how attainable these requirements will be until we get a better idea of when we'll be able to travel again.
Executive Platinum Awards
To incentivize Executive Platinum members to continue flying American, AA's has lowed its mileage thresholds for earning additional awards in 2020:
Between earning 4 SWUs for requalifying for EP status and these threshold bonuses, EPs can earn up to a total of 10 SWUs for earning 150,000 Elite Qualifying Miles (EQM) in 2020.
Waived Mileage Redeposit Fees
Aside from the elite status extension, the biggest news from AAdvantage is the announcement that it will waive all redeposit and change fees on award bookings booked before May 31, 2020, for travel through September 30, 2020. Considering United and Delta have been allowing this for weeks now, this was long overdue.
Even more importantly, AA has announced what appears to be a new, long-term policy on award booking change fees. Any award booking made June 1, 2020, or later, will now include free changes and cancellations if made at least 60 days in advance, regardless of your AAdvantage status level. Award changes/cancellations made less than 60 days in advance will incur charges according to this table:
While Executive Platinum members have always had the ability to change or cancel award itineraries for free, this is a huge development for lower tiers and non-elites. The previous policy allowed routing and date changes to MileSAAver and AAnytime award tickets, provided the origin and destination airports stayed the same. Having the ability to change or cancel for free is a huge improvement, especially if you like to plan far in advance.
However, this change comes with a downside. AAdvantage members will lose the ability to make changes to award tickets for free as long as the origin and destination were the same. This has been helpful for members that booked a less-than-ideal date or itinerary at first with the hopes of changing it later. Now, these members will have to pay a fee for changing the date or routing within 60 days of departure.
Spend Towards Million Miler
In a creative move, American has brought back the ability to earn Million Miler qualifying miles through spending on a co-branded credit card. Every dollar spent on net purchases that post to your AAdvantage account between May and December 2020 will count as one mile towards Million Miler status.
This applies to both Citi/AAdvantage and AAdvantage Aviator products, as well as 'select' American co-branded cards issued outside of the U.S.
Several of these co-branded products—such as the CitiBusiness® / AAdvantage® Platinum Select® Mastercard® and the AAdvantage® Aviator® World Elite Business Mastercard®—are offering particularly lucrative sign-up bonuses at the moment. With that said, it's important to note that the miles earned through sign-up bonuses and spending category multipliers (probably) won't qualify towards Million Miler.
CitiBusiness® / AAdvantage® Platinum Select® Mastercard®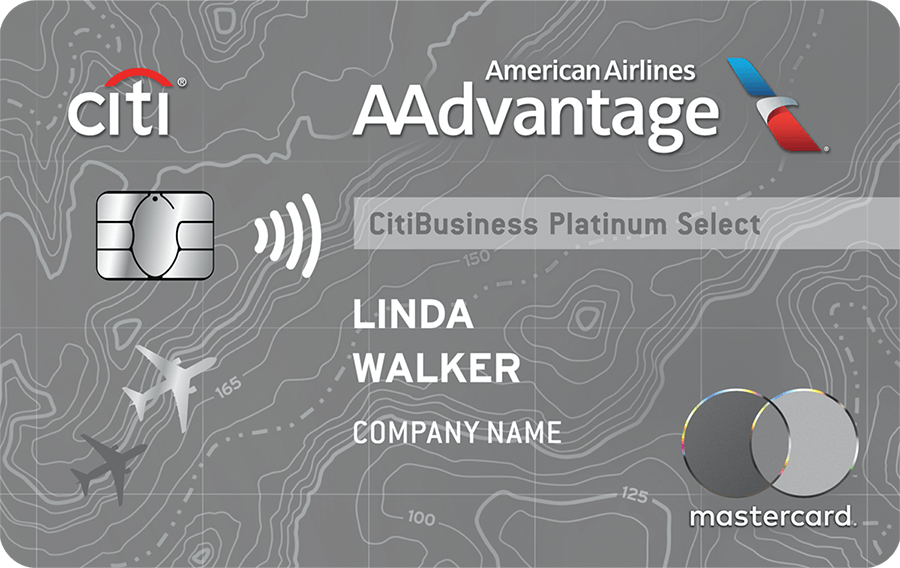 How to Apply
CitiBusiness® / AAdvantage® Platinum Select® Mastercard®
Annual Fee$99, waived for first 12 months
Welcome Offer Earn 65,000 American Airlines AAdvantage® bonus miles after spending $4,000 in purchases within the first 4 months of account opening.
The AA Business Card is a great card to hold for any business owner that travels at least a few times per year with American Airlines. Get a free checked bag on domestic itineraries, priority boarding and a 25% discount on in-flight purchases.With these perks, it's easy to justify the annual fee of $99, waived for first 12 months.
Free checked bags for you and up to 4 companions on domestic itineraries
Priority boarding to help you win the race for overhead bin space
A 25% discount on inflight food, beverage, and Wi-Fi purchases
Earn 2X miles for every $1 spent on cable and satellite providers
Earn 2X miles for every $1 spent at gas stations
Earn 2X miles for every $1 spent on select telecommunications merchants
Earn 2X miles for every $1 spent on car rentals
Earn 2X miles for every $1 spent on eligible American Airlines purchases
Earn 1X mile for every $1 spent on all other purchases
AA's Million Miler program awards lifetime Gold status plus 35,000 bonus miles for reaching one million miles and lifetime Platinum status plus 4 SWUs for reaching two million miles. Members earn four additional SWUs for each additional million miles. Needless to say, this won't be a worthwhile endeavor unless you happen to find yourself within reach of any of those thresholds.
American Airlines Vacations Credit for Elites
In another creative move, American has decided to offer a credit for elite members to use towards an AA Vacation Package.
Gold members will receive a $300 credit.
Platinum and Platinum Pro members will receive a $350 credit.
Executive Platinum Members will receive a $400 credit.
Packages must include round trip flights, hotels, and must cost $2,500 minimum. Some travelers may find this credit valuable. However, the minimum spending and hotel requirement limits the freedom that award travelers like to have, making this an unattractive offer to others of us.
Unanswered Questions
There are at least two issues not addressed in American's program updates:
Bottom Line
As we expected, American Airlines has finally followed the example set by Delta and United. To AA's credit, it managed to produce some genuinely innovative and positive responses to this situation. With elite status extensions, lowered elite requirements, waived redeposit fees, and the ability to make up the loss on your Million Miler journey through spend, it's an impressive wave of updates that will make a lot of people happy.
This post has been updated since publication to add AA's mileage expiration pause.
AwardWallet Tip of The Day
Did you know that you can easily find out when any account was last updated? Click the
+ sign
next to the account and review the "Last successful update" date.
Show me how
Hide image
The comments on this page are not provided, reviewed, or otherwise approved by the bank advertiser. It is not the bank advertiser's responsibility to ensure all posts and/or questions are answered.