AwardWallet receives compensation from advertising partners for links on the blog. The opinions expressed here are our own and have not been reviewed, provided, or approved by any bank advertiser. Here's our complete list of Advertisers.
Offers for The Ritz-Carlton™ Credit Card, Marriott Rewards® Premier Plus Credit Card, Marriott Bonvoy™ American Express® Card and Marriott Bonvoy Brilliant™ American Express® Card are not available through this site. All information has been independently collected by AwardWallet and has not been reviewed or provided by the card issuer. Please see our card marketplace for available offers.
Chase has unveiled its latest co-brand rewards card, the no-annual-fee Marriott Bonvoy Bold™ Credit Card. Sporting a 50,000 points signup bonus, complimentary Silver Elite status, and no foreign transaction fees, the long-awaited second Marriott card from Chase completes Marriott's lineup of co-brand cards and becomes the only no-fee Marriott credit card available to members.
In this post, we'll share how the card stacks up against other options and (attempt to) clarify the complicated rules that determine who is eligible for the current offer.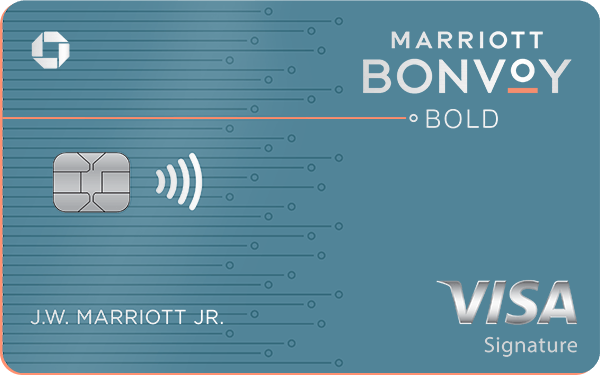 Introducing the New Marriott Bonvoy Bold™ Credit Card from CHASE® with no annual fee!
Earn 50,000 Bonus Points after you spend $2,000 on purchases in the first 3 months from account opening.
Earn 3X Bonvoy points per $1 spent at over 6,900 participating Marriott Bonvoy hotels.
2X Bonvoy points for every $1 spent on other travel purchases (from airfare to taxis and trains) and 1X point on all other purchases.
15 Elite Night Credits each calendar year.
No foreign transaction fees.
Earn unlimited Marriott Bonvoy points and get Free Night Stays faster.
Highlights of the Marriott Bonvoy Bold Card
The Bonvoy Bold is not as feature-rich as its Marriott co-brand stablemates, but, for a card that doesn't charge an annual fee, there are still a few benefits worth noting:
New cardmembers can earn a 50,000 point signup bonus after spending $2,000 on purchases in your first 3 months from account opening
You'll earn 15 elite qualifying nights each year you hold the card—enough for Silver Elite Status and a leg up to Gold or Platinum if you stay with Marriott for work
Pay no foreign transaction fees
No annual fee
You'll also have access to a range of travel and purchase protections courtesy of Visa, including baggage delay insurance, lost luggage reimbursement, and trip delay coverage that kicks in after delays of 12 or more hours or an overnight stay.
Where Does The Bonvoy Bold Card Fit in Marriott's Card Lineup?
The Bonvoy Bold joins four existing Marriott co-brand cards issued by Chase and Amex:
As the only no-annual-fee Marriott card, the Bonvoy Bold sits at the bottom of the ladder both in benefits offered, and in number of points earned:
3X points at Marriott
2X points on travel
1X points on all other purchases
As a comparison, the other Marriott cards still open to applications earn a minimum 2X points per dollar on non-bonus spending and 6X points per dollar spent at Marriott properties. Plus, the two American Express-issued cards feature additional bonus categories. The Marriott cards are not cards you would put a lot of spend on, as there are plenty of travel rewards cards providing a higher return on bonus categories and better cards for non-bonus spending.
Bonvoy Bold Card Application Restrictions
In addition to Chase's 5/24 policy, which prevents you from acquiring a Chase credit card if you've opened five or more new credit cards in the previous 24 months, the new Bonvoy Bold adds another layer of confusion to the already absurdly complex Marriott card application rules.
Chase splits these rules into two sections; who can get the card, and who can get the bonus. The rules for receiving the signup bonus are more restrictive than for qualifying for the card. It's possible you could get the Bonvoy Bold without the bonus, but the card doesn't offer enough value to justify applying if you don't qualify for the signup bonus.
Essentially, if you qualify for the bonus, you qualify for the card.
We've summarized the Marriott card application rules for receiving the bonus into a more digestible format below, making it easier to determine if you qualify for the welcome offer on the new Bonvoy Bold. The other cards in the Marriott family fall into one of three categories:
Cards That Don't Matter

These are cards that don't have any impact on your eligibility for the Bonvoy Bold card at all. All of these cards are issued by Chase and are no longer open to new applicants. It does not matter if you have these cards now or had them in the past.

The Ritz-Carlton™ Credit Card
Marriott Bonvoy™ Credit Card ($45-annual-fee version)
Marriott Bonvoy™ Business Credit Card ($45-annual-fee version)
Marriott Bonvoy™ Premier Business Credit Card ($99 annual fee)

Cards You Can Have Currently (Wait 90 days after acquiring these cards, plus at least 24 months from the last signup or upgrade bonus)

Marriott Bonvoy Business™ American Express® Card (Formerly SPG Amex Business card)
Marriott Bonvoy Brilliant™ American Express® Card (Formerly SPG Amex Luxury card)

Cards You Cannot Have Currently

If you have any of these cards open, you won't be eligible for the new Bonvoy Bold card. We've noted the amount of time you need to wait after closing the card or after you received a welcome or upgrade bonus on the card.

Marriott Bonvoy™ Premier Credit Card (Formerly the Marriott Premier Card) – Wait two years after last bonus
Marriott Rewards® Premier Plus Credit Card (Formerly the Marriott Premier Plus Card) – Wait two years after last bonus
Marriott Bonvoy™ American Express® Card (Formerly the SPG Amex personal card) – Wait 30 days after closing your account with Amex
If you're struggling to make sense of the application restrictions for Marriott cards, we've put together an easy-to-understand guide to walk you through different application strategies for Marriott co-brand cards and how they might affect both the card you apply for and the timing of your application.
Final Thoughts
If you're chasing a Marriott card for the 15 elite night credits, and you don't want to pay an annual fee, the Bonvoy Bold has you covered. If you're going to build a balance of Marriott points via spending on your card, or you want better perks such as Gold Elite status or an annual free night certificate, you will get better value from either of the mid-tier Marriott cards or the Marriott Bonvoy Brilliant Card.
Considering it would take a Chase 5/24 slot AND lock you out of applying for other Marriott cards, this card probably isn't a good choice for most. The major exception would be folks that simply don't want a card with an annual fee. If the 15-elite-night credits would make a difference for you, the Bonvoy Bold could be the right pick, but most should pass on the current offer.
AwardWallet Tip of The Day
Did you know you can order an
AwardWallet OneCard
with up to 30 of your loyalty accounts printed on it? The card is only $10 and is shipped free of charge anywhere in the world.
Show me how
Hide image
The comments on this page are not provided, reviewed, or otherwise approved by the bank advertiser. It is not the bank advertiser's responsibility to ensure all posts and/or questions are answered.