AwardWallet receives compensation from advertising partners for links on the blog. Terms Apply to the offers listed on this page. The opinions expressed here are our own and have not been reviewed, provided, or approved by any bank advertiser. Here's our complete list of Advertisers.
Offers for the Wells Fargo Visa Signature® Card are not available through this site. All information has been independently collected by AwardWallet and has not been reviewed or provided by the card issuer. Some offers may have expired. Please see our card marketplace for available offers.
Wells Fargo has unveiled a refreshed version of its popular Wells Fargo Propel American Express® card. The Wells Fargo Propel Amex card features a 20,000 point welcome bonus after spending $1,000 in the first 3 months, and revamped bonus categories including 3x points per dollar on travel, dining, and music streaming services such as Spotify and Apple Music, plus cell phone protection when you use the card to pay your monthly bill. All of this with an annual fee of $0.
Wells Fargo Propel American Express® card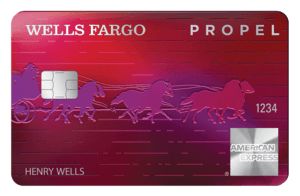 How to Apply
Wells Fargo Propel American Express® card
Annual Fee$0
Welcome Bonus Earn 20,000 bonus points when you spend $1,000 in purchases in the first 3 months - that's a $200 cash redemption value
Earn 3X points on eating out and ordering in
Earn 3X points on travel including flights, hotels, homestays and car rentals
Earn 3X points on gas stations, rideshares and transit
Earn 3X points on popular streaming services
Earn 1X points on other purchases
The Wells Fargo Propel Amex earns Go Far Rewards points worth a penny apiece as cash-back equivalent. Alternatively, if you (or a friend or family member) hold a Wells Fargo Visa Signature® Card, you can transfer points earned on the Wells Fargo Propel Amex to the Wells Fargo Visa Signature and redeem for flights through the Go Far Rewards travel portal at 1.5¢ per point.
It's worth pointing out that Wells Fargo has the most generous transfer rules of any provider we've encountered, allowing Go Far Rewards members to transfer points between each other free of charge, with no rules restricting transfers to family members or members of the same household. Points will expire 60 months after the transfer, so just use them within 5 years. 😉
Wells Fargo Propel Amex Welcome Bonus
The Wells Fargo Propel Amex earns 20,000 Go Far Rewards points after spending $1,000 in the first 3 months. Redeemed as $200 cash back, that is an excellent bonus for a rewards card touting no annual fee. Transferred to an account holding a Wells Fargo Visa Signature card, those same points are instantly worth 1.5¢ per point towards airfare, increasing the value of the welcome offer to $300!
If you hold both the Wells Fargo Propel Amex and the Wells Fargo Visa Signature, that's the same earning and redemption rates as the Chase Sapphire Reserve® for fixed-value redemptions, on cards not subject to 5/24, and you save $550 a year in annual fees!
Wells Fargo Propel Amex Points Earning & Redeeming Potential
Possibly the most exciting change to the Wells Fargo Propel Amex is the revamped bonus categories. The card previously earned 3x points at gas stations, 2x points at U.S. restaurants and 1 point per dollar everywhere else. The refreshed version of the card earns:
3x on travel – including services such as VRBO homestay
3x on dining – including delivery websites like GrubHub
3x on streaming services – including Spotify, Apple Music, Netflix, etc
3x at gas stations
1x on all other purchases
The increased 3x points on travel & dining is an exciting addition to the Wells Fargo Propel Amex, placing it in the same earning category as many premium rewards cards charging astronomical annual fees. You can redeem Go Far Rewards earned on the Wells Fargo Propel Amex for 1¢ per point as cash back and towards other merchandise, but the real value lies in pairing this card up with the Wells Fargo Visa Signature and Wells Fargo Cash Wise Visa® card.
Where the Wells Fargo Propel Amex earns just 1 point per dollar on non-bonus purchases, the Cash Wise Visa earns 1.5% cash back on everyday spend, and points transfer free of charge between cards/accounts. Add the Wells Fargo Visa Signature to the mix, and you can combine points earned across all three cards at 1.5¢ per point towards flights through the Go Far Rewards travel portal, or 1.75¢ per point if you spend $50K per year on the card, providing an epic value without paying a single annual fee.
Potential Challenges with Wells Fargo Go Far Rewards
There are some potential downsides to a 2 or 3 card Go Far Rewards strategy to be aware of.
You can't transfer points to airline or hotel partners to leverage award chart sweet spots like Ultimate Rewards, Membership Rewards, or ThankYou Rewards, so this strategy will best suit folks interested in discount international economy and domestic fares.
Wells Fargo has rather stringent application restrictions (listed below) that prevent people applying for multiple cards each year, making it difficult to pull together a Go Far Rewards combo of cards spanning the right bonus categories and redemption options.
Team up with a partner, friend, or family members to apply for different cards in the Go Far Rewards lineup of rewards cards, transferring the combined points to the account holding the Wells Fargo Visa Signature for redemption to maximize your earnings. Just be sure you're in this as a team with a common goal.
Wells Fargo Propel Amex Feature Benefits
The Wells Fargo Propel Amex features a substantial list of perks for a no annual fee card, including access to free FICO scores, Cell Phone Protection, and top-earning rates in bonus categories.
Unlimited 3x Points on Travel (including Gas) & Dining – For most folks in the points and miles hobby, travel and dining make up a significant portion of their annual spend, and earning 3x points or 3% back, with the ability to increase the value of the points via transfer is a top benefit of holding this card. Earning 3x back on streaming services is a plus, but unless you have a voracious appetite for streaming music and movies, it's unlikely to present a massive annual return.
Cell Phone Protection – Pay your monthly cell phone bill with your Wells Fargo Propel Amex, and you're protected in the case of damage or theft for up to $600 (with a $25 deductible).
Free FICO Score 9 Experian Credit Score – Monitor your FICO score free of charge, one of the easiest ways to keep on top on new card approvals and your 5/24 count.
No Annual Fee – No annual fee cards are often positioned as companion cards for high annual fee premium cards. However, in the case of the Go Far Rewards trio mentioned above, you'll pay no annual fees at all, a big plus in our books.
Application Restrictions
Similar to Chase's 5/24 policy and other bank restrictions on new card applications, Wells Fargo credit card applications include some specific policies and restrictions you should be aware of before applying for a new rewards card.
One card every 6 months – The T&C's state you may not qualify for more than one card in a six month period:
"You may not qualify for an additional Wells Fargo credit card if you have opened a Wells Fargo credit card in the last 6 months."
One bonus offer per 15 months – You'll only qualify for the introductory or bonus offers on Wells Fargo cards once every 15 months:
"Eligibility for introductory rate(s), fees, and bonus rewards offers
You may not be eligible for introductory annual percentage rates, fees, and/or bonus rewards offers if you opened a Wells Fargo Credit Card within the last 15 months from the date of this application, and you received introductory APR(s), fees, and/or bonus rewards offers, even if that account is closed and has a $0 balance."
Final Thoughts
Featuring a stellar welcome bonus of 20,000 points after spending $1,000 in the first 3 months, 3X points for eating out, gas stations and travel, cell phone protection, and no annual fee, the is a standout rewards card. Thanks to Propel, Go Far Rewards has become a viable alternative to the big flexible rewards programs (at least for the domestic economy flyer).
AwardWallet Tip of The Day
Did you know you can see individual transaction history for most of your accounts? Click the
+ sign
next to an account and then view the History tab.
Show me how
Hide image
The comments on this page are not provided, reviewed, or otherwise approved by the bank advertiser. It is not the bank advertiser's responsibility to ensure all posts and/or questions are answered.