AwardWallet receives compensation from advertising partners for links on the blog. Terms Apply to the offers listed on this page. The opinions expressed here are our own and have not been reviewed, provided, or approved by any bank advertiser. Here's our complete list of Advertisers.
United℠ Explorer Card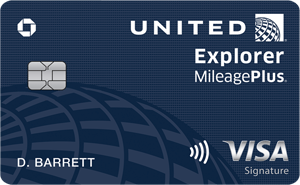 Apply Now
United℠ Explorer Card
Annual Fee$0 introductory annual fee for the first year, then $95
Welcome Offer Earn 60k bonus miles after you spend $3,000 on purchases in the first 3 months your account is open. Plus, an additional 10k bonus miles after you spend $6,000 in the first 6 months.
60k bonus miles after you spend $3,000 on purchases in the first 3 months your account is open. Plus, an additional 10k bonus miles after you spend $6,000 in the first 6 months.
$0 introductory annual fee for the first year, then $95
Earn 2 miles per $1 spent at restaurants, on hotel stays, and on United purchases
Up to $100 Global Entry or TSA PreCheck™ fee credit
25% back on United inflight purchases
Check your first bag for free (a savings of up to $140 per roundtrip) when you use your card to purchase your ticket
Enjoy priority boarding privileges and visit the United ClubSM with 2 one-time passes each year for your anniversary
Earn 2 miles per $1 spent at restaurants and eligible delivery services including GrubHub, Caviar, Seamless and DoorDash
2X miles per $1 spent on purchases from United
2X miles per $1 spent at restaurants and on hotel stays
1X mile per $1 spent on all other purchases
Chase has raised the welcome offer for the United℠ Explorer Card. For a limited time, new applicants can earn 60,000 bonus miles after you spend $3,000 on purchases in the first 3 months your account is open. Plus, an additional 10k bonus miles after you spend $6,000 in the first 6 months..
Although United's MileagePlus recently slightly devalued its program, United miles are still incredibly useful. For one, you can use them for award travel on 35+ partner airlines. Even better, United's awards are often paired with some of the lowest out-of-pocket costs of any program.
To better illustrate the value of this limited-time offer, we've put together a few of the best ways to use 70,000 United miles.
What's so great about United miles?
Massive Partner Network
United is one of the largest airlines in the United States, operating domestic hubs in cities like New York, Chicago, Houston, and San Francisco. But more important than that, United is a founding member of Star Alliance—the largest airline alliance in the world. Why does that matter? Because it allows MileagePlus members to redeem miles for travel on all of United's partners to over 1,000 destinations worldwide. That's a lot of flexibility for one award currency.
No Fuel Surcharges
One of my favorite aspects of the MileagePlus program is the fact that it doesn't charge carrier or fuel surcharges on award bookings. These are the nasty fees that award travelers often have to pay when booking flights to specific regions or flying certain products. Depending on the reward, these fees can be hundreds or even thousands of dollars.
For example, take this Aeroplan award booking for Lufthansa business class from Chicago (ORD) to Frankfurt (FRA):
To fly business class, you currently need 55,000 Aeroplan miles plus around US$730 for the taxes and surcharges. Meanwhile, you could book the same flight with United for 77,000 miles plus only $5.60 in taxes and fees.
Sure, you'd need to pay a few more miles. But for most people, that's a small price to save over $700 in out-of-pocket expenses.
Flexible Routing Rules
Compared to American Airlines or Delta, United has comparatively flexible routing rules. For example, American Airlines makes it pretty clear that when traveling between two regions, there are only a few exceptions when you can transit via a third region. United, however, is a bit more relaxed in that regard.
Take this itinerary from Chicago to Bangkok, for example. With United MileagePlus, it's possible to fly from the U.S. to Asia via a trans-Pacific route OR via Europe. In this case, a one-stop itinerary could have a layover in Stockholm, Frankfurt, or Tokyo.
The United Excursionist Perk
The Excursionist Perk is one of the more interesting by-products of United's long string of devaluations.
In a nutshell, the Excursionist Perk is a free segment in the middle of a round-trip, open-jaw, or multi-city award itinerary. However, there are several limitations:
The entire itinerary must begin and end in the same MileagePlus-defined region.
The "free" segment needs to be entirely within a single region (e.g. within Europe), and that region can't be the same region where your trip starts/ends.
For the segment to be free, it must be in the same (or lower) class of service and award type as the itinerary's original segment.
That may be really confusing. So, here's an example of how this works in practice:
Say you want to take a trip to Europe from your home in Chicago—hitting Paris, Athens, and Istanbul along the way. If we assume that you'll travel in that order and take a ferry from Athens to Istanbul, this comes out to three 'segments' total:
Chicago to Paris
Paris to Athens
Istanbul to Chicago
If you book these three segments separately, it'll cost at least 75,000 miles in economy (provided there's availability). However, if you book all three together as a multi-city booking, the Excursionist Perk will price the second segment between Paris and Athens as 0 miles, bringing the total down to 60,000 miles.
Best Ways to Use United Miles
There are lots of great methods to use your new stash of United miles. Let's go over some of our favorite ways of using this sign-up bonus for a great trip.
Fly to Europe in United Business Class
If you're feeling fancy, you could spend most (or all) of your bonus on one, glorious flight in business class to Europe. That's because United-operated trans-Atlantic itineraries start at just 60,000 miles one-way. For partner flights, you'll pay between 70,000 and 80,000 miles.
If you can, try to book an itinerary on a 777-300ER or 787-10 sporting United's newest 'Polaris' business class product. It's a massive step up from some of United's other hard products, especially in terms of privacy and amenities.
As a bonus, if your departure (or layover) is at one of United's domestic hubs, you may also get to pay a visit to a Polaris Business Class Lounge. These are known to be some of the best lounges in the U.S., even offering complimentary a-la-carte dining.
Round-trip to Rio for Carnaval
For the sake of this example, let's err on the side of optimism that we'll be able to travel freely and congregate in large crowds by next February.
If you're like me, you've probably dreamed of traveling to Rio de Janeiro for its famed Carnaval celebrations. Thanks to the United Explorer Card's raised offer, you could make your dream a reality with just one sign-up bonus!
Under the current United MileagePlus saver award rates, you can fly from anywhere in the U.S. to Rio in economy class for 60,000 miles round-trip:
Leveraging the Excursionist Perk to Travel Far Away
Alright, things are about to get complicated, so bear with me.
When using the Excursionist Perk, you don't necessarily have to build a cohesive trip. By this, I mean it's possible to leverage the rules to stretch your United miles much farther than you probably thought possible.
For one, the first segment doesn't necessarily need to be particularly long or expensive. It could be a short domestic hop costing as little as 5,000 miles. For example, let's say you live in Houston, Texas. As of this writing, there are several dates where you could fly to New York City for only 5K miles.
But, even with an inexpensive first segment, you can still get a second segment for free if you follow the Excursionist rules. Specifically, the second segment needs to be:
In a different region than your origin
Entirely within one region
After examining United's region definitions, you may realize that it's possible to fly pretty far while staying within a single region.
For instance, you could fly all the way from Senegal in western Africa to Seychelles in the Indian Ocean. Both are part of "Central and Southern Africa" as defined by MileagePlus—even though they're further apart than New York and Sao Paulo. If you book it as the middle segment of an eligible multi-city booking, it's possible to book it for only the taxes and fees.
Now, all you need to do is finish it off with another cheap domestic award booking. How about a 2.5-hour flight from Chicago to Orlando for 5,500 United miles? Put it together, and this is what you're left with:
That's a lot of flying for a minuscule number of miles. With the other miles left from your sign-up bonus, you could use 40k miles to book a segment from New York to Senegal:
Plus, 7,500 miles for your return leg from Orlando to Houston:
…and still have 17,000 miles left from your sign-up bonus!
Altogether, you can use 58k United miles to book a journey covering almost 16,000 miles. You'll get stopovers in New York City, Dakar (Senegal), Victoria (Seychelles), Chicago, and Orlando. Simply book the missing connection from Seychelles to Chicago with another award currency or a cheap cash fare.
Our Take
It's safe to say that United miles can be incredibly valuable. Likewise, earning 60,000 bonus miles through the United Explorer Card sign-up bonus is an excellent deal.
Whether it's traveling across the pond in a luxurious business-class cabin or stretching your miles as far they'll go with a dozen economy-class trips. In the end, no matter your travel style, we're confident that the United Explorer Card can provide lasting value to your award portfolio. To learn more, check out our guide to United MileagePlus.
The comments on this page are not provided, reviewed, or otherwise approved by the bank advertiser. It is not the bank advertiser's responsibility to ensure all posts and/or questions are answered.