AwardWallet receives compensation from advertising partners for links on the blog. Terms Apply to the offers listed on this page. The opinions expressed here are our own and have not been reviewed, provided, or approved by any bank advertiser. Here's our complete list of Advertisers.
The American Airlines award map tool is a powerful way to search for award inventory on American Airlines and participating partner airlines. In December 2019, American disabled a similar tool, but now the feature is back and ready for use.
This tool is especially useful when you have a specific date for travel, but no destination in mind. In today's post, we'll cover how the award search map works and how to use it to find and book high-value awards.
What Is The Award Map Tool?
American's award map tool lets users search award inventory for particular dates across a wide region, rather than between two specific cities. Some basic criteria are required:
Airport/city of origin
Destination region (or interest)
Dates of travel
Passengers
AAdvantage miles available to use
Users can further specify the class of cabin and number of stops for their prospective journey as well. The tool then displays every option that meets the chosen criteria, and in some cases, options that might cost a small amount of miles more than specified. This is fantastic for travelers who know exactly when they want to fly, but not exactly where they want to go.
Finding this tool on the American website was difficult – more difficult than it should be – so if you plan to use it I strongly recommend bookmarking the link. I actually could not navigate to the tool without going to the website's site map, eventually finding the award map tool under the "Award travel" section.
Where The Award Map Tool Shines
For each destination that the tool finds from a given award search, a total price in miles displays as well. Lately, American Airlines has expanded its Web Special awards to include many new routes.  For any flights that price below the mileage amount specified in the American Airlines award chart, you'll instantly know these are Web Specials. Within the continental U.S., Web Specials can be as low as 10,000 miles for what would otherwise price as 25,000 miles – a 60% mileage savings. Below is an example of the tool in action, searching flights from Philadelphia for a long weekend at the end of March:
I won't pretend all of the destinations that return are the most desirable. However, some appealing options do exist. Fly to Santa Ana, California for just 12,000 miles round trip and be at the beach in under 20 minutes after leaving the airport.
Where The Award Map Tool Sparkles
Recently, American Airlines extended Web Specials to include premium cabins, including European destinations for just 84,000 miles round trip. American's award map tool can help travelers find these deals on their dates of travel, too. While a daytime flight lets you enjoy all of the comforts of premium cabin travel to the fullest, the ability to lie flat for sleeping on the overnight journey to Europe is often the priority. You might not find 42,000 mile business class options on every date, but premium Web Specials are certainly out there.
As an added bonus, these Web Specials likely only involve flights on American Airlines metal, so you avoid the issue of sky high surcharges on British Airways flights. Strangely enough though, clicking on the "Book Now" link in the above screenshot won't take you to a page where you can book this award flight. For premium cabin Web Specials only, you'll need to search for these flights once again from the main American Airlines award search page.
Where The Award Map Tool Falls Short
Despite all the advantages of this tool, it has its shortcomings. Three specific issues prevent me from turning to this tool first when searching for Oneworld award space:
Single Date Searches – You can only search singular dates at a time with this award tool. This clashes with one of the most important ideas when dealing with award travel: flexibility. Having to search over and over again to find whether travel is possible on a few different dates feels clunky, especially when other search tools allow for that capability.
Limited Search Iterations – After only a handful of consecutive searches with the tool, the blue "Search" box would gray out and not allow me to click again. Especially when the award map tool can only search a single set of dates at a time, this presented a noticeable disruption.
Lack of Award Levels – While a total mileage cost displays for all options that load on the map, award levels explicitly do not display.  This does not matter if you want to book awards with AAdvantage miles, but for booking awards through other Oneworld frequent-flyer programs, it is important to identify sAAver level awards. (For more detail on this, check out our post on booking American Airlines flights with British Airways Avios points.)
Final Thoughts
American Airlines' award map tool offers great functionality for those who know exactly when they want to travel.  However, those with a destination already in mind will find this tool inefficient.  Personally, I plan to use this tool as a "metal detector" for Web Specials.  By specifying a mileage amount just lower than the sAAver level mileage requirement, results will only include Web Specials.  The only decisions to make will be when and where to search.
Will you utilize this award map tool?
CitiBusiness® / AAdvantage® Platinum Select® Mastercard®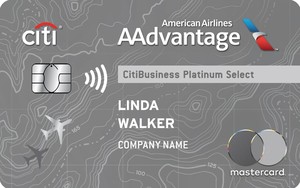 Learn More
CitiBusiness® / AAdvantage® Platinum Select® Mastercard®
Annual Fee$99, waived for first 12 months
Welcome Offer Earn 65,000 American Airlines AAdvantage® bonus miles after spending $4,000 in purchases within the first 4 months of account opening.
The AA Business Card is a great card to hold for any business owner that travels at least a few times per year with American Airlines. Get a free checked bag on domestic itineraries, priority boarding and a 25% discount on in-flight purchases. With these perks, it's easy to justify the annual fee of $99, waived for first 12 months.
Free checked bags for you and up to 4 companions on domestic itineraries
Priority boarding to help you win the race for overhead bin space
A 25% discount on inflight food, beverage, and Wi-Fi purchases
Earn 2X miles for every $1 spent on cable and satellite providers
Earn 2X miles for every $1 spent at gas stations
Earn 2X miles for every $1 spent on select telecommunications merchants
Earn 2X miles for every $1 spent on car rentals
Earn 2X miles for every $1 spent on eligible American Airlines purchases
Earn 1X mile for every $1 spent on all other purchases
The comments on this page are not provided, reviewed, or otherwise approved by the bank advertiser. It is not the bank advertiser's responsibility to ensure all posts and/or questions are answered.