AwardWallet receives compensation from advertising partners for links on the blog. Terms Apply to the offers listed on this page. The opinions expressed here are our own and have not been reviewed, provided, or approved by any bank advertiser. Here's our complete list of Advertisers.
One of the most important ways to increase the potential value of your miles is to learn about all of the ways you can use them. Did you know American Airlines AAdvantage miles can be used to book flights with 23 different airlines? If you limit yourself to American-operated flights, you can visit around 365 destinations in 61 countries. If you include partner airlines, your choices balloon to over 1,100 destinations in 180 countries and territories.
American partner airlines are an exceptional group. AAdvantage miles give you access to some of the world's best business- and first-class products—like Etihad, Cathay Pacific, Qatar, and Japan Airlines. They also put some of the most exotic destinations within your reach, like the Maldives, Mykonos, Fiji, and Tahiti.
With the 65,000-mile offer on the CitiBusiness® / AAdvantage® Platinum Select® Mastercard® (full review), now is a great time to get to know the American partner airlines and start planning your next adventure.
CitiBusiness® / AAdvantage® Platinum Select® Mastercard®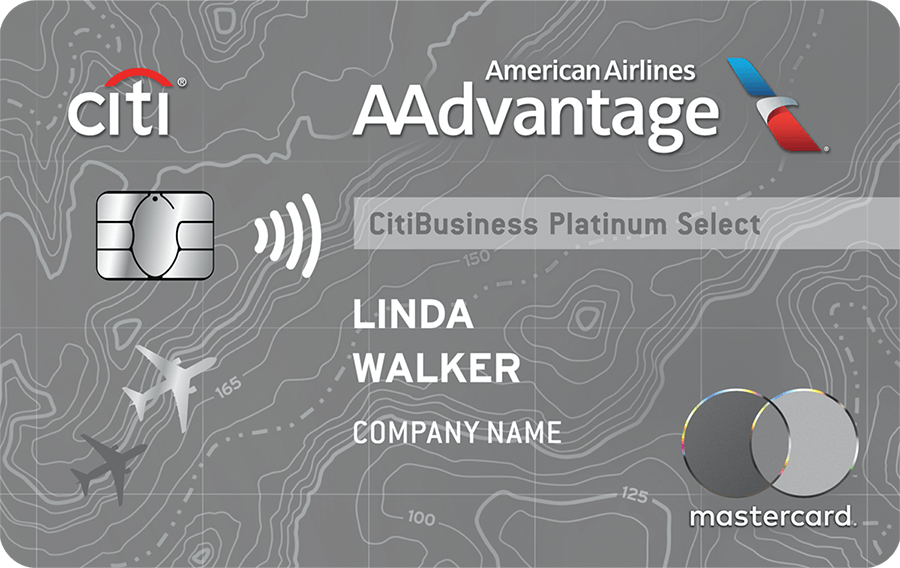 How to Apply
CitiBusiness® / AAdvantage® Platinum Select® Mastercard®
Annual Fee$99, waived for first 12 months
Welcome Offer Earn 65,000 American Airlines AAdvantage® bonus miles after spending $4,000 in purchases within the first 4 months of account opening.
The AA Business Card is a great card to hold for any business owner that travels at least a few times per year with American Airlines. Get a free checked bag on domestic itineraries, priority boarding and a 25% discount on in-flight purchases.With these perks, it's easy to justify the annual fee of $99, waived for first 12 months.
Free checked bags for you and up to 4 companions on domestic itineraries
Priority boarding to help you win the race for overhead bin space
A 25% discount on inflight food, beverage, and Wi-Fi purchases
Earn 2X miles for every $1 spent on cable and satellite providers
Earn 2X miles for every $1 spent at gas stations
Earn 2X miles for every $1 spent on select telecommunications merchants
Earn 2X miles for every $1 spent on car rentals
Earn 2X miles for every $1 spent on eligible American Airlines purchases
Earn 1X mile for every $1 spent on all other purchases
Huge Improvements for Online American Airlines Bookings
Over the last two years, American Airlines has improved its online booking capabilities by leaps and bounds. In early 2018, I booked premium cabin award flights on Qatar Airways using American Airlines miles. This meant I scoured the British Airways and Qantas award search engines to find availability before calling American Airlines reservations to complete the booking.
To book the same itinerary now would mean just a few clicks on the American Airlines website. AAdvantage members can now book award flights on 20 total airlines (including American) on AA's website.
American Airlines' Airline Partners
American Airlines' partner airline page lists 23 total airlines for potential travel: 14 Oneworld members and 9 additional partners. All airline partners in bold are available for online redemptions:
Oneworld Partners
Award flights for all 14 Oneworld members can be booked using AAdvantage miles right on AA's website:
American Airlines
Alaska Airlines/Horizon Air
British Airways
Cathay Pacific
Finnair
Iberia
Japan Airlines
Malaysia Airlines
Qantas
Qatar Airways
Royal Jordanian Airlines
S7 Airlines — suspended from Oneworld Alliance in April 2022
SriLankan Airlines
Non-Alliance Partners
American Airlines' AAdvantage program also has 9 non-Oneworld partner airlines. Of these, 6 are bookable online (in bold):
Air Tahiti Nui
Cape Air
China Southern Airlines
Etihad Airways
Fiji Airways
GOL Airlines
Hawaiian Airlines
JetBlue
Silver Airways
The subset of airlines bookable online covers nearly all destinations across the globe.
North America
Europe
Asia
Australia, New Zealand
& South Pacific
Africa & Middle East
South America
Alaska Airlines
British Airways
Cathay Pacific
Air Tahiti Nui
Etihad Airways
GOL Airlines
American Airlines
Finnair
China Southern
Fiji Airways
Qatar Airways
Cape Air
Iberia
Japan Airlines
Qantas
Royal Air Maroc
Hawaiian Airlines
S7 Airlines
Malaysia Airlines
Royal Jordanian
JetBlue
Sri Lankan
Seaborne Virgin Islands
Redemption Costs
American Airlines utilizes a variety of mostly-zone-based award charts for both its own flights and partner flights. Below is an example of the American Airlines award charts for flights on its own planes, which can be found here, organized by origin and class of cabin:
American maintains a separate spot on its website for partner awards, also organized by region of origin. Note that awards on partner airlines do not vary by the same levels as awards on American metal. One flat redemption cost applies, subject to award availability of course.
Many additional qualifiers follow this chart on American's webpage, like routing rules and airline stipulations. Before planning travel to any of these regions on partner airways, make sure to read these conditions carefully. The rest of this article details all of the various redemption options available to AAdvantage members.
AAdvantage members have several different ways to redeem their miles for American Airlines flights:
MileSAAver Awards — saver-level awards
AAnytime Awards — up to 5 levels of additional award levels
Web Special Awards — dynamically-priced awards
Reduced Mileage Awards — a discount program available to certain AAdvantage cardmembers
Web Special redemption costs vary by many different factors. Apart from these, other options follow the mostly-zone-based charts that American provides on its website. At the moment, American Airlines' global network does not reflect its usual reach. Once the airline begins its planned services to Casablanca and Bangalore (and resumes its complete route network), travelers can reach every award chart zone on American Airlines metal.
Miles may be difficult to accumulate as American Airlines isn't a transfer partner of any major bank points program. You can transfer points from several hotel loyalty programs to AAdvantage. However, these are generally a poor value—with the exception of Marriott Bonvoy points.
For shorter flights that cross regional boundaries—such as Miami to Caribbean destinations—award travelers should consider booking with British Airways Avios instead. Not only can it reduce the total point cost of redemptions, but also it can let you change or cancel your trip plans with lower fees.
Oneworld Partners
American's on-again-off-again relationship with Alaska Airlines and its subsidiary, Horizon Air, is most certainly back on. The two airlines enjoyed a fruitful relationship that slowly began to splinter a few years ago. But all of that is water under the bridge now. Alaska Airlines formerly joined the Oneworld alliance on March 31, 2021. And Alaska and American Airlines are even offering reciprocal elite upgrades.
While AAdvantage miles could already be used for Alaska Airlines flights, the strengthened partnership between the carriers opens up many potentially valuable points and miles opportunities in the near future.
If you can find award space on AA.com for travel between the United States and Europe, chances are at least one segment will be on British Airways metal. British Airways might offer a higher number of transatlantic seats than American Airlines does, but not without an offsetting cost: taxes and fees. Taxes and fees on premium cabin award tickets can exceed $600 each way. If your itinerary calls for transatlantic travel on British Airways, consider booking with Asia Miles instead of AAdvantage miles to save on exorbitant surcharges.
As a U.S.-based traveler, I typically think of British Airways as an avenue to travel to Europe and beyond. However, British Airways operates a few unique fifth-freedom routes within the Caribbean as well. The flights are part of triangle routes, operated by Boeing 777 aircraft. Island hoppers won't be able to redeem AAdvantage miles for these flights, though, as any flight within the Caribbean requires a separate award and is only valid on Seaborne Virgin Airlines.
For these routes, use British Airways Avios instead to experience (brief) premium cabin luxury without breaking the points and miles bank.
Operating from its main hub in Hong Kong, Cathay Pacific offers a logical and comfortable way to jet around Asia. Cathay Pacific typically serves eight destinations within the United States as well. This means that from select cities in the United States, travelers can redeem AAdvantage miles and reach many popular destinations within Asia with a single connection. Cathay used to fly a fifth-freedom route between JFK and Vancouver, too, though sadly this route is no longer operated.
The Hong Kong-based carrier operates from what American defines as "Asia Region 2," meaning the following award chart applies for flights on Cathay Pacific metal:
Finnish flag carrier Finnair only flies to a few cities in the United States. New York's Kennedy (JFK) and Los Angeles (LAX) are the only two cities with year-round service. Chicago (ORD), Miami (MIA), and San Francisco (SFO) enjoy seasonal service as well. Below is the applicable award chart for travel from Finnair's Helsinki (HEL) hub to its global destinations.
Finnair might not offer quite as many destinations across all continents as other partners—like British Airways or Cathay Pacific—but it makes exploring Scandinavia possible with American Airlines miles.
Based in Madrid (MAD), Iberia operates routes to over 100 countries across Europe and three other continents, including North America. Routing through any of nine North American cities served by Iberia allows travelers to avoid sky-high taxes and fees that British Airways passes along.
For direct flights between North America and Spain, consider using Iberia Avios instead of American Airlines miles. Iberia charges as few as 17,000 Avios in economy or 34,000 Avios in business for a one-way flight between the East Coast and Spain. Compare that against 22,500 AAdvantage miles for off-peak economy class or 57,500 miles for business class awards booked through AAdvantage.
If you're booking round-trip flights or for multiple passengers, the savings really add up. Plus, 50% flash sales on these already low redemption rates pop up from time to time, making for deeper savings and insane redemption values.
Want to visit Asia and fly comfortably, regardless of class of cabin? Japan Airlines leads the way. The airline serves ten airports throughout the United States plus one in Canada. Redemptions start at 35,000 miles in economy up to 80,000 miles for first-class awards (plus very reasonable taxes and fees) for travel between the U.S. and Japan, which falls into the "Asia 1" region as defined by American Airlines.
Travelers can continue on from Japan to anywhere in Asia 2 for a reasonable number of extra miles. Add another 2,500 miles in economy, 10,000 in business class, or 30,000 in first class to reach Asia 2. Oddly enough, traveling in premium economy between the United States and either of Asia 1 or Asia 2 costs the same number of miles: 50,000 miles.
Another thing to keep in mind with Japan Airlines: they serve more than just Oneworld hubs and major cities in the United States. When piecing together award travel plans, remember that Japan Airlines offers direct service to smaller airports such as San Diego. If more popular west coast routes out of Los Angeles or San Francisco do not have award space, think about routing through San Diego instead.
Malaysia Airlines does not operate routes to North or South America or to Africa, and the Kuala Lumpur-based airline operates just one route to Europe (London). Still, travelers might want to book award flights on Malaysian for connecting flights within Asia, or for travel between Kuala Lumpur and surrounding destinations. The chart below encompasses all direct Malaysia Airlines routes bookable with American Airlines miles:
For a brief period, Qantas operated the longest commercial flight in the world between Dallas/Ft. Worth (DFW) and Sydney. That route has fallen to the seventh-longest direct flight in the world and isn't even the longest Qantas flight anymore. That title is now held by the route between Perth (PER) and London Heathrow (LHR). American Airlines categorizes Australia as the South Pacific, meaning one-way flights between the United States and the land down under abide by the following prices:
Qantas continues to expand its flight offerings between Australia and the U.S. Though delayed due to COVID-19, the newest Qantas route connects Brisbane and Chicago and will be the fourth-longest flight in the world once it begins.
My personal favorite way to redeem American Airlines miles is for travel in business class on Qatar Airways. For 70,000 miles each way, travel between the United States and the Middle East or Indian Subcontinent in Qatar's incredible Qsuites. For an extra 5,000 miles, reach many tourist destinations within the African continent as well, all with just one stop in Doha.
At this point, nearly every one of Qatar's 10 U.S. destinations is serviced by Qatar Qsuite—the airline's incredible business-class product. The two that do not—Atlanta and Miami—were scheduled to start offering Qsuites during 2020. However, COVID-19 may now change those plans. Before you book, you can ensure your plane is equipped with Qsuites using directions spelled out in this post. If you don't have the miles or award availability to travel up front, Qatar's economy class provides a perfectly pleasant experience as well.
Like Qatar Airways, Royal Jordanian Airlines offers a connection point in the Middle East for Oneworld travelers. Unlike Qatar Airways, Royal Jordanian does not offer enclosed suites in business class. Also, North American travelers have just four options for flights directly to Royal Jordanian's hub in Amman: Chicago (ORD), Detroit (DTW), Montreal (YUL), and New York (JFK).
You'll have to redeem just 40,000 AAdvantage miles between any of these cities and Jordan in economy class. Plus, you can add on an extra flight in either the U.S. or beyond Jordan for the same cost.
S7 Airlines [suspended from Oneworld Alliance in April 2022]
Ever seen S7 Airlines on an arrivals board? If so, you were somewhere other than the Americas. Legally named "Siberia Airlines", S7 Airlines operates out of its two Russian hubs and four additional focus cities across Russia. If you happen to fly with the airline, expect a single-aisle aircraft similar to what you'd find many domestic routes within the United States.
However, that doesn't mean you can't get far on a single S7 flight. For example, S7 Airlines flies nonstop between Moscow and Tenerife in the Canary Islands off the coast of northwestern Africa. Heading west, this 3,272-mile journey is scheduled for 7 hours and 40 minutes, operated by an A320neo plane.
The good news? Because the Canary Islands are property of Spain, they fall into American Airlines' definition of Europe. And Russia is included as part of Europe as well. As a result, the almost 8-hour journey costs AAdvantage members just 12,500 miles.
In theory, you should be able to add on a domestic connection within Russia as well. Flying from Yakutsk to Moscow to Tenerife would span over 6,300 miles and should cost the same 12,500 miles. However, my searches for such an award on AA.com errored out. Despite this, ExpertFlyer shows award space on such a routing. Perhaps by calling AA, you could ticket this award.
SriLankan Airlines—the flag carrier of Sri Lanka—connects Oneworld with much of the Indian Subcontinent. Cities serviced include a mix of big cities on opposite sides of the globe and smaller cities within the region.
For example, flyers can get from London to Melbourne with a single stop in SriLankan's hub airport in Colombo. They can also reach many major and secondary cities within the Middle East and Indian Subcontinent. SriLankan Airlines even serves a secondary city within the Maldives! See below for the number of American Airlines miles required for award flights on SriLankan Airlines metal.
The carrier's website includes a complete listing of destinations served by the airline.
Non-Alliance Partners
With just four total planes—all Boeing 787 Dreamliners—in its current fleet, Air Tahiti Nui has the fewest destinations of any American Airlines partner bookable online. These four planes fly to a total of four destinations from the French Polynesian hub in Papeete: Auckland (AKL), Los Angeles (LAX), Paris (CDG, via Los Angeles), and Tokyo (NRT).
Using AAdvantage miles for flights to/from each of these cities is subject to the following mileage chart:
A couple of items in this chart stand out. First, it costs just 5,000 miles extra to fly in business class to Paris compared to Los Angeles. Continuing to Europe from California more than doubles the length of the journey, yet there's a very minor mileage cost. Award space for these routes is scarce though. So, grab it if you see it!
Also, travel within the South Pacific in economy class costs just 15,000 miles. That means travelers can fly through Auckland and connect onto Qantas-operated flights to other parts of Australia for no extra cost. This comes in handy if you want to get from French Polynesia to—for example—Perth, Australia, nearly 6,000 miles away.
The first time I saw a Cape Air plane on the runway at Boston Logan Airport I thought it was a private plane. The Cape Cod-based airline has historically flown a number of small Cessna aircraft that seat less than a dozen passengers, though they are in the process of modernizing its fleet with newer Tecnam planes. Despite the "Cape" namesake, Cape Air enjoys a presence outside of greater New England as well.
Not all Cape Air flights are available for award booking using AAdvantage miles. AA members can only redeem miles to book award travel on Cape Air between St. Louis, MO (STL) and Ft Leonardwood, MO (TBN); Kirksville, MO (IRK); Marion, IL (MWA); and Owensboro, KY (OWB).
An American Airlines-operated nonstop flight under 500 direct flight miles costs just 7,500 miles in economy. All of the eligible Cape Air routes are less than 500 miles. However, these short Cape Air flights do not qualify for such pricing.
As a result, consider using Chase Ultimate Rewards to redeem points for these flights, especially if you hold the Chase Sapphire Reserve®. For flights under $187.50 one way (or $375 round trip), you'll pay fewer Ultimate Rewards points at a redemption rate of 1.5 cents per point than the 12,500 AAdvantage miles one-way.
Similar to Qatar Airways, Etihad's hub in the Middle East (Abu Dhabi) offers travelers an option to reach faraway destinations with a single connection on a single airline. Etihad serves four U.S. destinations plus Toronto, meaning North American-based travelers have a few options should they wish to redeem miles with this partner.
A popular aspirational mileage redemption involves flying in Etihad's A380 first-class cabin, which the airline dubs the "Apartment". If you want to redeem American Airlines miles for one of the few opportunities to shower in the sky, be prepared to pay. Flying Etihad Airways first class between its Abu Dhabi hub and JFK, the only North American destination for Etihad's A380, costs 115,000 miles one way.
Not ready to part with your hard-earned miles all at once? Etihad remains a great option, especially for those returning to the United States. The Abu Dhabi airport offers a U.S. immigration pre-clearance facility, allowing passengers to avoid lengthy lines upon landing.
Flying out of its Nadi International Airport (NAN) hub, Fiji's namesake airline offers flights to and from major global cities, like Los Angeles and Singapore, as well as remote destinations such as Kiribati and Vanuatu. American Airlines' award chart for travel on Fiji Airways looks very similar to the one for Air Tahiti Nui as both carriers have hubs in the South Pacific:
Similar to awards on Air Tahiti Nui, Fiji Airways business class award space is hard to come by. From the West coast of the U.S., keep in mind that both the outbound and inbound flights operate overnight. For business class travelers, this might be a blessing. However, it might make a tough trip for those flying in economy.
Hawaiian Airlines operates the longest domestic flight in the United States: between Boston and Honolulu. However, don't expect to use your American Airlines miles for this flight. AA only allows award redemption on Hawaiian Airlines flights for three route options:
Intra-Hawaii
Hawaii to/from Asia
Hawaii to/from South Pacific
Below is the corresponding American Airlines redemption chart:
Similar to the Caribbean, any flight within Hawaii requires a separate award ticket and is only valid on Hawaiian Airlines.
The name "Seaborne Virgin Islands" sounds a lot more like a Caribbean island rather than a Caribbean airline. The Puerto Rico-based carrier enjoys a codeshare agreement with American Airlines on flights from its San Juan hub to other Caribbean destinations.
While the option to redeem miles on intra-Caribbean flights sounds great, in practice, these miles might be better spent elsewhere. Under the terms of the AAdvantage program, any flight within the Caribbean requires a separate award (costing 7,500 miles) and is only valid on Seaborne Virgin Islands. Often times the inter-island hops offered by the airline cost under $75 each way, meaning your redemption value would be less than 1 cent per point.
Final Thoughts
No matter where you want to fly, American Airlines miles can take you there. From tropical islands in the South Pacific for a beach vacation to the frozen tundra of the Arctic Circle to see the northern lights, American Airlines allows mileage redemptions with nearly two dozen other airlines to help you get from point A to point B.
Thanks to the functionality American has added to its website over the last couple of years, you'll be able to make many of these award bookings without having to pick up the phone too. If you need to travel on an airline not available online, you'll need to contact American Airlines Reservations at 1-800-882-8880. If the award can't be booked online, ask the agent to waive any booking fees that might otherwise apply.
During the planning process, keep in mind two key details: the value you place on American Airlines miles, and the possible points and miles alternative available. Depending on the airfare cost and routing, other frequent flier programs might offer a better redemption. Other times, paying cash might make the most sense.
The comments on this page are not provided, reviewed, or otherwise approved by the bank advertiser. It is not the bank advertiser's responsibility to ensure all posts and/or questions are answered.