AwardWallet receives compensation from advertising partners for links on the blog. Terms Apply to the offers listed on this page. The opinions expressed here are our own and have not been reviewed, provided, or approved by any bank advertiser. Here's our complete list of Advertisers.
American Airlines miles have been a favorite of mine for some time, and not just because my home airport is an American Airlines hub. The AAdvantage program utilizes a mostly-region-based award chart to determine award costs for travel on its global airline partners. This article will highlight some of the best uses of AA miles that AAdvantage members have.
Earning American Airlines AAdvantage Miles
Travelers looking to take advantage of all of these sweet spots will want a healthy stash of AAdvantage miles. Luckily, American offers many ways to earn miles.
Earning AAdvantage Miles via Credit Cards
One of the best opportunities at the moment is the offer for 60,000 bonus miles with the Citi® / AAdvantage® Platinum Select® World Elite Mastercard®. Here's our review of the current offer and why it's really worth considering if you're interested in AAdvantage miles.
Citi® / AAdvantage® Platinum Select® World Elite Mastercard®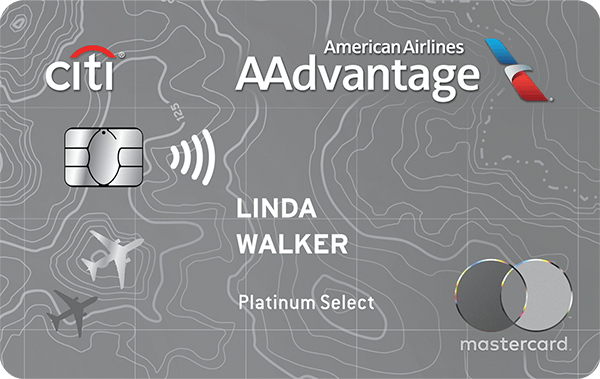 How to Apply
Citi® / AAdvantage® Platinum Select® World Elite Mastercard®
Annual Fee$99, waived for first 12 months
Welcome Offer Earn 60,000 American Airlines AAdvantage® bonus miles after spending $3,000 in purchases within the first 3 months of account opening
The AA Platinum Select card is a great choice for anyone who travels at least a few times per year with American Airlines. Cardholders get a free checked bag on domestic itineraries, priority boarding and a 25% discount on in-flight purchases.

With these perks, it's easy to justify the annual fee of $99, waived for first 12 months.
Free checked bags for you and up to 4 companions on domestic itineraries
Priority boarding to help you win the race for overhead bin space
A 25% discount on inflight food, beverage, and Wi-Fi purchases
Earn 2X miles for every $1 spent at restaurants
Earn 2X miles for every $1 spent at gas stations
Earn 2X miles for every $1 spent on eligible American Airlines purchases
Earn 1X mile for every $1 spent on all other purchases
In addition to the bonus on the AA Platinum Select, AAdvantage members can earn miles on purchases through the AAdvantage eShopping portal or by paying with one of the other Citi or Barclay co-branded credit cards. You can also earn miles on flights, with hotel and car rental partners, and even by eating at your favorite restaurant through the AAdvantage Dining program.
Transferring Points into AAdvantage
If you find yourself a bit short of the miles you need for a redemption, don't forget that Marriott Bonvoy points transfer at a 3:1 rate to American Airlines. That means that Marriott co-branded credit card offerings can boost your stash of AAdvantage miles even further.
Just note that converting at least 60,000 Bonvoy points no longer triggers a 5,000-mile bonus for transfers to AAdvantage.
Besides Marriott, only Bilt Rewards points transfer into AAdvantage. However, The Bilt Mastercard® doesn't offer a sign-up bonus. So, you'll need to spend on the Bilt Mastercard and utilize promotions like Bilt Rent Day to boost your points balance.
Unfortunately, no other transferable points currencies offer a direct way to convert to American miles.  You can find more details in our post on all the ways to earn American miles.
Dynamic Award Pricing on American
We have written about several especially great deals (transcontinental AA flights for 5k miles, business class to Europe for 84k miles round-trip, AA international Flagship First for 55k miles, and widespread domestic flights for 5k miles).
Domestic trips might be the most widely used way to book AA, but international journeys are also dynamically priced now. My favorite way to explore American Airlines AAdvantage possibilities is to utilize American Airlines' Award Map Tool. Just choose your travel dates and make sure to specify a mileage price.
Say you want to head to Europe for Oktoberfest, but award flights to Munich are too expensive. On the new American Airlines award chart, economy award flights between the United States and Europe start at 25,000 American miles each way. However, those can be hard to find if you're looking for a specific route.
That's where the Award Map Tool can help. By searching round-trip awards and setting your budget for just 50,000 AAdvantage miles, you'll find awards to nearby Frankfurt for 50k miles round-trip.
United States to Manaus, Brazil (20K/25K in Economy/Premium Economy)
The American award chart wouldn't be a good cheat sheet for your next geography test. American Airlines treats Morocco as part of Europe instead of Africa. AA also places Manaus — Brazil's largest city in the Amazon — in "South America 1" while the rest of Brazil is in "South America 2".
Travelers should be very happy about that, as it saves anyone headed from the United States to Manaus a bundle of miles. One-way awards cost 10,000 fewer miles in economy per person than the rest of Brazil!
Unfortunately, your routing options are limited. American Airlines no longer flies to Manaus. However, AA's partner GOL Airlines offers a twice-weekly route to Miami (MIA). And you can connect domestically from anywhere in the contiguous U.S. for the same rates.
Even better, you can continue your journey by booking flights solely within Brazil starting at just 7,500 miles. American Airlines' partnership with GOL makes flying around Brazil a breeze. Just keep in mind that domestic one-way flights within Brazil can be cheap. So, be sure to check prices before booking with miles.
United States to Middle East/Indian Subcontinent (70K  in Business Class)
Is there a better international business class product than Qatar Airways' QSuite? All U.S. gateways to Doha now offer QSuite, meaning you can fly between the U.S. and Doha, Qatar in Qsuite business class for just 70,000 miles each way.
Even better, travelers can continue onward from Doha to other destinations in the Middle East or into the Indian Subcontinent for the same amount of miles. Whether you're seeking some R&R in the tropical sun of the Maldives, or trekking into the mountains of Nepal, you'll only need 70,000 American miles each way to make the journey in award-winning comfort and style.
United States to Africa (75K in Business Class)
What could be better than one long QSuite flight? Two long QSuite flights! Getting to the Middle East in business class for 70,000 miles already represents a great deal. Using an extra 5,000 miles to continue on to anywhere in Africa is absolutely fantastic.
If your journey begins somewhere like Los Angeles, connecting through Doha on your way to Cape Town, 75,000 American miles buys you over 24 hours in QSuite! American Airlines and its partners do not offer any direct flights from the U.S. to Africa (at least by AA's less-than-geographically-accurate region definitions), but even if they did I would choose to extend the journey to experience QSuite for as long as possible.
United States to Asia 1 (80K in First Class)
Not every American Airlines sweet spot relies on QSuite routes. Other partner airlines, such as Japan Airlines, offer fantastic hard and soft products and operate routes that represent great value for the miles.
One-way flights between the United States and "Asia 1" — which consists of Japan and South Korea — costs only 35,000 miles in economy or 60,000 in business class. Both of these options might look tempting, but bumping up to first class for 80,000 miles potentially unlocks even more value.
Compare that 80,000-mile cost for a journey between the U.S. and Asia 1 against other first-class mileage costs for global regions. A first-class flight to Japan or South Korea costs fewer miles than a first-class flight to Europe! That's right: seven hours in first class between New York City and London requires 5,000 more miles than a flight more than twice as long between New York City and Tokyo.
Europe to the Middle East/Indian Subcontinent (42.5K in Business Class)
Another way to experience Qatar Airways business class at a huge discount is to fly between Europe and the Middle East or Indian Subcontinent. A business class award will set you back just 42,500 miles each way:
That means you can fly from London to the Maldives in business class for just 42,500 miles one-way. And since this route doesn't touch the U.S., award availability is often wide-open:
Europe to the Middle East/Indian Subcontinent (62.5K in First Class)
One of the most luxurious and exclusive commercial airline experiences is to shower in the sky. Fortunately, American Airlines miles can make this a possibility. Etihad Airways — a non-alliance partner of American — offers showers for first-class passengers on their A380 planes.
At the time of writing, Etihad is slowing bringing its A380s back into service. Right now, the only route that offers Etihad Apartments is between Abu Dhabi (AUH) and London Heathrow (LHR). The seven-hour flight costs 62,500 AAdvantage miles in Etihad first class.
The downside is that Etihad award availability isn't always available on AA.com. So, you'll need to find saver award availability through Etihad's own program or through Aeroplan. Then call AA to book this AAdvantage award using your miles.
Intra-Australia Flights (10K/20K in Economy/Business Class)
Another AAdvantage sweet spot that doesn't touch the U.S. is intra-Australia flights on Qantas. No matter where you fly in Australia, you'll only need to pay 10,000 AAdvantage miles in economy or 20,000 miles in business class.
For short hops between Sydney, Melbourne, and Brisbane, these award prices are pretty good. But the real value is found on longer flights and flights to more-expensive destinations.
For example, you can fly a 5+ hour flight in lie-flat Qantas business class from Sydney or Brisbane to Perth for just 20,000 AAdvantage miles.
Or, book a flight to the center of Australia to visit Uluru for just 10,000 AAdvantage miles. Despite only being a few-hour flight, the tourism demand for this flight can push prices over $300 each way. So, your AAdvantage miles can save you quite a bit.
Final Thoughts
Without a doubt, each traveler has their own idea of the "best" redemption. Above are just some of the many examples of great award flight opportunities available through the AAdvantage program. Ultimately, the sweetest redemptions are the ones that allow you to achieve your travel goals, regardless of origin and destination.
To meet those travel goals, make sure to explore the various co-branded credit cards available. Credit cards like the AA Business Card allow travelers to build up a mileage balance quickly via its sign-up bonus and continue to earn miles by spending on the card.
For Marriott-loyal travelers, consider investigating transfers from the Marriott Bonvoy program as well. Marriott Bonvoy lets members transfer points to other members of their household at no cost. Pooling points can be a great option when redeeming miles with travel companions.
If you have a favorite AAdvantage redemption not included above, let us know in the comments!
AwardWallet Tip of The Day
Did you know that AwardWallet supports two-factor authentication? Your account security is our top priority. If you are not familiar with two-factor authentication, check out our 
FAQ article on two-factor authentication
. You can enable two-factor authentication from your
profile page
; there is no cost to enable this functionality, and we highly recommend it to protect the integrity of your account.
Show me how
Hide image
The comments on this page are not provided, reviewed, or otherwise approved by the bank advertiser. It is not the bank advertiser's responsibility to ensure all posts and/or questions are answered.