AwardWallet receives compensation from advertising partners for links on the blog. Terms Apply to the offers listed on this page. The opinions expressed here are our own and have not been reviewed, provided, or approved by any bank advertiser. Here's our complete list of Advertisers.
Yes, American Airlines AAdvantage® miles expire if you have no earning or redemption activity on your account in a 24-month period. Per the AAdvantage® FAQs page:
"Just earn or redeem miles on American or with an AAdvantage® partner at least once every 24 months. We'll automatically extend your mileage expiration date 24 months from the date of your most recent qualifying activity."
There are two exceptions to the AA mileage expiration rule. AA members under the age of 21 are not subject to the mileage expiration policy. In addition, you aren't subject to expiration if you are the primary account holder on an AAdvantage co-branded credit card.
AA miles that have expired can be reinstated for a fee.
Credit Card Expiration Exemption
If you hold an AA co-brand credit card, you are in luck: Your miles are safe since they are no longer subject to the expiration policy. Eligible American Airlines co-branded cards include:
Citi® / AAdvantage® Platinum Select® World Elite Mastercard®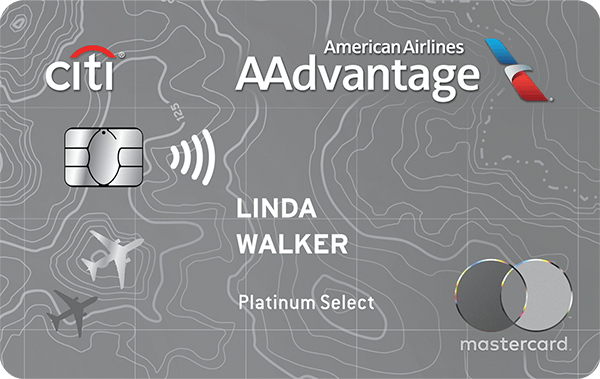 How to Apply
Citi® / AAdvantage® Platinum Select® World Elite Mastercard®
Annual Fee$99, waived for first 12 months
Welcome Offer Earn 50,000 American Airlines AAdvantage® bonus miles after spending $2,500 in purchases within the first 3 months of account opening
The AA Platinum Select card is a great choice for anyone who travels at least a few times per year with American Airlines. Cardholders get a free checked bag on domestic itineraries, priority boarding and a 25% discount on in-flight purchases.

With these perks, it's easy to justify the annual fee of $99, waived for first 12 months.
Free checked bags for you and up to 4 companions on domestic itineraries
Priority boarding to help you win the race for overhead bin space
A 25% discount on inflight food, beverage, and Wi-Fi purchases
Earn 2X miles for every $1 spent at restaurants
Earn 2X miles for every $1 spent at gas stations
Earn 2X miles for every $1 spent on eligible American Airlines purchases
Earn 1X mile for every $1 spent on all other purchases
Keeping Your AA Miles Alive
As a rule, any earning or redemption activity will count towards resetting your AA mileage clock validity. You can earn AA miles in any of the following ways to ensure your existing miles don't expire:
From
To
Transfer Ratio
Min.Transfer
Average Time
➔
American Airlines (AAdvantage)
3:1
3,000
➔
American Airlines (AAdvantage)
1,000:1,000
2,000
➔
American Airlines (AAdvantage)
1,250:500
5,000
IHG Hotels & Resorts (One Rewards)
➔
➔
American Airlines (AAdvantage)
10,000:2,000
-
➔
American Airlines (AAdvantage)
10:7
Avion cardholders only
-
➔
American Airlines (AAdvantage)
500:500
1,000
Wyndham Rewards (Days Inn, etc.)
➔
➔
American Airlines (AAdvantage)
6,000:1,200
-
American Airlines also regularly has special offers and promotions, which let you pick up extra miles as a one-off and keep your account alive.
Redeeming your AA miles
Redeeming your miles will also extend you mileage validity. However principal value to be had is redeeming them for flights, especially if you can take advantage of one of AA Sweet spots. Although other redemption options tend not to be the best value. However, you can still do some good and keep extending your AA miles' validity by donating some miles to a good cause.
Keep Your Miles Active & Save at the Same Time
Wouldn't it be great if you could earn AAdvantage® miles every month without lifting a finger? The Bask Mileage Savings Account earns AAdvantage® miles instead of cash interest. You'll earn 2.5 AAdvantage® miles for every dollar saved annually.
And since Bask Bank deposits miles in your AAdvantage® account on a monthly basis, you'll never have to worry about generating activity to extend your expiration date.
Opening a Bask Mileage Savings Account is hands-down the easiest way to permanently eliminate "stop my American miles from expiring" from your to-do list. There's no limit to the number of miles you can earn, and it's quick and easy to set up. Check out our full review for more details.
Reinstate Your Expired Miles
You can reinstate your expired miles for a fee by calling the AA customer care line; you also can do this online. However, you can reinstate expired miles only under the following conditions:
You can only reinstate miles that have expired in the last 24 months.
A maximum of 500,000 miles can be reinstated in a single transaction.
You can only make one reactivation transaction per batch of expired miles; any miles that expired at the same time and are not reactivated cannot be reinstated later.
Unfortunately, AA is very opaque about what it charges for reinstating expired miles. However, AA says the rate to reinstate your miles depends on the number of miles being reinstated. If you are wondering about out-of-pocket costs, we found the following data point from Travel Summary about reinstating AA miles.
| Number Of Reactivated Miles | Cost Of Reactivation | Cost Per Mile To Reactivate |
| --- | --- | --- |
| 5,000 | $60 | ₵1.2 |
| 10,0000 | $100 | ₵1.0 |
| 15,000 | $150 | ₵1.0 |
| 25,000 | $225 | ₵0.9 |
| 50,000 | $400 | ₵0.8 |
| 75,000 | $550 | ₵0.73 |
| 100,000 | $700 | ₵0.7 |
| 113,864 | $1000 | ₵0.88 |
One thing to note is that the data is from 2022, so the price of reinstating your miles may have changed since then.
Our Take
AA is not leading from the front regarding mileage expiration policies. Its main U.S. competitors — United and Delta — eliminated mileage expiration. That said, American Airlines' policy is very generous, and you can do many things to ensure your miles don't expire. Hopefully, AA will follow suit and eliminate mileage expiration entirely in the near future.
AwardWallet Tip of The Day
Did you know you can order an
AwardWallet OneCard
with up to 30 of your loyalty accounts printed on it? The card is only $10 and is shipped free of charge anywhere in the world. Plus, you'll get a bonus
Balance Watch credit
when paying for your OneCard.
Show me how
Hide image
The comments on this page are not provided, reviewed, or otherwise approved by the bank advertiser. It is not the bank advertiser's responsibility to ensure all posts and/or questions are answered.