AwardWallet receives compensation from advertising partners for links on the blog. Terms Apply to the offers listed on this page. The opinions expressed here are our own and have not been reviewed, provided, or approved by any bank advertiser. Here's our complete list of Advertisers.
Offers for Bank of America cards mentioned in this post have been updated as of 09/06/2023
AAdvantage eShopping is the official American Airlines shopping portal. In this post, we'll explain how a small change to your online shopping routine can supercharge your rewards—with almost no extra effort.
We're big fans of shopping portals because they offer the opportunity to earn rewards from more than one source when you make a purchase. You may already be familiar with big online shopping portals like Rakuten (formerly known as Ebates), but sometimes airline and hotel shopping portals can offer a better deal.
AA eShopping is one of the biggest and best of the airline shopping portals, offering a fantastic opportunity to boost your stash of American miles. With all the extra miles you stand to earn, your next AA redemption my be much closer than you think.
What is a Shopping Portal?
Shopping portals are one of the most efficient ways to boost your point and mile earnings on everyday purchases.
The concept is simple: If a shopper makes a purchase with an online store after clicking through a shopping portal, the store shares a commission with the shopping portal. This commission is then shared in part with you, the shopper, in the form of cash back or bonus miles.
Depending on the store, the shared commission can be as little as one bonus mile per dollar spent, or as significant as several thousand bonus miles per purchase. In either case, the earnings quickly add up!
AA Shopping Portal Basics
Sign-up For an AAdvantage eShopping Account
While you don't need a membership to browse the available bonuses, you'll need to create an account to start earning. This requires an AAdvantage number, name, email address, and zip code. The AAdvantage eShopping login is separate from your American Airlines login. If you don't already have an AAdvantage account, you'll need to sign-up for one of those first.
Find eShopping Offers
Once you've logged in, it's simply a matter of finding an attractive offer. You can accomplish this by searching for a specific merchant in the search bar, filtering for the category using the drop-down menu, or by scrolling through all of the offers one by one.
Once you've found the store you're looking for, you'll see the bonus displayed. Sometimes AA eShopping offers a flat bonus amount, and sometimes it's a set number of miles per dollar spent. In either case, make sure you read the terms to make sure the purchase you intend to make qualifies for the bonus.
Once you're ready, press "Shop Now" to navigate to the store's website and complete your purchase.
The AA shopping portal may have more than one offer for a single store. If that's the case, you'll see the option to "View all (store name) offers". Select that, and you'll be taken to the dedicated merchant page where all available bonuses are listed.
Activate the AAdvantage eShopping Button
To make things even easier, aadvantageshopping.com offers a Google Chrome extension called the "AAdvantage eShopping℠ Button". It alerts you anytime you're browsing the website of a partnered store, allowing you to activate the applicable bonus with a single click.
Once installed, you'll see a pop-up that looks like this whenever you visit a website that partners with American Airlines shopping:
Click the button to activate the offer and complete your purchase as normal. You'll earn the bonus miles the same as if you had navigated to the website via the AA shopping portal.
The AAdvantage eShopping Button is also useful for displaying multiple bonus options and viewing past purchases and earnings.
AA eShopping Mall Pro-Tips
While the basics of American Airlines eShopping are pretty straightforward, there are a few things to keep in mind to ensure you'll get your miles and that you're getting the best bang for your buck.
Whenever planning an online purchase, always start by going to a shopping portal aggregator like CashBackMonitor. Sites like these display the AA shopping portal offer side by side with earning rates from dozens of other portals. This lets you find the best rate for the product you want to buy.
When using a shopping portal, always start with an empty cart. If there are already items in your cart from a previous visit, you risk not receiving the bonus miles for those items.
Once you're on the merchant website, don't leave the window before checking out. Your original shopping trip was tied to the shopping portal, but your return may not be.
Your web browser needs to have cookies enabled for portal bonuses to track.
Always read the full terms of each bonus to ensure that the purchase you intend to make will qualify.
Maximize Your Rewards American Airlines Shopping
The AA shopping portal comes with a built-in opportunity to earn rewards from a second source: If you pay with a rewards card, the points or miles you earn from your bank are in addition to the miles you earn from using the AA shopping portal. This then begs the question: Which credit card should you use?
If you're particularly interested in earning AAdvantage miles, your best bet may be to use an AA co-branded credit card, like the Citi® / AAdvantage® Platinum Select® World Elite Mastercard®. Unfortunately, the category bonus options with these cards are limited, often leaving you earning only 1X miles per dollar.
Citi® / AAdvantage® Platinum Select® World Elite Mastercard®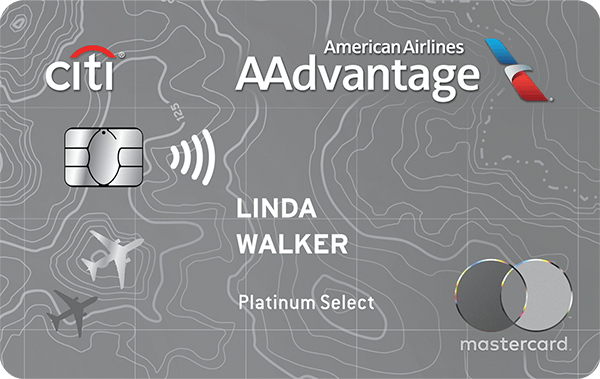 Learn More
Citi® / AAdvantage® Platinum Select® World Elite Mastercard®
Annual Fee$99, waived for first 12 months
Welcome Offer Earn 60,000 American Airlines AAdvantage® bonus miles after spending $3,000 in purchases within the first 3 months of account opening
The AA Platinum Select card is a great choice for anyone who travels at least a few times per year with American Airlines. Cardholders get a free checked bag on domestic itineraries, priority boarding and a 25% discount on in-flight purchases.

With these perks, it's easy to justify the annual fee of $99, waived for first 12 months.
Free checked bags for you and up to 4 companions on domestic itineraries
Priority boarding to help you win the race for overhead bin space
A 25% discount on inflight food, beverage, and Wi-Fi purchases
Earn 2X miles for every $1 spent at restaurants
Earn 2X miles for every $1 spent at gas stations
Earn 2X miles for every $1 spent on eligible American Airlines purchases
Earn 1X mile for every $1 spent on all other purchases
Conversely, if your priority is maximizing earnings regardless of the currency, you're left with three options:
Minimum Spend Requirement — Use the purchase towards the qualification for a new card welcome bonus.
Cards Optimized for Everyday Spending — Use a card that offers a solid return for all purchases, such as the Citi® Double Cash Card or The Blue Business® Plus Credit Card from American Express.
Cards Offering a Bonus for Online Shopping — Use a card that bonuses online purchases, such as the AT&T Access Card from Citi or the Bank of America® Customized Cash Rewards credit card.
Bottom Line
If we've learned one thing from all of AA's recent web specials—including 5,000-mile tickets to Australia, 55,000-mile first-class tickets to Asia, and 5,000-mile tickets cross country—it's that with AA, every mile counts.
The AAdvantage eShopping Mall can quickly and easily supercharge your earnings without requiring any increased spending. It takes little-to-no effort to use, yet it can yield massive results!
If boosting your balance of AA miles interests you, you owe it to yourself to check out the AAdvantage eShopping Mall before your next online purchase.
Have you used the AAdvantage eShopping Mall before?
AwardWallet Tip of The Day
Did you know that any loyalty account can be marked as
Disabled
? Once disabled, AwardWallet will not attempt to update the account. If desired, you can manually mark any account as disabled. Additionally, if you provide us with an account that has invalid credentials, we will automatically mark it as disabled after we realize this account cannot be updated. We do this to help prevent your loyalty account from locking you out.
Show me how
Hide image
The comments on this page are not provided, reviewed, or otherwise approved by the bank advertiser. It is not the bank advertiser's responsibility to ensure all posts and/or questions are answered.