AwardWallet receives compensation from advertising partners for links on the blog. Terms Apply to the offers listed on this page. The opinions expressed here are our own and have not been reviewed, provided, or approved by any bank advertiser. Here's our complete list of Advertisers.
American Airlines is in the midst of an overhaul of its Admirals Club lounges. In exchange for increasing Admirals Club prices this summer, the Dallas-Fort Worth airline pledged to improve food and drink options and refresh lounges. The newest example of this new Admirals Club design is on display in Newark International (EWR).
Today (September 6, 2023), American Airlines reopened its Newark Admirals Club with its newest design. This marks just the second redesigned Admirals Club after Washington D.C. National (DCA) — which opened back in October 2022.
Are the redesigned Admirals Club lounges worth the increased rates? Let's take a look at the just reopened Newark Admirals Club as an example of what to expect.
All photos in this post were taken by JT Genter during his visit on the afternoon of September 6, 2023. Some features may change by the time you visit.
Newark Admirals Club Hours and Access Policy
The Newark Admirals Club is currently operating between 4 a.m. and 7:30 p.m. Eastern Time, seven days a week.
Admirals Club access works like any other Admirals Club location. Travelers need to have an Admirals Club membership, travel in business or first class on an eligible route, have eligible AAdvantage elite status and travel on an eligible route, purchase or redeem Loyalty Point Rewards for a day pass, or carry the Citi® / AAdvantage® Executive World Elite Mastercard®.
Even with an increased $595 annual fee, the AA Executive Card is still a top option — particularly as Admirals Club membership fees have increased to as high as $850 for a new membership.
Citi® / AAdvantage® Executive World Elite Mastercard®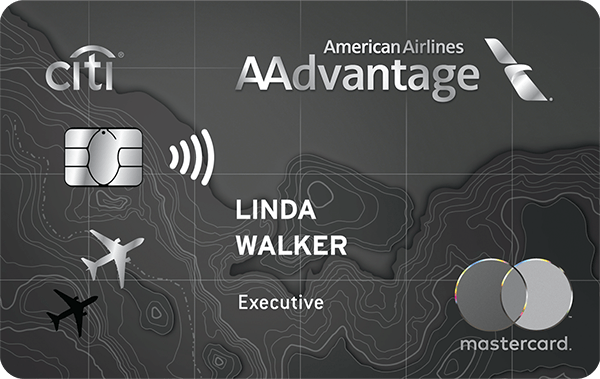 How to Apply
Citi® / AAdvantage® Executive World Elite Mastercard®
Annual Fee$595
Welcome Offer Earn 70,000 American Airlines AAdvantage® bonus miles after spending $7,000 within the first 3 months of account opening.
The AA Executive Card card is by far the most cost effective way to gain access to American Airlines Admirals Club lounges. Even better, you can extend the benefit to authorized users (for a fee), and this card offers a free checked bag, on domestic AA flights, priority checkin and boarding, and a credit for Global Entry or TSA PreCheck.
Complimentary Admirals Club membership for the primary cardholder
Admirals Club membership for authorized user accounts
First checked bag free on domestic AA flights for you and up to 8 companions
Priority check-in, TSA screening lines, and boarding
10,000 bonus Loyalty Points after you spend $40,000 in purchases within the year
Global Entry or TSA PreCheck credit
No Foreign Transaction Fees
Earn 10X miles for every $1 spent on eligible hotels booked at aa.com/hotels and eligible rental cars booked through aa.com/cars
Earn 4X miles for every $1 spent on eligible American Airlines purchases (increased to 5X miles through the end of the calendar year after you pass $150,000 in purchases annually)
Earn 1X mile for every $1 spent on all other purchases
Newark Admirals Club Location
This new Admirals Club is located in the mezzanine of the recently redesigned Newark Terminal A, closest to gates A7 and A8.
Follow the signage toward the center of the terminal and then toward the appropriate side of the terminal — which will depend on which direction you're coming from.
The lounge is located one floor above the terminal — technically, floor 3. Travelers can access the lounge by either stairs or an elevator.
Once on the upper floor, the sleek wooden lounge entrance will be obvious.
Newark Admirals Club Lounge Layout
The Newark Admirals Club measures 7,050 square feet and can accommodate up to 137 passengers at a time. That makes it a relatively modest-sized lounge. Despite that, the lounge offers an impressive variety of seating types and amenities.
The lounge embodies an "open design" concept with no solid walls anywhere in the main room of the lounge. Instead, wooden slats divvy up the lounge into a living room, work area, additional seating areas, and a dining area.
One of the highlights of the new Admirals Club lounge design is a central fireplace in a living room-style setting. And this inviting room is what greets you just to the right of the entrance desk.
Travelers have no lack of seating types to choose from — including seating nooks, low-back couches, and individual plush chairs. American Airlines reports that 90% of seats in the lounge have power, including USB outlets integrated into some of the seating.
When you're ready to grab a bite to eat or drink, the lounge's bar is located at the back of the lounge — also offering a variety of seating types.
Food and Beverage at the Newark Admirals Club
One of the main promises of the new Admirals Club design is improved food and drink. Travelers who have recently compared Admirals Club offerings to United Club and Delta Sky Club lounges know that this improvement is past due.
Gone are the "snack towers of sadness" that are a staple of older Admirals Clubs. Instead, you'll find fresh food laid out in the bar area.
During my visit, pastrami sliders and chickpea falafel were the two "warm offerings" on offer. Cold offerings included edamame & quinoa salad, antipasto salad, and a variety of cold starters. Soups, desserts, and snack options are also available.
American Airlines notes that travelers can choose between "Belgian waffles, a seasonal quiche tartlet, premium fruit, bacon and locally sourced pastries" during breakfast hours.
These options aren't up to the standards set by some United Club and Delta Sky Club lounges, but it's a notable improvement from older Admirals Clubs.
Another improvement of the new Admirals Club lounges: Complimentary signature cocktails. During my visit, the two highlighted cocktails on offer were a "New Jersey Bloody Mary" (vodka, Blood Mary mix, Jersey tomatoes) and an "American Trilogy" (brandy, bourbon, demerara, bitters). Travelers can also enjoy complimentary beer, wine, and select spirits.
Travelers looking for a pick-me-up can grab a cup of coffee or make an espresso, americano, latte, or cappuccino using the lounge's made-to-order "barista-style bean-to-cup" coffee makers. And you can choose to use either a ceramic cup to enjoy in the lounge — or a paper cup to go.
Amenities at the Newark Admirals Club
Most of the amenities of the lounge are built into the lounge — from designated seating areas to artwork. For example, a grand display near the bathrooms features Newark cherry blossoms from Branch Brook Park.
If you need a solid background for a video call, snag one of the three seating nooks located toward the front of the lounge.
And you shouldn't have any trouble with Wi-Fi for these calls. The Wi-Fi measured a speedy 67.77 Mbps download and 99.35 Mbps upload with a ping around 32 ms:
For phone calls, grab one of the two dedicated enclosed phone booths.
The Newark Admirals Club doesn't have several amenities found at other Admirals Club locations — such as showers or a nursing room.
Bottom Line
American Airlines just opened its second redesigned Admirals Club in Newark's remodeled Terminal A after a nearly nine-month renovation. This lounge showcases the new Admirals Club design and food & drink options. Whether or not this is worth the increased cost for an Admirals Club membership (or day pass) is going to be a personal decision. But, for travelers with Admirals Club access through their ticket or elite status, this is a nice improvement from the current Admirals Club standard.
AwardWallet Tip of The Day
Did you know you can order an
AwardWallet OneCard
with up to 30 of your loyalty accounts printed on it? The card is only $10 and is shipped free of charge anywhere in the world. Plus, you'll get a bonus
Balance Watch credit
when paying for your OneCard.
Show me how
Hide image
The comments on this page are not provided, reviewed, or otherwise approved by the bank advertiser. It is not the bank advertiser's responsibility to ensure all posts and/or questions are answered.