AwardWallet receives compensation from advertising partners for links on the blog. Terms Apply to the offers listed on this page. The opinions expressed here are our own and have not been reviewed, provided, or approved by any bank advertiser. Here's our complete list of Advertisers.
Offers for The Platinum Card® from American Express are not available through this site. All information has been independently collected by AwardWallet and has not been reviewed or provided by the card issuer. Some offers may have expired. Please see our card marketplace for available offers.
On June 19th, 2019, Qantas announced a multitude of changes to its frequent flyer program. We are accustomed to seeing purely negative changes from airlines (i.e. extra fees, higher award prices). However, in this case, the changes announced from Qantas are a mix of positive and negative. The award-chart updates took effect on September 18, 2019, so we are now working with the new rules and prices described in this post.
Qantas Frequent Flyer Program Overview
Qantas is the official airline of Australia and is part of the Oneworld Alliance. As far as reward tickets go, Qantas is known for having high carrier-imposed surcharges, steep award redemption rates, and limited award seats available in premium cabins. Overall, these characteristics don't bode well for reward flights. However, given that Qantas is the primary carrier servicing Australia, those living in or flying to Australia often have no choice but to travel with Qantas. Coupled with the relatively long distance that needs to be flown to reach Australia, award costs with Qantas can add up rather quickly.
In addition to earning Qantas points by flying, Qantas is a transfer partner of Citi ThankYou, American Express Membership Rewards, Capital One, and Marriott Bonvoy. Depending on your travel plans, there are still situations where Qantas can be a solid option for award bookings. These transfer partners make it easy to top up your account to the exact number of points needed for an award. In some cases, transferring to Qantas can be a good value—especially when a transfer bonus sweetens the deal.
Capital One® Venture® Rewards Credit Card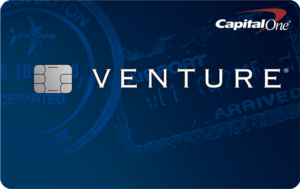 How to Apply
Capital One® Venture® Rewards Credit Card
Annual Fee$0 for the first year; $95 after that
Welcome Offer 50,000 miles after spending $3,000 on purchases within 3 months from account opening
Following the revamp of Capital One's rewards program and the addition of airline transfer partners, the Capital One Venture has catapulted into our list of top travel rewards cards. The ability to earn 2X miles on every purchase and 5X points on hotels and car rentals booked through Capital One Travel provides a decent return on spending. Plus the card offers some great perks.
50,000 Miles after spending $3,000 on purchases within 3 months from account opening; worth $500 in travel if redeemed for a fixed-value, or potentially much more when transferred to airline partners
2 Miles on every purchase, plus earn 5 Miles on hotel bookings and car rentals through Capital One Travel
Fee credit for Global Entry or TSA Pre✔® (up to $100)
No foreign transaction fees
$0 for the first year; $95 after that
2 Miles per dollar on every purchase, every day.
5 Miles on hotels and car rentals through Capital One Travel
Qantas Changes Overview
Positive Changes
Reduced carrier surcharges by up to 50% on international bookings, resulting in potential savings of $200 per return trip.
More than one million additional award seats on Qantas and partner airlines.
Four additional airline partners: Air New Zealand, China Airlines, Bangkok Airways, and Air France/KLM.
Up to a 10% reduction in the miles needed for redeeming International Economy Classic Rewards.
Establishment of a new "Points Club" program to reward members who earn a significant amount of points through on-the-ground transactions.
Introduction of a Lifetime Platinum status to reward Qantas' most loyal flyers.
An interesting new development is the creation of a "Points Club" meant for members who earn a lot of points through non-flying-related transactions. The club will include two tiers with entry gained based on a member passing an annual points-earned criteria and will be launched in late 2019. Members will be able to earn flight and travel benefits such as lounge access, bonus status credits, and member-exclusive discounts on Qantas and partner airlines. Access to the initial tier is reached by earning 150,000 points. The more exclusive "Points Club Plus" tier will include more lucrative member benefits. The threshold to reach the higher tier has not yet been announced.
If you love Qantas and rack up a lot of points (and boy do we mean a lot), you can now look forward to achieving Lifetime Platinum status. This status level launches in September 2019 and can be reached by earning 75,000 status credits. For reference, you need 1,400 credits to earn Platinum status, and 1,200 credits to maintain it. That means you'd need 63 years of hitting the minimum number of credits to qualify for Platinum status before you'd be off the hook for life! With such a huge requirement, the lifetime status is an undertaking only for perennial status overachievers.
Negative Changes
Up to a 15% increase in the number of miles required for domestic and international premium awards.
Up to a 9% increase in the number of miles needed for upgrade awards.
Qantas claims that the increase in miles required is justified given that it is the first increase in 15 years, and the new price better reflects the upgraded experience. Although price increases are unfortunate, Qantas did announce these changes three months in advance, allowing flyers to lock in award tickets at lower-priced tiers.
Before and After Price Comparison
The good news is that the reduced taxes and fees took immediate effect, while the increases in points required were delayed until September 18th. For business and first-class flights booked after September 18th, the higher number of points required will generally cancel out (or in some cases far outweigh) any gains from reduced out-of-pocket costs. For the three months after the announcement, frequent flyers got the best of both worlds—paying the old award prices and benefiting from the reduced fees.
The Platinum Card® from American Express
How to Apply
The Platinum Card® from American Express
Annual Fee$550
Welcome Bonus Earn 60,000 Membership Rewards® points after you use your new Card to make $5,000 in purchases in your first 3 months.
5X points on flights booked directly with airlines or with American Express Travel, and on prepaid hotels booked on amextravel.com
Redeeming Qantas Points
Similar to other foreign carriers, Qantas has a distance-based award chart. Until September 17th, 2019, redemptions on Qantas were governed by the award chart below.
Old Qantas Award Chart (through September 17, 2019)
Current Qantas Award Chart (after September 18, 2019)
Qantas is now using the following award chart:
Increases/Decreases in Awards:
Based on a comparison of the two award charts, we've assembled a quick-reference guide to increases and (decreases) in award costs. For the economy awards, Qantas has not published the updated award levels, so we've taken them at their word on a 10% reduction for international economy prices. Domestic-award prices may not end up getting a discount, so the values may be slightly different—particularly in zones 1-4.
Citi Premier℠ Card
Learn More
Citi Premier℠ Card
Annual Fee$95
Welcome Offer Earn 60,000 bonus ThankYou® Points after you spend $4,000 in purchases within the first 3 months of account opening.
The Citi Premier card offers some of the top earning rates of any rewards card with an annual fee under $100. This card is best-in-class for rewards on travel spending, and it tops our list of the best cards for
gas & fuel purchases
with a generous 3X ThankYou
®
Points.
60,000 point signup bonus worth $750 towards airfare through the ThankYou Travel Center, or potentially much more when transferred to airline partners
3X points per $1 on travel, including gas stations, plus 2X points at restaurants and on entertainment
No foreign transaction fees
$95 annual fee
3X points per $1 spent on on travel including gas stations, as well as airfare, hotels, car rental agencies, public transportation, tolls, and parking
2X points per $1 spent on dining at restaurants, including many cafes, bars and lounges
2X points per $1 spent on entertainment, including sporting events, movie theaters, concerts and more
1X points per $1 spent on all other purchases
Best Awards
Short-haul flights on American Airlines within the Continental U.S.
Distance-based award charts tend to be most advantageous on short-haul flights. When the competition uses a zone-based chart, they're forced to settle on a single price for travel within an entire region. Since they don't want to make a transcontinental flight too cheap, prices for short flights are inflated. For example, an economy award flight from New York to Charlotte (529 miles), costs only 8,000 Qantas points. In comparison, the same flight costs 10,000-12,500 miles with American or United.
Zone Arbitrage on International Flights
A similar zone-vs-distance arbitrage is possible when two cities in different regions are relatively close. For example, a flight from Boston to Amsterdam (3,457 miles) costs only 25,200 (~23,000 after the change) Qantas points. With United and American Airlines, an award flight is 30,000 miles from anywhere in the continental U.S. to anywhere in Europe. On the other side of the equation, a flight from Los Angeles to Moscow still costs 30,000 miles with American while Qantas would charge 37,600–41,900 depending on where you make your connection.
If you want to fly a route like Boston to Amsterdam in business class, the new price is 57,000 Qantas points (previously 50,000). This puts the route on par with booking business class on American Airlines (57,500) and slightly cheaper than the 60,000–70,000 points charged by United. Since distance traveled is the key factor, booking a direct routing is critical. If you connect in Philidelphia instead of London, you'll end up in a higher zone. Great Circle Mapper is an ideal tool to find out how many miles you'll fly on a given route.
An economy flight from Miami to Tel Aviv (6,603 miles) costs only 37,600 Qantas points with the new chart vs. 40,000 with American Airlines and 42,500 with United. An economy flight from New York to Tel Aviv (5,692 miles) is an even cheaper 31,500 (~28,500 after the change) Qantas points. In business class, Qantas is back on par with the competition with the ticket costing 82,000 points vs. 85,000 points with United.
Qantas flights within Australia
Given that Qantas is the domestic carrier, it dominates flights in Australia. Again, distance-based awards can work to your advantage here. Remember, Qantas uses the total miles traveled for the entire itinerary. This is significantly different from fellow Oneworld member British Airways, whose distance-based chart makes a separate calculation for each flight on the itinerary. With Qantas, a connection doesn't necessarily cost you more miles, as long as the total mileage doesn't fall into a higher pricing zone.
Our Take
One thing to be thankful for is that these changes aren't overwhelmingly negative. The reduction in carrier surcharges is a positive development. When coupled with using Qantas points on zone-based award sweet spots, a good redemption is possible. The Points Club provides an innovative way to pick up some extra flying perks with Qantas and I'm interested to see how it will develop. The addition of partner airlines is a good move and it will be interesting to see how many award seats are actually available for booking. Qantas' promise of adding an additional one million award seats includes these partners, so hopefully, redemption opportunities will improve. I am cautiously optimistic that these claims behind these changes actually result in some positive benefits to fliers.
Marriott Bonvoy Boundless™ Credit Card
Apply Now
Marriott Bonvoy Boundless™ Credit Card
Annual Fee$95
Welcome Bonus Earn 75,000 Bonus Points after you spend $3,000 on purchases in the first 3 months from account opening.
Earn 75,000 Bonus Points after you spend $3,000 on purchases in the first 3 months from account opening.
1 Free Night Award (valued up to 35,000 points) every year after account anniversary.
Earn 6X Bonvoy points per $1 spent at over 7,000 hotels participating in Marriott Bonvoy™.
2X Bonvoy points for every $1 spent on all other purchases.
Automatic Silver Elite Status each account anniversary year. Path to Gold Status when you spend $35,000 on purchases each account year.
15 Elite Night Credits each calendar year.
No foreign transaction fees.
Earn unlimited Marriott Bonvoy points and get Free Night Stays faster.
6X Bonvoy points per $1 spent at over 7,000 participating Marriott Bonvoy hotels
2X Bonvoy points for every $1 spent on all other purchases
AwardWallet Tip of The Day
Hide image
The comments on this page are not provided, reviewed, or otherwise approved by the bank advertiser. It is not the bank advertiser's responsibility to ensure all posts and/or questions are answered.