AwardWallet receives compensation from advertising partners for links on the blog. Terms Apply to the offers listed on this page. The opinions expressed here are our own and have not been reviewed, provided, or approved by any bank advertiser. Here's our complete list of Advertisers.
Offers for the Allegiant World Mastercard® Credit Card are not available through this site. All information has been independently collected by AwardWallet and has not been reviewed or provided by the card issuer. Some offers may have expired. Please see our card marketplace for available offers.
Allegiant Air offers low-cost leisure travel to over 100 destinations throughout the United States. Now, Allegiant is offering a new loyalty program for its customers: Allegiant Allways Rewards.
Allways Rewards replaces its predecessor, myAllegiant, and offers a refreshing simplicity for earning, and burning, Allways points.
Allegiant Allways Rewards Program Details
Before getting into details, keep in mind the underlying tenet of Allegiant's new program: less is more. Both earning and burning points becomes incredibly straightforward under the Allegiant Allways rewards program.
Earning Allegiant Allways Rewards Points
Earning points under Allegiant's new program is quite simple. For every dollar spent on flights or travel packages on Allegiantair.com, you'll earn 1 Allegiant Allways point. If your purchase is over $500, you will earn 2 Allegiant Allways points instead of just 1.
Just make sure you're logged into your Allegiant Allways account to make sure the points are earned. Be advised that taxes and fees are not eligible for earning points, which can be an important distinction when spending right around that $500 threshold.
Interestingly, under the terms of the Allegiant Allways program, only the purchaser of flights or travel earns Allways points. That differs from traditional loyalty programs where miles and points are earned by each traveler. Although Allegiant offers no way for points to be combined across accounts, by buying your tickets together, families or groups that regularly travel together can use this earning method to accumulate points in one account for future use.
Boost your Allways points balance by spending on the Allegiant World Mastercard® Credit Card. Cardholders earn:
3 points per dollar spent on travel with Allegiant
2 points per dollar on dining
1 point per dollar spent elsewhere.
The card comes with a few other perks, as well as a 15,000 point sign-up bonus. However, given its $59 annual fee and limited earning potential, most travelers would fare better with a card such as the Citi® Double Cash Card — which earns an unlimited 2% on all purchases and charges $0 annual fee. You'll get a higher return on most spending. Plus, your points wouldn't be tied to only one program.
Citi® Double Cash Card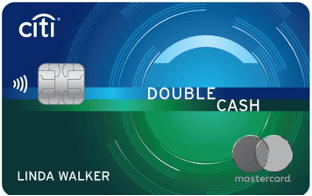 How to Apply
Citi® Double Cash Card
Annual Fee$0
Welcome Offer Earn 2% on every purchase with unlimited 1% cash back when you buy, plus an additional 1% as you pay for those purchases. Plus, get a 0% intro APR on balance transfers for 18 months. (After that, the (Variable) APR will be 19.24% - 29.24% based on your creditworthiness.)
The Citi Double Cash is a dynamic, no-annual-fee cash-back rewards card that allows you to earn 2% traditional cash back, or convert your rewards to ThankYou Rewards points at a 1:1 ratio (2x ThankYou points per $1). When paired with a premium ThankYou Rewards earning card, the Citi Double Cash is now the best card available for everyday, non-bonus purchases.

If you're looking to pay down debt or finance a larger purchase, this card also comes with one of the best available introductory APR offers on balance transfers.
Earn 2% on every purchase with unlimited 1% cash back when you buy, plus an additional 1% as you pay for those purchases.
2% cash back on every purchase - 1% when you buy + 1% when you pay
0% intro APR on balance transfers for 18 months. After that, the (Variable) APR will be 19.24% - 29.24% based on your creditworthiness
Intro fee 3% of each transfer ($5 min) completed within the first 4 months of account opening. After that, 5% of each transfer ($5 min).
No annual fee
This card makes earning rewards simple with no need to worry about keeping track of bonus categories for purchases with specific types of merchants. You'll earn 2% cash back on every purchase—1% when you buy and 1% when you pay. Citi cash rewards now also convert to ThankYou points at 1:1 ($10 = 100 ThankYou points).
Redeeming Allegiant Allways Rewards Points
Allways Rewards points redemptions are as straightforward as they come: each point is worth exactly 1 cent. Members can apply points against any purchases on Allegiantair.com — including vacation packages, provided that airfare is included in the booking.
This means no complicated award charts to navigate, peak/off-peak dates to evaluate, or any other complexities with using Allegiant Allways points.
Under the terms of the program, Allways Rewards points expire after 24 months of inactivity. Making a purchase on Allegiantair.com or holding the Allegiant World Mastercard, extends the life of all points.
Perhaps the best feature of Allegiant's new program, for the airline and travelers alike, is the ability to redeem any number of points at any time- for any portion of total travel costs. That's right: no minimum points redemptions exist in this new program. Travelers benefit from the opportunity to see tangible value from their points as soon as their next trip with Allegiant. Meanwhile, the airline benefits from the built-in incentive for travelers to choose Allegiant for future trips — since they will have the incentive to realize a discount on their booking.
Our Take
Allegiant's new Allways Rewards program doesn't set the world on fire, but it isn't meant to. Road warriors who regularly take to the skies for business travel might not view this program as particularly rewarding But, business travelers do not represent Allegiant's core customer base.
The Las Vegas-based carrier's point-to-point routes offer leisure travelers an affordable way to reach their desired destinations. Better yet, the new Allways Rewards program allows those leisure travelers a way to lower their vacation costs even further. The program's simple structure eliminates the need for complex award charts or even award space altogether. Plus — perhaps the best part — travelers can redeem their Allways Rewards points for any fraction of trip costs, which means earnings become tangible rewards as soon as you fly again.
AwardWallet Tip of The Day
Hide image
The comments on this page are not provided, reviewed, or otherwise approved by the bank advertiser. It is not the bank advertiser's responsibility to ensure all posts and/or questions are answered.