AwardWallet receives compensation from advertising partners for links on the blog. Terms Apply to the offers listed on this page. The opinions expressed here are our own and have not been reviewed, provided, or approved by any bank advertiser. Here's our complete list of Advertisers.
Offers for the Chase Freedom Flex℠ are not available through this site. All information has been independently collected by AwardWallet and has not been reviewed or provided by the card issuer. Some offers may have expired. Please see our card marketplace for available offers.
Credit card product changes are a common part of account management for many people. Not getting the value you hoped out of a card? Downgrading it to a no-annual-fee card is sometimes preferable to closing the account. In other instances, product changing to a premium card can be an excellent move. Some issuers even incentivize product changes.
Typically, you need to stay within a "family" of credit cards. Citibank breaks this mold, though. The unique Citi product change rules provide tons of flexibility to obtain another desirable card, including cards that you can no longer apply for directly.
Let's dig into the details of Citi product changes and why you may want to switch one of your cards to a different one.
Citi Product Change Rules
Here are the rules and restrictions for Citi credit card product changes:
Your account must have been open for at least 12 months to be eligible for a product change.
You cannot product change a business card to a personal card, or vice versa.
You cannot product change within business cards; product changes apply only to Citi's personal cards.
Some things to be aware of before you request a product change:
You will not be eligible for a welcome bonus on the new card.
Product changes may take up to 51 days. If the conversion is within a given family, conversions tend to be much quicker — sometimes nearly instantaneous.
As soon as you see the new card in the online account management, the new card terms are in effect — including the earning rates.
If your card number has remained the same, you can continue to use the old card until you receive the new one. As an example, when converting a Citi Premier® Card to a Citi ThankYou® Preferred Card, the phone rep informed me that the new earning rates and benefits would apply immediately.
It's possible to avoid resetting the 24-month clock on welcome offer eligibility. If your card number does not change, you will be eligible for a bonus on a card in the same family after 24 months. The clock will not reset. But if your card number does change, it will count as a closure of the original account, which will reset the clock for the card family you're converting from.
Citi will charge you a pro-rated annual fee and offer a pro-rated refund of your old card's annual fee, based on the conversion date.
Note that if you convert your card away from a card that earns ThankYou Points to one that doesn't, a couple of important items come into play:

If you don't have any other card that earns ThankYou Points, you'll lose access to your points immediately.
If you do have another ThankYou Points-earning card, you'll have 60 days to redeem your remaining points from the card you're closing. Your points earned from other cards are unaffected.
You can transfer your points to another Citi user. Typically, transferred points are valid for 90 days from the date of the transfer. However, if the points are from a canceled card, they will still expire at the 60-day mark.
What Makes the Citi Product Change Rules Unique?
With most other issuers, you have a small family of cards for product changes. But Citi allows product conversions to most other cards.
For example, American Express allows product changes between its Hilton personal credit cards. With Chase, you can could upgrade from a Chase Sapphire Preferred® Card to the Chase Sapphire Reserve®; additionally, you could downgrade to a Chase Freedom Flex℠. That's because all of these earn Ultimate Rewards points.
What you cannot do is convert a Hilton card to a Delta card (with American Express), or a Sapphire card product to a United card (with Chase).
Citi allows these "out of family" conversions for many of their cards, making their product change rules the most flexible of any major bank. You might find yourself no longer in need of a card that earns American Airlines miles, such as the Citi® / AAdvantage® Platinum Select® World Elite Mastercard®, but you might be happy to convert this to an AT&T Access Card from Citi. Citi allows this.
Why Convert from One Card to Another?
There are several Citi cards that are attractive from a points-earning perspective but lack a sign-up bonus. The Citi® Double Cash Card is a great example. The card typically does not carry a sign-up / welcome bonus. Applying for another product, earning a bonus, and then product changing after a year becomes an attractive option.
Citi® Double Cash Card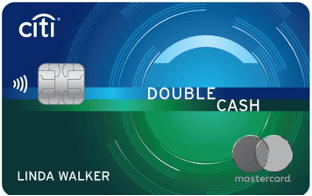 How to Apply
Citi® Double Cash Card
Annual Fee$0
Welcome Offer Earn 2% on every purchase with unlimited 1% cash back when you buy, plus an additional 1% as you pay for those purchases. Plus, get a 0% intro APR on balance transfers for 18 months. (After that, the (Variable) APR will be 19.24% - 29.24% based on your creditworthiness.)
The Citi Double Cash is a dynamic, no-annual-fee cash-back rewards card that allows you to earn 2% traditional cash back, or convert your rewards to ThankYou Rewards points at a 1:1 ratio (2x ThankYou points per $1). When paired with a premium ThankYou Rewards earning card, the Citi Double Cash is now the best card available for everyday, non-bonus purchases.

If you're looking to pay down debt or finance a larger purchase, this card also comes with one of the best available introductory APR offers on balance transfers.
Earn 2% on every purchase with unlimited 1% cash back when you buy, plus an additional 1% as you pay for those purchases.
2% cash back on every purchase - 1% when you buy + 1% when you pay
0% intro APR on balance transfers for 18 months. After that, the (Variable) APR will be 19.24% - 29.24% based on your creditworthiness
Intro fee 3% of each transfer ($5 min) completed within the first 4 months of account opening. After that, 5% of each transfer ($5 min).
No annual fee
This card makes earning rewards simple with no need to worry about keeping track of bonus categories for purchases with specific types of merchants. You'll earn 2% cash back on every purchase—1% when you buy and 1% when you pay. Citi cash rewards now also convert to ThankYou points at 1:1 ($10 = 100 ThankYou points).
The other primary reason to product change a Citi card is to obtain one of their many discontinued cards.
List of Product Change-Eligible Citi Credit Cards
Here are the personal credit cards you can product change to or from:
Citi ThankYou® Preferred Card
Citi® / AAdvantage® Bronze Mastercard®
AT&T Access More Card
AT&T Access Card from Citi
EXPEDIA®+ VOYAGER CARD from Citi
Expedia® Rewards Card from Citi
Citi® Dividend Card
Along with being closed to new applicants, the Citi Prestige® Card was even removed from product changes last year. Unfortunately, you can no longer obtain the product.
Another thing to note is that, in order to convert to Citi Costco, you must have a Costco account. This is a requirement of opening the card, as well. As long as you maintain a Costco membership, there is no annual fee on the Citi Costco card.
How to Product Change a Citi Card
Call the number on the back of your card to request a product change. Once you've verified your identity with the Citi rep, you can request a product change.
You may have to convince the Citi rep that your card is indeed eligible for a product change. In some cases, employees may not be aware that you can product change a card that earns American Airlines AAdvantage miles to a card that earns ThankYou points, but this is indeed possible based on people's experiences. Hang up and call again, if needed.
I'd also understood that you can complete a product change via chat with a Citi rep. However, when I tried this, the rep I was connected to directed me to call Citi to complete the change and provided the phone number for Citi account specialists: 1-800-950-5114. I was not aware of this change. It might just be recent, or maybe I got a bad representative.
Make sure you ask if the card number will change! I can recall the rep clearly stating that the card number would remain the same during my last Citi product change, so this question was answered before I even had to ask. This meant that the clock didn't reset for earning a sign-up bonus on a new ThankYou Point-earning credit card.
Final Thoughts
The Citi product change rules are the most flexible of any major bank. Many people have taken great advantage of Citi's broad rules, converting cards to discontinued products such as the AT&T Access More or Citi® Dividend Card. Using the product change rules from Citi has often been the only way to get some cards. It's awesome that Citi still offers this option — even for some products for which they no longer accept new applications.
AwardWallet Tip of The Day
Did you know that AwardWallet may not be able to update some accounts automatically? You can update those accounts by selecting accounts using an account filter (e.g.
'Updated more than 7 days ago'
) and clicking the update button.
Show me how
Hide image
The comments on this page are not provided, reviewed, or otherwise approved by the bank advertiser. It is not the bank advertiser's responsibility to ensure all posts and/or questions are answered.