AwardWallet receives compensation from advertising partners for links on the blog. Terms Apply to the offers listed on this page. The opinions expressed here are our own and have not been reviewed, provided, or approved by any bank advertiser. Here's our complete list of Advertisers.
Our family has long been loyal to Marriott, too long as far as I'm concerned. I've decided that it is time for us to move our loyalty over to Hyatt – but this requires my reluctant husband to switch over his business travel. I'm outlining my case for making the move here, are you convinced?
There are a lot of factors to consider when choosing where to focus points and miles earning efforts. In my house, despite a lot to like about Marriott and its Bonvoy program, we are looking at a few key factors to help us decide whether to switch to World of Hyatt.
Redemption Opportunities
Location, location, location
We've been loyal to Marriott for over a decade now, largely due to the number of properties in the portfolio. As one of the largest hotel chains in the world, we could almost always find a Marriott property that met our needs. For years my husband has argued that Hyatt just didn't have a large enough presence – especially internationally – to meet business and family travel needs.
Now, Hyatt is growing. The expanding partnership with Small Luxury Hotels has brought over 300 additional properties into the fold. Importantly, the international options that the partnership brings make Hyatt a more viable loyalty program for us going forward.
I do know that we'll be leaving some great things behind. The Marriott Bonvoy program has some luxurious redemption opportunities. That said, Hyatt has some great sweet spots as well, and with the growing SLH partnership, the value of some Hyatt luxury redemptions are even better than with Marriott.
Changing rates
All points lose value over time but we have really felt the sting of Marriott devaluations over the past year. Category bump-ups, the move to dynamic pricing and charging resort fees on bookings made with points have made redeeming award stays with Marriott less and less appealing.
Hyatt is also moving to peak/off-peak award pricing – effective March 2020. While not ideal, I'm optimistic that we still come out ahead with Hyatt for three reasons. First, Hyatt will control peak/off-peak award pricing, unlike with Marriott where the pricing is set by individual properties. Second, Hyatt will offer better redemption rates on dining, spa and more awards when the new pricing launches. Most importantly for us, I'll no longer see those irritating resort fees on award bookings with Hyatt.
Beyond the room
Both Hyatt and Marriott offer "experiences" as redemption options. Marriott Moments offers members the opportunity to redeem points for everything from car rental discounts to Coachella accommodations. Hyatt also has a program called FIND where you can redeem points for unique experiences (hiking with wolves??). I think our family is likely to use our points mostly for stays but it's nice to know that unique redemption options aren't off the table if we leave Marriott.
Customer Experience
Point redemptions aside, my husband and I agree that we've had too many bad experiences with Marriott stays. We now look very closely at each individual property before booking a stay. Courtyards aren't Courtyards no matter where you go – we have learned that the hard way! Like so many other Bonvoy members, we have struggled with missing points for stays, rooms not being ready on time and just not feeling valued with Marriott.
Our experiences with Hyatt, while admittedly less extensive, have consistently met or exceeded our expectations. Several Hyatt Place stays have been great and entirely predictable for our family and we had a fantastic stay at the Andaz Maui at Wailea Resort. I'm also listening to fellow travelers who just seem to be happier with Hyatt.
Earning Points
Work travel earns a lot of points for us but we haven't been maximizing our earning potential. Despite loyalty to Marriott we don't have a co-branded hotel credit card and instead have used our Amex Platinum or Chase Sapphire Preferred to accrue flexible points. To support my case for moving to Hyatt, I want to show my husband that we can earn points and status relatively quickly to replace what we've had with Marriott. The The World of Hyatt Credit Card will provide us with a nice signup bonus, Discoverist status right out of the gate, a free night, and bonus categories to help build our point balance – among other worthwhile perks.
The World of Hyatt Credit Card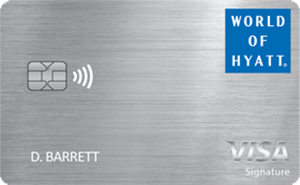 Apply Now
The World of Hyatt Credit Card
Annual Fee$95
Welcome Bonus Earn 30,000 Bonus Points after you spend $3,000 on purchases in your first 3 months from account opening.
Earn 30,000 Bonus Points after you spend $3,000 on purchases in your first 3 months from account opening. Plus, up to 30,000 More Bonus Points by earning 2 Bonus Points total per $1 spent in the first 6 months from account opening on purchases that normally earn 1 Bonus Point, on up to $15,000 spent
Enjoy complimentary World of Hyatt Discoverist status for as long as your account is open.
Get 1 free night each year after your Cardmember anniversary at any Category 1-4 Hyatt hotel or resort.
Receive 5 tier qualifying night credits towards status after account opening, and each year after that for as long as your account is open
Earn an extra free night at any Category 1-4 Hyatt hotel if you spend $15,000 in a calendar year
Earn 2 qualifying night credits towards tier status every time you spend $5,000 on your card
Earn up to 9 points total for Hyatt stays - 4 Bonus Points per $1 spent at Hyatt hotels & 5 Base Points per $1 you can earn as a World of Hyatt member
Earn 2 Bonus Points per $1 spent at restaurants, on airline tickets purchased directly from the airlines, on local transit and commuting and on fitness club and gym memberships
Up to 9X points total per $1 spent at Hyatt - 4X points per $1 when you use your card at Hyatt hotels & 5X points per $1 you can earn as a World of Hyatt member
2X points per $1 spent at restaurants, on airlines tickets purchased directly from the airlines, on local transit and commuting and on fitness club and gym memberships
1X point per $1 everywhere else
American Airlines Partnership
While I think I've already made a solid argument for making the switch to Hyatt, my strongest point is probably the American Airlines and World of Hyatt partnership that launched last year. As AA Platinum members, we can link loyalty accounts to accelerate earning points in both the American Airlines and Hyatt programs and earn elite status with Hyatt at a faster rate. You can read our post about this partnership here.
Final Thoughts
While writing this piece I've convinced my husband to book his first Hyatt business stay later this month! We've registered for the Hyatt and American Airlines partnership and linked the accounts. Next on my list is to apply for the World of Hyatt Card to lock in elite status and be able to move to Globalist status quickly thanks to the AA partnership fast track. I think I've made my case for our switch to Hyatt, what do you think?
AwardWallet Tip of The Day
Did you know that with a wide display you are able to expand the AwardWallet window to see the 
Last Updated
column? You can easily see the last time your balance was checked by AwardWallet.
Show me how
Hide image
The comments on this page are not provided, reviewed, or otherwise approved by the bank advertiser. It is not the bank advertiser's responsibility to ensure all posts and/or questions are answered.