AwardWallet receives compensation from advertising partners for links on the blog. Terms Apply to the offers listed on this page. The opinions expressed here are our own and have not been reviewed, provided, or approved by any bank advertiser. Here's our complete list of Advertisers.
This promotion has ended; please review current/active promotions.
Update 1/15/2021: United added the PQP boost sooner than expected. 2020 elite members should see a status boost for 2021 reflected in their MileagePlus account:
With travel trends continuing to stall, United Airlines has announced a series of proactive changes to its MileagePlus program to make earning United Premier elite status easier in 2021. These include lowering status thresholds, giving current elite members a PQP boost, increasing PQP earning rates in early 2021, and allowing cobranded cardholders to spend their way to higher statuses.
After some recent negative changes made by United, we are pleased that all of these changes are surprisingly customer-friendly.
Recap: 2020 MileagePlus Program Changes
United underwent a series of significant program updates in 2020, including:
But perhaps the most important update came in early October. That's when the airline completely redesigned how loyalists earn Premier status. The changes were numerous and, frankly, somewhat confusing.
In a nutshell, the airline no longer tracks any distance-based metrics—no more 'miles', so to speak. Now, the only two things that matter for status are (in descending order of importance):
Premier Qualifying Points (PQPs) — members earn one PQP per dollar spent on eligible airfare
Premier Qualifying Flights (PQFs) — members earn one PQF per eligible flight flown
Now, in response to the continued downturn in travel, United will lower the requirements of these two metrics in 2021.
Related Post: The Ultimate Guide to United MileagePlus
Reduced Thresholds for United Premier status
To earn elite status in 2021 (valid through early 2023), MileagePlus members need to meet these updated requirements:
Premier Silver — 3,000 PQPs + 8 PQFs, or 3,500 PQPs
Premier Gold — 6,000 PQPs + 16 PQFs, or 7,000 PQPs
Premier Platinum — 9,000 PQPs + 24 PQFs, or 10,000 PQPs
Premier 1K — 13,500 PQPs + 36 PQFs, or 15,000 PQPs
Whether qualifying with a combination of PQPs and PQFs or solely via PQPs, the new requirements are between 33–43% lower in 2021.
2020 Elites Get a Boost
In addition to lowering the requirements, United will also give 2020 elites a head start. United will provide 2020 elite members a 25% PQP boost based on their 2020 status level.
More specifically, members with these status tiers in 2020 will receive:
Premier Silver — 875 PQPs
Premier Gold — 1,750 PQPs
Premier Platinum — 2,500 PQPs
Premier 1K — 3,750 PQPs
This boost makes it even easier for current United elite members to earn status next year.
For example, a current Premier 1K member could re-secure 1K in 2021 with only 11,250 PQP (15,000 PQP minus their 3,750 PQP boost). Alternatively, they'll already have enough PQP for Premier Silver without any activity.
United Flyers Can Now Earn Up To 2x PQP Through March 31, 2021
With everything else, United has also launching a new promotion that offers more PQPs for your first few trips in 2021.
From January 1, 2021 through March 31, 2021, United loyalists can earn up to 2X PQPs for their first three trips:
MileagePlus members with Premier status can earn a 100% PQP bonus (2X PQPs).
MileagePlus members without Premier status can earn a 50% PQP bonus (1.5X PQPs).
Spend Your Way to United Premier 1K
When United debuted its new program of PQPs and PQFs, it also added the ability for co-branded cardholders to earn them through card spend. However, those PQPs historically only applied for Premier Silver, Gold, and Platinum qualification—not 1K.
United℠ Explorer Card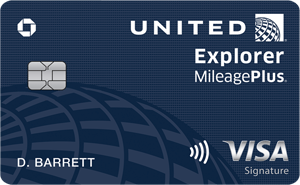 Apply Now
United℠ Explorer Card
Annual Fee$0 intro annual fee for the first year, then $95
Welcome Offer Earn 60,000 bonus miles after you spend $3,000 on purchases in the first 3 months your account is open.
Earn 60,000 bonus miles after you spend $3,000 on purchases in the first 3 months your account is open.
$0 introductory annual fee for the first year, then $95.
Earn 2 miles per $1 spent on dining, hotel stays, and United® purchases
Up to $100 Global Entry, TSA PreCheck® or NEXUS fee credit
25% back as a statement credit on purchases of food, beverages and Wi-Fi on board United-operated flights and on Club premium drinks when you pay with your Explorer Card
Free first checked bag - a savings of up to $140 per roundtrip. Terms Apply.
Enjoy priority boarding privileges and visit the United Club℠ with 2 one-time passes each year for your anniversary
Member FDIC
2X miles per $1 spent on purchases from United®
2X miles per $1 spent at restaurants and on hotel stays
1X mile per $1 spent on all other purchases
Now, United is allowing PQPs earned with cobranded cards count towards Premier status all the way up to 1K, provided you also meet the PQF requirement.
Plus Points (Upgrade) Extension
One of the perks of earning United Premier Platinum and 1K status is using Plus Points for seat upgrades. Due to COVID-19, many Premier members haven't been able to use their Plus Points. Thankfully, United decided to extend the validity of Plus Points.
All Plus Points set to expire on or after January 1, 2021 (including those earned in 2019 and 2020), will be extended an additional six months.
Moreover, United will make it easier for Premier 1K members to earn more Plus Points in 2021. After reaching 15,000 PQPs, 1K members will earn 20 Plus Points for every 2,000 PQPs. (The normal rate is 20 Plus Points for every 3,000 additional PQPs.)
Bottom Line
United is implementing a collection of customer-friendly updates to its MileagePlus program in 2021. All of the changes will either a) make earning Premier status easier, or b) allow Premier members to utilize their benefits for longer.
Overall, I'm impressed with United's efforts. The future of travel continues to look bleak, so it's not surprising for an airline to proactively make these changes. However, given United's recent propensity for negative program changes, it's refreshing to see some good news.
How do you feel about these updates to the MileagePlus program in 2021?
AwardWallet Tip of The Day
Want an easy way to log into your loyalty program accounts without needing to look up your password? Just click the name of any loyalty program in your AwardWallet account dashboard to automatically log in to that account profile. A one-time installation of a browser extension is required in most cases for this to function.
Show me how
Hide image
The comments on this page are not provided, reviewed, or otherwise approved by the bank advertiser. It is not the bank advertiser's responsibility to ensure all posts and/or questions are answered.