AwardWallet receives compensation from advertising partners for links on the blog. Terms Apply to the offers listed on this page. The opinions expressed here are our own and have not been reviewed, provided, or approved by any bank advertiser. Here's our complete list of Advertisers.
Offers for the Alaska Airlines Visa® Business card are not available through this site. All information has been independently collected by AwardWallet and has not been reviewed or provided by the card issuer. Some offers may have expired. Please see our card marketplace for available offers.
Offers for Bank of America cards mentioned in this post have been updated as of 09/27/2023
We'll admit, it sounds like a trick. You book a flight for almost free using miles, then you get to add an additional stop in another city for free along the way. But, that's exactly what Alaska Airlines lets you do when you book a qualifying award flight! Let's get into what exactly this means and how to book a free stopover when using Alaska Airlines Mileage Plan miles.
Alaska Airlines Mileage Plan
First things first, you will need to have an Alaska Airlines Mileage Plan account. If you do not have one yet, then you can sign up here for free. This Alaska Mileage Plan account is required to accumulate miles to be used to book award flights.
So, how do you accumulate miles? There are a lot of options! You can earn miles by:
However, one of the most lucrative ways to earn miles quickly is to an Alaska credit card.
Alaska Airlines Credit Cards
Alaska issues two co-branded credit cards through Bank of America: a consumer card and a business card. Both cards offer awesome sign-up bonuses plus a slew of Alaska perks like a free checked bag, priority boarding, no foreign transaction fees, 3x miles on Alaska flights, and more.
Plus, both cards offer an Alaska Airlines Companion Fare as part of the sign-up bonus. You can use this Alaska Companion Fare to bring along a friend or family member on any Alaska Airlines flight for just $99 plus taxes and fees.
Both cards are great options if you're trying to stock up on Alaska miles. Here are the current sign-up offers:
Alaska Airlines Visa® credit card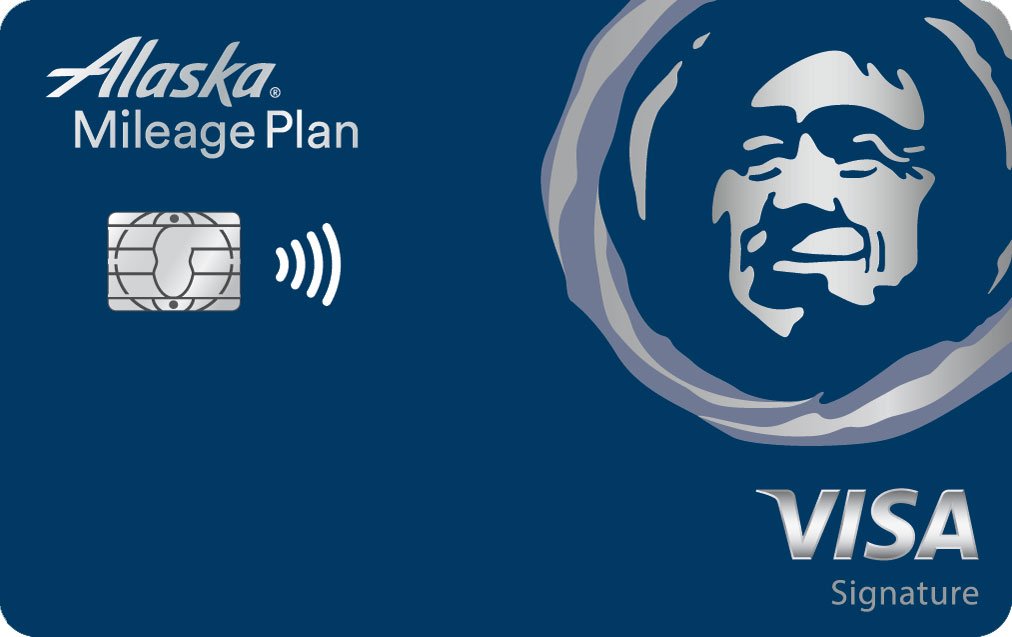 How to Apply
Alaska Airlines Visa® credit card
Annual Fee$95
Welcome Bonus LIMITED TIME ONLINE OFFER - 60,000 Bonus Miles! Get 60,000 bonus miles plus Alaska's Famous Companion Fare™ ($99 fare plus taxes and fees from $23) with this offer. To qualify, make $3,000 or more in purchases within the first 90 days of opening your account.
Earn 3 miles for every $1 spent on eligible Alaska Airlines purchases
Earn 2 miles for every $1 spent on eligible gas, EV charging stations, cable, streaming services and local transit including ride share purchases
Earn 1 mile for every $1 spent on all other purchases
Alaska Airlines Visa® Business card
Alaska Airlines Visa® Business card
Annual Fee$70 for the company and $25 per card
Welcome Bonus Get 50,000 bonus miles and Alaska's Famous Companion Fare™ ($99 fare plus taxes and fees from $23) after you make $3,000 or more in purchases within the first 90 days of opening your account.
If you would like a more in-depth look at Alaska Airlines Mileage Plan program as a whole then check out this article.
What Exactly is a Stopover?
A stopover generally refers to a connection that is longer than what's typically allowed. Depending on your route, connections can be limited to just a few hours and almost always no more than 24 hours. A stopover is a connection that can you can stretch a few days or more!
Stopovers are most commonly booked on international flights. For example, if you're flying from New York to Zurich, you could book a flight from New York to London and stay for a few days. Then, you could continue on to Zurich, all for the price of the flight from New York to Zurich.
Alaska Airlines Free Stopover Rules and Guidelines
When it comes to booking a free Alaska Airlines stopover, there are some rules and guidelines you need to be aware of:
Must be flying an international itinerary. Perhaps the biggest limitation for most travelers is that you must be flying on an international itinerary to book a stopover.
Most stopovers are limited to partner hubs. For example, you can book a free stopover in the example below because you are flying British Airways through London. Other examples of this would be flying Qatar Airways with a stopover in Doha, Iberia with a stopover in Madrid, and Japan Airlines with a stopover in Tokyo.
You cannot fly more than one partner airline. Your flights must be on a combination of Alaska Airlines and one partner or solely on the same partner airline. See the full list of Alaska Airlines partner airlines here. In the example below, notice that both flights are on British Airways. You can't combine flights on American Airlines and British Airways when booking awards through Alaska Mileage Plan.
Each one-way trip can have a stopover. So, you could potentially book two stopovers on a round-trip: One on the way out and one on the way back. This opens up even more opportunities to explore somewhere new for free!
Not all flights will be available. It may take some searching to find flights that are available to book with a free stopover. Adjusting dates and airports can be helpful when searching.
How To Book an Alaska Airlines Free Stopover
Let's look at how exactly you go about booking an Alaska Airlines free stopover. First, start on the Alaska Airlines homepage. From here, click on "All search options."
On the next screen, select "Multi-city" and enter your route, broken up by segment. In this example, we're searching from New York to London, then London to Zurich. Enter your preferred travel dates.
Click "Find Flights" and see what comes up. If there are no options, then you may need to change dates or cities.
In this example, you can fly from New York to London, stopover for one week, then continue on to Zurich for 40,000 Alaska Airlines miles total. You'll also notice that the inbound flight to London lands at Heathrow Airport (LHR), while the outgoing flight to Zurich leaves from London City Airport (LCY). That can be an ideal routing for visiting London, but make sure you pay close attention to where your flights are landing and taking off from.
As you can see below, Alaska Airlines charges the same price as if I were flying from New York to Zurich with a simple layover in London.
Once you've found the flights you want, select your flight and hit "add to cart."
From here, you will be taken to a page where you will enter your information and confirm everything you've selected.
Advanced tip for finding award availability
Rather than searching award availability day-by-day on Alaska's website, consider using American Airlines' website to find award availability. American Airlines and Alaska are both part of the Oneworld alliance. So, you can use AA's award availability calendar search to quickly identify dates with award availability.
For the best results, search each flight segment individually and limit results to nonstop options. For example, search New York to Madrid to find Iberia Airlines award availability on that route. Then, search flights from Madrid to your final destination to find which dates are available on that route. Once you find dates that work for your travel plans, search those dates on Alaska Airlines' website and follow the booking process from there.
Bottom Line
It may take some searching to find availability, but utilizing the Alaska Airlines free stopover benefit is one of the best ways to use your Alaska miles. It's like getting two trips for the price of one! Use it to break up a long trip and discover somewhere new. Or, plan out a multi-city vacation, with stops on the way out and the way home. This benefit is what makes Alaska one of the best and most flexible and rewarding miles programs out there.
AwardWallet Tip of The Day
Did you know that AwardWallet supports two-factor authentication? Your account security is our top priority. If you are not familiar with two-factor authentication, check out our 
FAQ article on two-factor authentication
. You can enable two-factor authentication from your
profile page
; there is no cost to enable this functionality, and we highly recommend it to protect the integrity of your account.
Show me how
Hide image
The comments on this page are not provided, reviewed, or otherwise approved by the bank advertiser. It is not the bank advertiser's responsibility to ensure all posts and/or questions are answered.