AwardWallet receives compensation from advertising partners for links on the blog. Terms Apply to the offers listed on this page. The opinions expressed here are our own and have not been reviewed, provided, or approved by any bank advertiser. Here's our complete list of Advertisers.
Today, American Airlines announced that it's revamping its loyalty program and ultimately simplify earning AAdvantage elite status.
For one, beginning in 2022, AA will replace the current requirements of EQMs, EQDs, and EQSs and instead use the all-new AAdvantage Loyalty Points system. This will be the only metric needed for elite status qualification!
There are a few other changes, as well, with the majority being positive. Let's take a look at what American Airlines has done.
Key Terms
AAdvantage Loyalty Points will replace all other elite status earning requirements.
Loyalty Points are earned every time you earn a qualifying Base Mile.
Qualifying Base Miles (aka Loyalty Points) will come from flying, credit card spending, eShopping portal, dining rewards, and SimplyMiles.
Changes will go into effect on January 1, 2022
Loyalty Choice Rewards (rebranded from Elite Choice Rewards) requirements are also changing and will now require 30 flight segments in addition to a set number of Loyalty Points.
Million Miler status will continue to be earned the same way as today: via miles earned from flying with AA and its partners.
The elite status calendar will also be undergoing some changes:
The status qualification year will no longer be based on a calendar year. Instead, it will begin on March 1 and run through the last day of February of the next year.
Elite status will be valid through March 31 the following year.
New Requirements
As mentioned above, AAdvantage loyalty members will no longer have to navigate the confusing world of Elite Qualifying Dollars (EQDs), Elite Qualifying Miles (EQMs), and Elite Qualifying Segments (EQSs).
Instead, members will need to earn Loyalty Points in order to qualify for elite status. Here are the following new requirements:
AAdvantage Gold – 30,000 Loyalty Points (EDITORS NOTE: the requirement for Gold increased to 40,000 Loyalty Points as of March 1, 2023)
AAdvantage Platinum – 75,000 Loyalty Points
AAdvantage Platinum Pro  – 125,000 Loyalty Points
AAdvantage Executive platinum – 200,000 Loyalty points
What Earns Loyalty Points… and What Doesn't
Generally speaking, 1 Base Mile counts as 1 Loyalty Point. And there are several ways to earn these. In fact, American Airlines is actually being quite accommodating when it comes to what counts as Loyalty Points vs what does not count.
By Flying
Flying is the first thing that comes to mind when earning elite status. All members currently earn 5 Base Miles per dollar spent on qualifying tickets. That means you'll earn 5 Loyalty Points per dollar spent.
Those who are already elite status holders earn more miles per dollar spent. Therefore, they will earn more Loyalty Points, as well. The following chart shows the elite mileage bonus that each tier of elite status earns:
And for those of us who are bad at math, this equates to:
General Member: 5 base points per eligible dollar spent
Gold: 7 base points per eligible dollar spent
Platinum: 8 base points per eligible dollar spent
Platinum Pro: 9 base points per eligible dollar spent
Executive Platinum: 11 base points per eligible dollar spent
Dining Rewards, Shopping Portals, and SimplyMiles
The ability to earn Loyalty Points towards elite status through SimplyMiles, shopping portals, and dining rewards is a great feature of AA's newly revamped program.
However, AA hasn't clarified whether miles earned through all of its non-flying partners (e.g. Bask Bank, AA Vacations) will count as Loyalty Points. So, TBD (to be determined) on this part. We will make sure to update as we learn more.
Credit Cards
As for credit cards, there is good news, bad news… and then more good news and then slightly more bad news.
You can easily load up on AAdvantage miles through partnerships with Citi and with Barclays. But, the miles earned from welcome offers do not count towards elite status.
Citi® / AAdvantage® Platinum Select® World Elite Mastercard®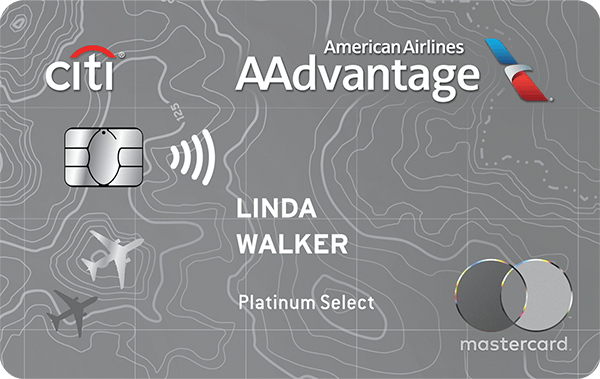 How to Apply
Citi® / AAdvantage® Platinum Select® World Elite Mastercard®
Annual Fee$99, waived for first 12 months
Welcome Offer Earn 50,000 American Airlines AAdvantage® bonus miles after spending $2,500 in purchases within the first 3 months of account opening
The AA Platinum Select card is a great choice for anyone who travels at least a few times per year with American Airlines. Cardholders get a free checked bag on domestic itineraries, priority boarding and a 25% discount on in-flight purchases.

With these perks, it's easy to justify the annual fee of $99, waived for first 12 months.
Free checked bags for you and up to 4 companions on domestic itineraries
Priority boarding to help you win the race for overhead bin space
A 25% discount on inflight food, beverage, and Wi-Fi purchases
Earn 2X miles for every $1 spent at restaurants
Earn 2X miles for every $1 spent at gas stations
Earn 2X miles for every $1 spent on eligible American Airlines purchases
Earn 1X mile for every $1 spent on all other purchases
The AA miles you earn from regular spending DO count towards elite status. But, any bonus miles earned from category spending — like 2x AA miles at grocery stores using the American Airlines AAdvantage® MileUp® — will not count towards Loyalty Points. You'll earn just one Loyalty Point per dollar spent.
Remember that for a limited time, Citi ThankYou points can be transferred to American Airlines miles. However, transferring Citi points to AAdvantage miles will NOT yield Loyalty Points. So, although you can effectively earn 60,000 AAdvantage miles through the sign-up bonus on the Citi Premier® Card, none of this bonus will count toward Loyalty Points.
Other AAdvantage mileage earning methods that don't count towards elite status include:
Miles from buying, gifting, transferring.
Converting another program's currency to AAdvantage miles.
Boost Your Loyalty Points in January and February of 2022
Lastly but not least, AA is also giving members a boost towards achieving status in 2022. Eligible qualifying activity in January and February 2022 will count toward your 2021 elite status earnings and your 2022 elite status earnings. That gives you an extra 2 months to earn status for both years. Eligible Loyalty Point activity during January and February 2022 will appear in your account in early March 2022.
Loyalty Choice Rewards
Another new aspect of AA's revamped elite status is the requirements for earning Loyalty Choice Rewards. These milestone benefits offer certain perks for Platinum Pro and higher status holders each time you reach a new level. Some of the benefits for reaching these milestones include:
Admirals Club membership
AAdvantage bonus miles
Systemwide upgrades
The following chart shows how many Loyalty Points are required for each level. Just note that you will also need 30 flight segments to unlock these.
Final Thoughts
As with any time a program makes changes, not everyone wins. But, for many — especially AAdvantage cardholders — this seems like a net positive overall and makes earning elite status more achievable than before.
What do you think about these changes?
AwardWallet Tip of The Day
Did you know that we scour the internet for promotions? If we find anything worthwhile, we share those with you via the
Promos section
as well as via the
Promotions
tab within the details of any loyalty account.
Show me how
Hide image
The comments on this page are not provided, reviewed, or otherwise approved by the bank advertiser. It is not the bank advertiser's responsibility to ensure all posts and/or questions are answered.