AwardWallet receives compensation from advertising partners for links on the blog. Terms Apply to the offers listed on this page. The opinions expressed here are our own and have not been reviewed, provided, or approved by any bank advertiser. Here's our complete list of Advertisers.
This promotion has ended; please review current/active promotions.
American Airlines just published its latest (and last) set of destinations for its popular Reduced Mileage Awards (RMA) promotion. If you're unfamiliar, AA Reduced Mileage Awards provide a mileage discount for most co-brand cardholders. Depending on which card you have and the distance of your trip, you'll save anywhere from 1,000 to 7,500 miles off of a round-trip award ticket.
Unfortunately, the latest Reduced Mileage Awards are the final ones. American Airlines has decided to discontinue these in favor of Web Specials — which also offer a discount on American Airlines award flights:
What are Reduced Mileage Awards?
American Airlines Reduced Mileage Awards are discounted award tickets to and from select cities for American Airlines co-branded credit cardholders. The list of eligible airports depends on the month, and the number of miles you save depends on the flight distance and which AAdvantage credit card you hold.
Nonstop flights under 500 miles are discounted either 1,000 or 500 miles each way.
All other domestic flights are discounted either 3,750 or 2,500 miles each way.
You can take advantage of the promotion if either your destination or origin airport is on AA's Reduced Mileage Award list for the month you're traveling. It's also worth emphasizing that you can use this promotion for both round-trip and one-way award flights.
A 7,500-mile discount may not sound incredible. However, if you value American miles at 1.5 cents each, the Reduced Mileage Award discount provides a savings of around $113 worth of miles for just one round-trip per passenger. That alone can offset the annual fee on many of the eligible cards. The savings can really add up if you're able to use it a few times a year and/or if you travel with a significant other or family.
Which Cities Are Included on the Reduced Mileage Awards List?
The current list is valid for flights from August 1, 2021 through November 30, 2021. However, you need to book travel by September 30, 2021. On October 1, 2021, American Airlines will discontinue Reduced Mileage Awards entirely.
The latest list of eligible airports covers an impressive 190 unique airports in what happens to be the last Reduced Mileage Award offering from American Airlines. Over 100 airports are available in all four months in this final iteration.
Below we've gathered a few of the highlights for each month, with maps to paint a picture. While travel restrictions still in place, be sure to proceed cautiously when booking flights. But thankfully, American Airlines has eliminated award cancellation fees.
Which Cards Are Eligible for AA Reduced Mileage Awards?
The full list of eligible cards can be found on American Airlines' website—including several cards that are no longer available to new cardholders. Cards that offer the full 7,500-mile discount and are still available to new cardholders include:
The eligibility rules and booking processes are the same for both Barclays and Citi cards.
Citi® / AAdvantage® Platinum Select® World Elite Mastercard®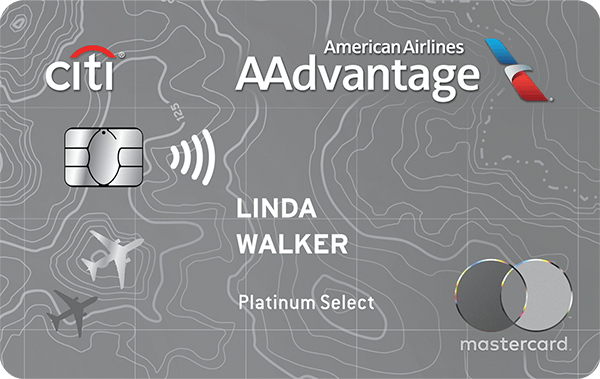 Learn More
Citi® / AAdvantage® Platinum Select® World Elite Mastercard®
Annual Fee$99, waived for first 12 months
Welcome Offer Earn 50,000 American Airlines AAdvantage® bonus miles after spending $2,500 in purchases within the first 3 months of account opening
The AA Platinum Select card is a great choice for anyone who travels at least a few times per year with American Airlines. Cardholders get a free checked bag on domestic itineraries, priority boarding and a 25% discount on in-flight purchases.

With these perks, it's easy to justify the annual fee of $99, waived for first 12 months.
Free checked bags for you and up to 4 companions on domestic itineraries
Priority boarding to help you win the race for overhead bin space
A 25% discount on inflight food, beverage, and Wi-Fi purchases
Earn 2X miles for every $1 spent at restaurants
Earn 2X miles for every $1 spent at gas stations
Earn 2X miles for every $1 spent on eligible American Airlines purchases
Earn 1X mile for every $1 spent on all other purchases
Reduced Mileage Awards – Airports for August 2021
August offerings include 142 different airports, many of which are concentrated in the Southeast, that are eligible for AA Reduced Mileage Awards. While the Northwest suffers from underrepresentation, two major cities in Seattle and Vancouver are options.
Asheville, NC (AVL)
Houston-Intercontinental, TX (IAH)
Minneapolis / St. Paul, MN (MSP)
Seattle, WA (SEA)
Vancouver, BC (YVR)
Reduced Mileage Awards – Eligible Airports for September 2021
The month of September features 128 of the 190 included Reduced Mileage Award airports. As is usually the case, the eastern half of the country has many more cities made available for these awards. Notable cities include the following:
Baltimore, MD (BWI)
Hilton Head Island, SC (HHH)
Kansas City, MO (MCI)
Long Beach, CA (LGB)
Nashville, TN (BNA)
Raleigh / Durham, NC (RDU)
St. Louis, MO (STL)
Reduced Mileage Awards – Eligible Airports for October 2021
October includes just 102 airports, the fewest in a single month on the last Reduced Mileage Award list. Despite the decrease in airports offered, many great options exist throughout the U.S. and Canada — including the typically-underserved West Coast!
Cincinnati, OH / Covington, KY (CVG)
Montreal, QC (YUL)
San Francisco, CA (SFO)
Santa Barbara, CA (SBA)
Savannah, GA (SAV)
St. George, UT (SGU)
Toronto, ON (YYZ)
Reduced Mileage Awards – Eligible Airports for November 2021
Going out with a bang, November includes a whopping 157 airports for Reduced Mileage Awards. If you're lucky enough, you might be able to score some discounted award flights on Thanksgiving travel. Below is a sampling of just some of the available cities:
Charleston, SC (CHS)
Denver, CO (DEN)
Detroit, MI (DTW)
Key West, FL (EYW)
Myrtle Beach, SC (MYR)
Newark, NJ (EWR)
Portland, OR (PDX)
Tampa, FL (TPA)
How To Book Reduced Mileage Awards
Here's a quick overview:
Check award availability. You'll need an economy or business-class "MileSAAver award", so you might want to use ExpertFlyer to identify award space. If you search using American Airlines' website, you're looking for options that cost 12,500 miles in economy (7,500 miles on nonstop route under 500 miles).
Find the discount code that applies to your American Airlines co-brand card.
Call American Airlines reservations at 1-800-882-8880 (American Airlines has eliminated fees for booking awards over the phone).
Key Terms
For the list of cities mentioned above, you must book by September 30, 2021 for travel before November 30, 2021.
There must be a MileSAAver award available for the flight you wish to book.
Award travel must originate and terminate in the 48 contiguous United States or Canada.
Travel can be in Main Cabin or First Class. The discount is the same regardless of your class of service.
You don't need both your origin and destination to be on the list; either city will make your trip eligible.
One-way awards can be booked for half the discount of a round trip.
Pro Tip: British Airways Avios can also be redeemed for travel on American Airlines. If your itinerary is a nonstop flight, it may cheaper to book with Avios. British Airways used to offer lower fees for canceling or changing awards — though this recently changed when American Airlines eliminated mileage reinstatement and change fees on award bookings.
Final Thoughts
AA Reduced Mileage Awards are another great way to find discounted AAdvantage award tickets for flights on American Airlines. Unfortunately, American Airlines has announced that this will be the last Reduced Mileage Award offering, opting for only Web Specials going forward. So, it's worth checking to see if you can take advantage of the opportunity to book these awards while they last!
AwardWallet Tip of The Day
Did you know that you are able to expand the AwardWallet window or zoom out to see the
Last Updated
column? Easily see the last time AwardWallet checked your balance.
Show me how
Hide image
The comments on this page are not provided, reviewed, or otherwise approved by the bank advertiser. It is not the bank advertiser's responsibility to ensure all posts and/or questions are answered.