AwardWallet receives compensation from advertising partners for links on the blog. Terms Apply to the offers listed on this page. The opinions expressed here are our own and have not been reviewed, provided, or approved by any bank advertiser. Here's our complete list of Advertisers.
American Airlines has published a new set of destinations for its popular Reduced Mileage Awards promotion. If you're unfamiliar, Reduced Mileage Awards provides a mileage discount for American Airlines co-branded Citi and Barclays cardholders. Depending on which card you have, you'll save anywhere from 1,000 to 7,500 miles off of a round-trip award ticket.
What are Reduced Mileage Awards?
American Airlines Reduced Mileage Awards are discounted award tickets to and from select cities for American Airlines co-branded credit cardholders. The list of eligible airports depends on the month, and the number of miles you save depends on the flight distance and which AAdvantage credit card you hold.
Nonstop flights under 500 miles are discounted either 1,000 or 500 miles each way.
Longer and connecting flights are discounted either 3,750 or 2,500 miles each way.
You can take advantage of the promotion if either your destination or origin airport is on the Reduced Mileage Award list for the month you're traveling. It's also worth emphasizing that you can use this promotion for both round-trip and one-way award flights.
A 7,500-mile discount may not sound that incredible. However, if you value American miles at 1.5 cents each, the Reduced Mileage Award discount provides a savings of around $113 of miles for just one round-trip and just one passenger. That alone can offset the annual fee on some of the eligible cards. The savings can really add up if you're able to use it a few times a year or for more than one passenger.

Which Cities Are Included On The List?
The current list is valid from April 1, 2020 through July 31, 2020, but you need to book travel by May 31 before American rolls the list over to new cities.
The latest list of eligible airports is shorter than in previous months, covering just 107 airports. Given how limited travel opportunities are at the moment, it seems prudent to focus on options in June and July. Below we've gathered a few of the highlights for each month, with maps to paint a picture.
Which Cards Are Eligible?
The full list of eligible cards can be found on AA's Reduced Mileage Award page—including several cards that are no longer available to new cardholders. Cards that offer the full 7,500-mile discount and are still available to new cardholders include:
CitiBusiness® / AAdvantage® Platinum Select® World Mastercard®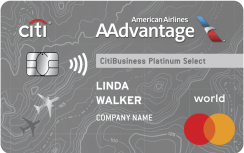 Learn More
CitiBusiness® / AAdvantage® Platinum Select® World Mastercard®
Annual Fee$99, waived for first 12 months
Welcome Offer Earn 70,000 American Airlines AAdvantage® bonus miles after spending $4,000 in purchases within the first 4 months of account opening.
The AA Business Card is a great card to hold for any business owner that travels at least a few times per year with American Airlines. Get a free checked bag on domestic itineraries, priority boarding and a 25% discount on in-flight purchases. Even better, this card gives you access to
Reduced Mileage Awards
, which can save you up to 30% on the miles required for domestic awards. With these perks, it's easy to justify the annual fee of $99, waived for first 12 months.
Free checked bags for you and up to 4 companions on domestic itineraries
Priority boarding to help you win the race for overhead bin space
A 25% discount on inflight food, beverage, and Wi-Fi purchases
Reduced Mileage Awards can save you 7,500 miles on roundtrip MileSAAver Awards
Earn 2X miles for every $1 spent on cable and satellite providers
Earn 2X miles for every $1 spent at gas stations
Earn 2X miles for every $1 spent on select telecommunications merchants
Earn 2X miles for every $1 spent on car rentals
Earn 2X miles for every $1 spent on eligible American Airlines purchases
Earn 1X mile for every $1 spent on all other purchases
Eligible Airports for June
June offerings include 47 airports across the country eligible for Reduced Mileage Awards. A few of the destinations to consider when making prospective travel plans include:
Lynchburg, VA (LYH)
Martha's Vineyard, MA (MVY)
Monterey, CA (MRY)
Nantucket, MA (ACK)
Waco, TX (ACT)
American Airlines planned expanded seasonal service to both Martha's Vineyard and Nantucket starting at the end of June this year. However, given the impacts of COVID-19, expect changes to that schedule.
Eligible Airports for July
Not Pictured: Flagstaff, AZ (FLG) and Roswell, NM (ROW)
While the list of July destinations includes 50 airports, these are all but limited to the East Coast and Midwest. Notable cities include the following:
Huntsville / Decatur, AL (HSV)
Lexington, KY (LEX)
Salisbury, MD (SBY)
How To Book Reduced Mileage Awards
We've covered how to book a Reduced Mileage Award in more detail, but here's a quick overview:
Check award availability on American Airlines' website. (You'll need an economy or business-class "MileSAAver award")
Find the discount code that applies to your American Airlines co-brand card at the top of AA's Reduced Milage Award page.
Call American Airlines reservations at 1-800-882-8880 (A phone booking fee of $30 will not be charged as there is no way to complete this booking online).
Key Terms
For the list of cities linked above, you must book by May 31 for travel before July 31, 2020.
There must be a MileSAAver award available for the flight you wish to book.
Award travel must originate and terminate in the 48 contiguous United States or Canada.
Travel can be in Main Cabin or First Class; the discount is the same regardless of your class of service.
You don't need both your origin and destination to be on the list; either city will make your trip eligible.
One-way awards can be booked for half the discount of a round trip.
American allows free date changes on awards when your origin and destination stay the same; however, date changes on Reduced Mileage Awards are limited to the dates your airport is on the list.
Final Thoughts
Reduced Mileage Awards are another great way to find discounted AAdvantage award tickets for flights on American Airlines. Even if your travel plans don't match up right now, the cities change on a regular basis, so it is worth bookmarking this post so you can check back regularly.
Pro Tip: British Airways Avios points can also be redeemed for travel on American Airlines. If your itinerary is a nonstop flight, it's often cheaper to book with Avios. Plus, British Airways generally has lower fees for canceling or changing awards.
AwardWallet Tip of The Day
Hide image
The comments on this page are not provided, reviewed, or otherwise approved by the bank advertiser. It is not the bank advertiser's responsibility to ensure all posts and/or questions are answered.