AwardWallet receives compensation from advertising partners for links on the blog. Terms Apply to the offers listed on this page. The opinions expressed here are our own and have not been reviewed, provided, or approved by any bank advertiser. Here's our complete list of Advertisers.
The Aeroplan HotelSavers program lets you use your Aeroplan points to book hotel stays. The HotelSavers program has some excellent sweet spots and gives members up to a 30% discount on hotel awards. The discount applies to up to 39 leading hotel brands that partner with Aeroplan.
Furthermore, through December 31, 2024, holders of Aeroplan co-branded credit cards receive a fourth-night-free perk. This adds even more value to the program — a further 25% discount on your stays.
Does HotelSavers live up to that hype? Let's take a look at the value it provides.
How HotelSavers Works
Taking advantage of the HoteSavers program is straightforward. Just head over to the Aeroplan hotel booking page. Search as normal for your desired stay.
For example, we looked for a long weekend in Paris in May 2024. As the website starts to populate the results, hotels in the HotelSaver program will have the "HotelSavers" red sticker in the top left corner of the listing.
Aeroplan HotelSavers provides a wide range of options available. The cheaper category 3 Holiday Inn will set you back 24,000 points a night. On the higher end, you can find the more upscale Intercontinental Champs Elysees from 56,350 points per night.
Looking through the multiple listings, you can even find the fantastic Shangri-La Paris, which will set you back an eye-watering 183,500 points per night.
Sadly, not all hotels are participating, and you will see some listed properties without a HotelSavers sticker — indicating no discount.
Selecting one of the hotels for the weekend, you will now have 3 choices when it comes to paying for your booking. You can pay with points, pay in cash, or pay half in points and half in cash.
Choosing to pay for the stay with points will set you back 72,000 Aeroplan points. Paying in cash will set you back $668 CAD (~$495 USD).
A 50/50 split will set you back 36,000 points and $334 CAD (~$247.60 USD).
Keep in mind that you can't vary the cash and points percentage. If you do not have enough points for the booking, you will be prompted to pay in cash on the following page.
Aeroplan HotelSavers — Participating hotels and pricing
With 40 major brands taking part around the world, there are hundreds of properties where you can use your HotelSavers discount. Aeroplan has categorized the properties into eight categories. The first starts from 10,000 points per night, while category 8 properties set you back 75,000–105,000 points per night.
The list is by no means exhaustive, but you can filter by brand and location here. Aeroplan HotelSavers includes some stunning properties in the collection, like the Noku Maldives and the Elounda Gulf Villas and Suites.
Apparently, Aeroplan has stated that it has included several sweet spots in the program. In the original press release, Aeroplan stated that
"there are aspirational 'sweet spots' to uncover where value on hotels is even better than the typical value per point when purchasing flights."
Looking around, the sweet spots are a little tricky to find since no category of property is automatically a sweet spot. Instead, it is more than likely that the sweet spots will be territory-specific or apply to particular hotels. Aeroplan has not mentioned whether it would change the sweet spots or not. Only time will tell.
What Is the Aeroplan HotelSavers Program Worth?
At this point, Aeroplan co-brand credit card holders can now receive a fourth night free on stays. So, to determine the worth of the program, we need to look at both situations, —with and without a fourth night free.
Is Aeroplan HotelSavers Worth It Without a Fourth Night Free?
Figuring out if a specific stay is worthwhile will require some math. You need to work out the cost in points and what value you can get for those points. Consider this booking: Is 48,950 points for a night at Outrigger Waikiki Beach Resort worth it?
We looked at a stay at the property in June 2023. At the lowest rate, one night will set you back $382.55 USD. That's a pretty bad redemption: 0.8 cents per Aeroplan point.
Using nearly 50,000 Aeroplan points here is even worse when you consider other uses. You can leverage this balance for much more value by taking advantage of one of Aeroplan's sweet spots.
For example, you can book a one-way transatlantic business class award from Vancouver to London starting from 68,300 points plus C$124 in taxes and fees.
Flying on the same day and paying cash, you have multiple options, all of which are over $8,000 CAD (~$5,930 USD).
Considering the cash price of the ticket, redeeming your points for the flight award would yield a value of 8.6 cents per point. This is outstanding compared to the hotel stay value — more than 10 times more value. If you're deciding between redeeming Aeroplan points for airfare or hotel — and you value business class — using your points to book the flight and then paying cash for the hotel stay would save you thousands of dollars
The biggest bang for your points using the Aeroplan HotelSavers program seems to be at the cheaper end of the spectrum.
Aeroplan HotelSavers With Fourth Night Free
Fourth-night-free overview
The fourth-night free benefit is available to holders of Aeroplan co-brand credit cards both in the U.S. and Canada. Examples of eligible cards include:
American Express® AeroplanPlus®* Platinum Card
CIBC Aeroplan® Visa Infinite Card
One thing worth noting is that the fourth-night-free-perk is not a permanent benefit of these cards but is a promotional offer valid for stays through December 31, 2024. Also, the benefit only applies to award stays, not paid or points + cash bookings.
The offer is repeatable, including during the same stay. Therefore, there is no limit on how many times you can use it. Also, you can use it repeatedly during the same stay. For instance, you receive one night free on a four-night stay, two on an eight-night stay, and three on a 12-night stay.
Aeroplan® Credit Card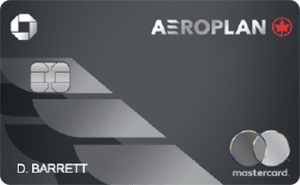 Apply Now
Aeroplan® Credit Card
Annual Fee$95
Welcome Bonus Earn up to 100,000 bonus points – 75,000 points after you spend $4,000 on purchases in the first 3 months your account is open. Plus, 25,000 points after you spend $20,000 on purchases in the first 12 months.
Earn up to 100,000 bonus points
Earn 75,000 points after you spend $4,000 on purchases in the first 3 months your account is open.
Plus, 25,000 points after you spend $20,000 on purchases in the first 12 months.
$95 Annual Fee
Redeem points for both international and domestic flights with the Aeroplan® Credit Card.
Fly to another continent and travel the world with the Aeroplan® Credit Card.
Earn 3X points for each dollar spent at grocery stores, on dining at restaurants, and Air Canada directly. Earn 1X point for each dollar spent on all other purchases.
500 bonus points for every $2,000 you spend in a calendar month - up to 1,500 points per month.
Member FDIC
3x points on dining, including takeout and eligible delivery services
3x points at grocery stores
3x points directly with Air Canada
1x point on all other purchases
Is HotelSavers worth it with the fourth-night-free perk?
If you include the fourth-night free perk, does it add lots of value, making the HotelSavers program attractive, or is it just a lot of hype and not much substance? Looking at two examples, the answer is pretty straightforward.
InterContinental Bora Bora La Moana Resort
Starting at the high end of the spectrum, a four-night stay at the InterContinental Bora Bora La Moana Resort in November will set you back 301,800 points with the fourth-night free perk (402,400 points without).
Alternatively, if you pay cash for your four nights, you will end up handing over $5,145 CAD (~$3,819 USD).
Crunching the numbers, that works out at a less-than-stellar 1.26 cents per point, which is not only nothing to write home about. But it is also substantially less than the 1.91¢ that AwardWallet members have been able to generate from their Aeroplan redemptions.
Holiday Inn Brooklyn Downtown
The situation is sadly not much better at the lower end of the scale. Take the Holiday Inn Brooklyn Downtown: A four-night stay with the perk will set you back 75,000 points (100,000 points without).
Paying cash for the same stay, you will part ways with $1,059 CAD (~$786 USD).
What does the math say? The value is even worse than the InterContinental in Bora Bora. Here, you only get a value of 1.05 cents per point. That is substantially worse than the 1.91¢ per point for which AwardWallet members have been able to leverage their Aeroplan points.
Boosting Your Aeroplan Balance
You have options if you are a few points shy of an Aeroplan award — whether for a hotel stay or a flight. Aeroplan is one of the few North American programs that is a transfer partner with multiple major credit card points currencies. You can transfer all of the following points to Air Canada Aeroplan to boost your points balance.
From
To
Transfer Ratio
Min.Transfer
Average Time
Accor Group (ALL - Accor Live Limitless)
➔
4,000:2,000
-
Choice Hotels (Choice Privileges)
➔
5,000:1,000
-
IHG Hotels & Resorts (One Rewards)
➔
10,000:2,000
-
Wyndham Rewards (Days Inn, etc.)
➔
6,000:1,200
-
The fact that the ratios from the flexible points programs are all very similar — meaning there is no standout transfer partner — makes Aeroplan a great program for consolidating points. Transferring a few points from Membership Rewards, Capital One Miles, Chase Ultimate Rewards, Marriott Bonvoy points, and even Bilt Rewards can soon add up to your next flight award.
Remember to watch out for the occasional transfer bonus, like the recent one from Chase Ultimate Rewards, since that can add even more value to your points.
Our Take
The bottom line is that without an Aeroplan co-branded credit card, the HotelSavers program is not the most economical or smart use of your points. While the value substantially improves if you hold an Aeroplan credit card and receive a fourth night free, it is not enough of an improvement to make the program your default method of using Aeroplan points.
HotelSavers would not be my go-to option for using Aeroplan points. If you have a few points that you want to use up, the HotelSavers can be a great alternative to use up your balance.
When maximizing the value of your Aeroplan points, booking premium cabins and/or long-haul awards remain your best redemptions. However, it is nice to have another option.
AwardWallet Tip of The Day
Did you know that we scour the internet for promotions? If we find anything worthwhile, we share those with you via the
Promos section
as well as via the
Promotions
tab within the details of any loyalty account.
Show me how
Hide image
The comments on this page are not provided, reviewed, or otherwise approved by the bank advertiser. It is not the bank advertiser's responsibility to ensure all posts and/or questions are answered.