AwardWallet receives compensation from advertising partners for links on the blog. Terms Apply to the offers listed on this page. The opinions expressed here are our own and have not been reviewed, provided, or approved by any bank advertiser. Here's our complete list of Advertisers.
This promotion has ended; please review current/active promotions.
Citi just launched a new transfer bonus to one of its newest transfer partners. Now through September 16, 2023, you'll get a 20% transfer bonus when transferring Citi ThankYou points to Wyndham Rewards. This is the first transfer bonus between the programs since Citi added Wyndham Rewards as a Citi ThankYou transfer partner in 2021.
Wyndham Rewards flies below the radar for many travelers. But learning about this underrated program can unlock some incredible value for your Citi ThankYou points — particularly during this transfer bonus.
Wyndham Rewards 20% Citi Transfer Bonus Key Terms
Get 20% bonus points when you transfer Citi ThankYou Points to Wyndham Rewards now through 11:59 pm ET on September 16, 2023.
Points must be transferred in increments of 1,000 Citi ThankYou points.
Per Citi, "transfers to Wyndham Rewards are often completed within 24 hours. However, the process may occasionally take up to 5 business days."
There is no limit to the number of points you can transfer under this promotion.
The 20% transfer bonus is hardcoded. That means you'll see exactly how many Wyndham points Citi will deposit into your account when transferring.
Wyndham Rewards is one of a few Citi transfer partners that's available to a wider range of Citi credit cards. However, the transfer rate varies based on which Citi card you have. For cardholders of the following cards, this Citi transfer bonus boosts the transfer rate to 1.2 Wyndham points per 1 ThankYou point transferred:
Citi Prestige® Card [no longer available]
AT&T Access More Card from Citi
The following Citi cardholders will net 0.96 Wyndham points per 1 ThankYou point transferred:
AT&T Points Plus Card
AT&T Access Card from Citi
Best Ways to Redeem Wyndham Rewards Points
During peak travel times
Wyndham Rewards uses a static three-tier award chart. Every property worldwide is set to one of three pricing levels: 7,500 points, 15,000 points, or 30,000 points — with no peak or off-peak pricing.
That means that Wyndham Rewards points can be especially useful during holidays and other peak travel times. If you snag availability early enough, you'll pay the stated award rate — no matter how expensive the cash rates are.
Wyndham Vacation Club condos
In March 2023, we found that Wyndham dropped the starting price for Wyndham Vacation Club properties to just 7,500 points per night. That means you can book one of a dozen one-bedroom condos for just 7k Citi points during this Citi transfer bonus.
Even better, if you have a Wyndham Rewards co-branded credit card, you get a 10% discount on Wyndham Rewards reward redemptions. By combining this discount with the 20% transfer bonus from Citi, Wyndham cardholders only need to transfer 6k Citi points for one night or 17k Citi ThankYou points for three nights in select Wyndham Vacation Club condos.
Vacation homes and condos
The lower Wyndham Vacations rate is nice, but a much broader use of Wyndham Rewards points is for vacation rentals through Wyndham's partnership with Vacasa. Wyndham charges just 15,000 Wyndham Rewards points per night per bedroom. That rate is the same no matter if you're booking budget accommodation, a slopeside ski-in ski-out condo during ski season, or a luxury condo in Hawaii.
And there's no shortage of redemption options. Wyndham's partnership with Vacasa recently passed the 15,000 property mark. Read more about how to book Vacasa vacation rentals with Wyndham Rewards points.
During this Citi transfer bonus, you'll need to transfer 13k Citi points to book a one-night stay — or 12k if you're a Wyndham co-branded cardholder. Four-night stays require a transfer of 50k Citi points for non-cardholders or just 45k Citi points for cardholders.
Wyndham Rewards Expiration Policy
Wyndham Rewards utilizes a unique two-part expiration policy. First, your Wyndham points expire if you don't have any activity for a period of 18 months. Thankfully, point transfers — like from Citi ThankYou points — reset the date on this part of the expiration. Even a transfer of 1,000 Citi points will give your account 18 more months of life.
However, beware of the second part of the Wyndham expiration policy. All Wyndham Rewards points expire four years after they're earned. This part of the policy can't be avoided. So, make sure that you have a plan to use your Wyndham points before transferring points into your account.
Want help keeping track of your expiration date? Add your Wyndham Rewards account to AwardWallet, and we will email you before your points are set to expire.
Building Up Your Citi ThankYou Points Balance
Travelers have several ways to build up their balance of points through credit cards that earn Citi ThankYou Points. The easiest way to grow your stash is through a sign-up bonus, and the best option is by getting the Citi Premier® Card. The Citi Premier earns ThankYou points that transfer to Wyndham Rewards — and most other Citi transfer partners — at a 1:1 transfer ratio. Plus, it's currently offering a solid sign-up bonus:
Citi Premier® Card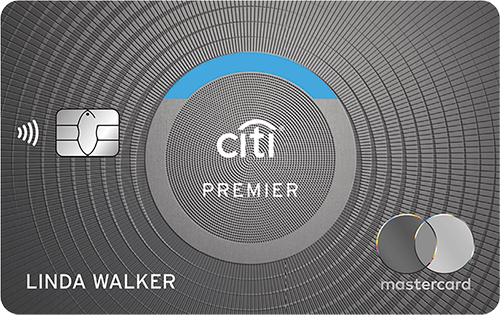 How to Apply
Citi Premier® Card
Annual Fee$95
Welcome Offer Earn 60,000 bonus ThankYou® Points after you spend $4,000 in purchases within the first 3 months of account opening Plus, for a limited time, earn a total of 10 ThankYou® Points per $1 spent on hotel, car rentals, and attractions (excluding air travel) booked on the Citi Travel℠ portal through June 30, 2024.
The Citi Premier card offers some of the top earning rates of any rewards card with an annual fee under $100. This card is best-in-class for rewards on air travel and hotel spending, and it tops our list of the best cards for
gas & fuel purchases
with a generous 3X ThankYou
®
Points.
60,000 point signup bonus worth $800 towards airfare through the ThankYou Travel Center, or potentially much more when transferred to airline partners
3X points per $1 on airfare and hotels and at gas stations, restaurants, and supermarkets
Annual Hotel Benefit: Save $100 off a single hotel stay of $500 or more (excluding taxes and fees) when you book through ThankYou.com
No foreign transaction fees
$95 annual fee
3X points per $1 spent on airfare, hotels, and at gas stations
3X points per $1 spent on dining at restaurants, including cafes, bars and lounges
3X points per $1 spent at supermarkets
1X points per $1 spent on all other purchases
Bottom Line
Citi just launched a month-long transfer bonus to Wyndham Rewards. This is a program many travelers might not have considered transferring Citi points to before now. But it's worth taking a look at your upcoming travel plans to see if you can take advantage of one of the great uses of Wyndham Rewards points.
You can also transfer points to Wyndham Rewards from Capital One miles or Ceasars Rewards (now with a higher annual limit). Alternatively, you can consider buying Wyndham points to top off your account. Wyndham typically sells points at a base rate of 1.3 cents each and often offers promotions that drop the price under one cent each.
AwardWallet Tip of The Day
Wondering how AwardWallet determines a loyalty program account expiration date? When you click the expiration date next to your account, AwardWallet will give you a detailed description of how that date was calculated. Expiration dates calculated by AwardWallet (rather than listed on your loyalty program account page) have a special icon to let you know that we did the math for you.
Show me how
Hide image
The comments on this page are not provided, reviewed, or otherwise approved by the bank advertiser. It is not the bank advertiser's responsibility to ensure all posts and/or questions are answered.