AwardWallet receives compensation from advertising partners for links on the blog. Terms Apply to the offers listed on this page. The opinions expressed here are our own and have not been reviewed, provided, or approved by any bank advertiser. Here's our complete list of Advertisers.
This promotion has ended; please review current/active promotions.
Wyndham Rewards—the loyalty program of the largest hotel group in the world—just launched a new buy points promotion. Now through August 16, 2020, members can buy Wyndham points with a 30% bonus. That cuts the cost to just 1¢ each. Considering the sheer scope of the program (and the easy math involved), this is a sale worth considering.
A Note on Buying Points
We typically don't recommend buying points without a discount or a plan to use them. For most currencies, you're much better off building your stash for free through credit-card earnings and transfer partners.
There are a couple of exceptions, though. When you can buy miles at a deep discount, it can make sense to do so if you can book a lucrative award stay instead of paying for an expensive cash rate. Moreover, if you only need a few more points to complete that next, great redemption you're eyeing, purchasing points can be the quickest, simplest way. Just make sure you do the math ahead of time to ensure you're achieving a value you're comfortable with.
Buy Wyndham Points Offer Details
This promotion is valid through August 16, 2020.
Members who buy 2,000 or more Wyndham Rewards points will receive a 30% bonus

Wyndham usually limits members to a maximum of 45,000 purchased points per year. However, that annual cap is raised to 65,000 points (84,500 total with the 30% bonus) for this promotion

It may take up to 72 hours for purchased points to post to your account
Points purchases do not count toward Wyndham elite status
All transactions are final and non-refundable
Great Redemption Options
One of the great things about this promotion is that the 30% bonus is available at all purchase levels. Since this works out to exactly 1¢ per point, the math required to calculate your value is really easy.
Wyndham Rewards offers free nights at three different price points: 7,500 points per night, 15,000 points per night, and 30,000 points per night. So, under the terms of this promotion, you can buy enough points for a free night at these hotels for only $75, $150, and $300, respectively.  To see if you're getting a good value, simply compare the cash rate with the price of purchasing enough points.
Let's take a look at some situations where buying Wyndham points could save you money compared to booking a stay with cash.
Take a TRYP to Jerusalem
Acquired by Wyndham in 2010, TRYP is a sleek hotel brand designed to channel the energies of the world's most exciting cities. With city-inspired designs, social lobby spaces, and modern amenities, these hotels may broaden your definition of a Wyndham property.
The TRYP by Wyndham Jerusalem Bat Sheva is a "boutique-like" hotel, located just over a mile away from the Church of the Holy Sepulchre. Like other TRYP properties, it provides modern touches like safes, flat-screen TVs, and free continental breakfast. The real star, however, is that rooftop bar (pictured above). 
Cash prices often reach over $400 per night, so this property is a great place to use Wyndham Rewards points. With this promotion, you could buy the 15,000 points required for a night here for only $150.
Waste Away in Waikiki
The Waikiki Marina Resort at the Ilikai is right in the heart of the most famed vacation destination in Hawaii. Located throwing distance from Waikiki's white sand, this all-suite property offers full kitchens and private lanais for every room.
Hawaii can be pretty pricy if you're paying with cash, and this property reflects that. Room rates average around $250 per night. Reward nights, however, only cost 15,000 points. That means you'd save over $100 per night by buying the points necessary instead of paying the cash rate.
Glamorous Getaway in Grand Cayman
If you live on the east coast, perhaps a better (closer) option to get your snorkeling fix is the world-class beaches of Grand Cayman. The Wyndham Reef Resort Grand Cayman is another all-suite property with three pools, oceanfront dining, and a poolside bar. Even better: it's all-inclusive!
As you'd expect, these amenities come at a hefty price. A four-night stay (the minimum stay length) in February costs almost $1,800 after taxes and fees, averaging $450/night. Reward nights, on the other hand, require 30,000 points per night. Consequently, you could save $150 per night by buying the points instead.
Maximize Your Purchase
Unfortunately, Wyndham is another program that uses Points.com to process point purchases. This means that buying Wyndham Rewards points won't trigger a multiplier on cards with travel as a bonus category. That being the case, your best options are to use the purchase to meet a minimum spending requirement, or to use a card optimized for everyday spending. Here are a few of our favorite options:
Other Ways to Earn Wyndham Rewards Points
Capital One recently added Wyndham Rewards as one of its newest transfer partners. This means that cards earning Capital One Miles—like the Capital One® Venture® Rewards Credit Card or the Capital One® Spark® Miles for Business—can now be used to top-off your Wyndham account. Just be aware that Capital One mile transfers generally are at a ratio of 2:1.5, not 1:1. At that rate, Wyndham award nights cost 10k, 20k, or 40k Capital One Miles.
Capital One® Venture® Rewards Credit Card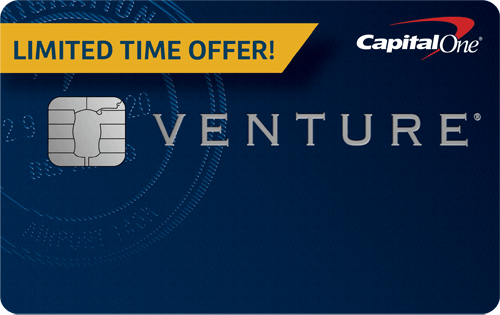 Learn More
Capital One® Venture® Rewards Credit Card
Annual Fee$95
Welcome Offer Earn 100,000 Miles when you spend $20,000 on purchases in the first 12 months from account opening, or still earn 50,000 miles if you spend $3000 on purchases in the first 3 months
Following the revamp of Capital One's rewards program and the addition of airline transfer partners, the Capital One Venture has catapulted into our list of top travel rewards cards. The ability to earn 2X miles on every purchase and 5X points on hotels and car rentals booked through Capital One Travel provides a decent return on spending. Plus the card offers some great perks.
Earn 100,000 Miles when you spend $20,000 on purchases in the first 12 months from account opening, or still earn 50,000 miles if you spend $3000 on purchases in the first 3 months; worth $1000 in travel if redeemed for a fixed-value, or potentially much more when transferred to airline partners
2 Miles on every purchase, plus earn 5 Miles on hotel bookings and car rentals through Capital One Travel
Fee credit for Global Entry or TSA Pre✔® (up to $100)
No foreign transaction fees
$95 annual fee
2 Miles per dollar on every purchase, every day.
5 Miles on hotels and car rentals through Capital One Travel
If you happen to be a Wyndham fanatic, you may want to consider signing-up for a Wyndham co-branded credit card. Barclaycard partners with the hotel brand to offer two consumer products. Confusingly, both share the same name.
Card Name
Annual Fee
Benefits
Wyndham Rewards Visa Card (Annual Fee)
$75
•Earn up to 30,000 bonus points, enough for up to 4 free nights
•5 points per $1 spent on eligible Wyndham purchases
•2 points per $1 spent on eligible gas, utility and grocery store purchases
Wyndham Rewards Visa Card (No Annual Fee)
$0
•15,000 bonus points after your first purchase or balance transfer
•3 points per $1 spent on eligible Wyndham purchases
•2 points per $1 spent on eligible gas, utility and grocery store purchases
Besides the initial sign-up bonus, the major difference between the two cards is the increased 5X points on Wyndham purchases. For many, the no-fee version will make the most sense for the long term. If you value Wyndham points at one cent each, you'd have to spend more than $3,750 on Wyndham stays to come out ahead on the $75 annual fee.
Bottom Line
Wyndham's loyalty program doesn't always get the credit it's due. With a large footprint, and plenty of award sweet spots, you might be surprised at the value it can present.
We always stress that buying points generally should be your last option. But, at the rock-bottom price of 1¢ per point, there are tons of places where you can beat the cash price with a reward stay.
Are you buying Wyndham points at 1¢ each?
The comments on this page are not provided, reviewed, or otherwise approved by the bank advertiser. It is not the bank advertiser's responsibility to ensure all posts and/or questions are answered.