AwardWallet receives compensation from advertising partners for links on the blog. Terms Apply to the offers listed on this page. The opinions expressed here are our own and have not been reviewed, provided, or approved by any bank advertiser. Here's our complete list of Advertisers.
World of Hyatt just announced several incredible new updates for 2021. First, Hyatt has cut elite-qualification requirements for 2021 elite status in half. Second, Hyatt will (once again) extend many of our favorite promotions until the end of February 2021.
All in all, this news is chock-full of traveler-friendly moves that will make Hyatt stays in 2021 more rewarding and 2021 Hyatt status easier to earn.
Hyatt Cuts Elite-Qualification Requirements in Half
In 2021, World of Hyatt members need to meet these requirements to earn elite status:
Discoverist — 12,500 Base Points or 5 Elite-Qualifying Nights
Explorist — 25,000 Base Points or 15 Elite-Qualifying Nights 
Globalist — 50,000 Base Points or 30 Elite-Qualifying Nights
That represents half the normally required amounts for both elite-qualifying nights and base points.
Cutting to the chase, this puts Hyatt Globalist (arguably the most valuable hotel status available) within reach for many. That's especially true with the extension of the 'Bonus Journeys' promotion, which we'll discuss more later.
One important note: while Hyatt is halving the qualifications for elite status, requirements for Milestone Rewards will remain unchanged. As a result, elite status earned with the lower thresholds will be slightly less valuable. However, I'd argue that this is a brilliant move by Hyatt. Now, members can earn and take advantage of elite status while also earning valuable rewards for additional stays.
Additionally, elite nights earned from the The World of Hyatt Credit Card (review) will also qualify for these lowered thresholds.
The World of Hyatt Credit Card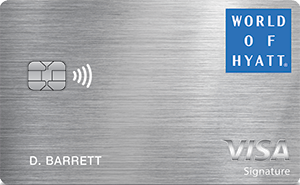 Apply Now
The World of Hyatt Credit Card
Annual Fee$95
Welcome Bonus Earn 30,000 Bonus Points after you spend $3,000 on purchases in your first 3 months from account opening.
Earn 30,000 Bonus Points after you spend $3,000 on purchases in your first 3 months from account opening. Plus, up to 30,000 More Bonus Points by earning 2 Bonus Points total per $1 spent in the first 6 months from account opening on purchases that normally earn 1 Bonus Point, on up to $15,000 spent
Limited Time offer: Apply by 9/30/21 and upon approval you'll receive 2 Tier-Qualifying Night Credits for each night you stay from 8/16/21 through 12/31/21.
Get 1 free night each year after your Cardmember anniversary at any Category 1-4 Hyatt hotel or resort.
Receive 5 tier qualifying night credits towards status after account opening, and each year after that for as long as your account is open
Earn an extra free night at any Category 1-4 Hyatt hotel if you spend $15,000 in a calendar year
Earn 2 qualifying night credits towards tier status every time you spend $5,000 on your card
Earn up to 9 points total for Hyatt stays - 4 Bonus Points per $1 spent at Hyatt hotels & 5 Base Points per $1 you can earn as a World of Hyatt member
Earn 2 Bonus Points per $1 spent at restaurants, on airlines tickets purchased directly from the airlines, on local transit and commuting and on fitness club and gym memberships
Up to 9X points total per $1 spent at Hyatt - 4X points per $1 when you use your card at Hyatt hotels & 5X points per $1 you can earn as a World of Hyatt member
2X points per $1 spent at restaurants, on airlines tickets purchased directly from the airlines, on local transit and commuting and on fitness club and gym memberships
1X point per $1 everywhere else
[Now Expired] Hyatt Extends Valuable Promotions
Over the last several months, Hyatt has launched several promotions, including some of the most valuable hotel promotions we've ever seen. Now, Hyatt is extending most of these through February 28, 2021, including:
Hyatt 'Bonus Journeys' — Members who registered by January 15, 2021 can earn triple points on all stays (up to 150,000 bonus points). Additionally, members who hold a World of Hyatt Card can earn quadruple points on resort stays (up to 225,000 bonus points).
Double Elite-Qualifying Nights — Elite nights earned between October 1, 2020 and December 31, 2020 will count double: one night towards 2020 elite status qualification and one night towards 2021 elite status qualification. Moreover, qualifying nights completed between January 1, 2021 and February 28, 2021 will count double towards 2021 elite status qualification.
15–25% Point Rebates on Award Stays — Announced in July, this valuable promotion allows registered members to book Hyatt award stays with a 15 to 25% rebate.
Free Parking on All Award Stays — All Hyatt members can receive free parking (self-parking or valet) on free night awards and Points + Cash stays. Plus, Hyatt Globalists can receive the same benefit on eligible paid stays.
Triple Points on Dining — World of Hyatt members can earn triple base points on dining purchases at Hyatt properties when they aren't staying.
Needless to say, staying with Hyatt will continue to be incredibly rewarding over the next few months.
Quick Thoughts
The main takeaway here is how much easier earning Hyatt status will be in 2021. With the requirement halved and bookings between January 1 and February 28 earning double elite credits, members could find themselves reaching Globalist in a hurry.
However, depending on who you ask, that's not necessarily a good thing. With lowered requirements, there may be far more Hyatt Globalists in 2021 and 2022. This could translate into higher competition for certain elite benefits like complimentary suite upgrades. While I understand this argument, I'd be surprised if the limited nature of 2021 travel allows such competition to materialize. It's more likely that elites will feel competition for benefits once travel has (hopefully) returned to normal levels in 2022. This brings me to my last thought.
It's important to point out the lucrative nature of earning Hyatt status early in a year. If you reach 30 elite nights for Globalist in early 2021, you get to keep it through February 2023. That's almost two years of the best hotel status available—and an absolutely incredible deal.
Bottom Line
World of Hyatt has announced that it's cutting elite qualifications in half for 2021 while extending several popular promotions. This makes it easier to earn elite status in 2021 while simultaneously making it more rewarding.
While some may complain about the higher competition for benefits, I think this is an overall win for Hyatt loyalists. The outlook for travel in 2021 hasn't exactly returned to pre-COVID levels, meaning fewer members than usual will benefit from the lowered thresholds and raised benefits. Those who do find themself traveling soon have an incredible opportunity to earn status through early 2023.
How do you feel about Hyatt's lowered elite status requirements?
The comments on this page are not provided, reviewed, or otherwise approved by the bank advertiser. It is not the bank advertiser's responsibility to ensure all posts and/or questions are answered.