AwardWallet receives compensation from advertising partners for links on the blog. The opinions expressed here are our own and have not been reviewed, provided, or approved by any bank advertiser. Here's our complete list of Advertisers.
This promotion has ended; please review current/active promotions.
You can now stack two promotions to purchase American Airlines Miles for 1.68 cents apiece. To take advantage of the deal, you will need to purchase Marriott Bonvoy points with a 30% discount before October 18, 2019.  After purchasing the points, you can transfer them to AA with a 25% Bonus through October 30, 2019.
Purchase Marriott Points Overview
Marriott Key Terms:
Direct link to buy points (our affiliate link)
Purchase Marriott points with a 30% discount through October 18, 2019.
You can purchase a maximum of 100,000 points with the promotion.
To receive a 30% discount, you need to purchase at least 2,000 Marriott Bonvoy points.
The maximum number of points you can purchase per transaction is 50,000.
Allow 24 to 48 hours for the points to pst to your Marriott account.
Transfer Points to AA with A 25% bonus Overview
American Key Terms:
Direct link to promotion terms
Receive a 25% bonus when you convert hotel points to AAdvantage miles.
The promotion runs through October 30, 2019.
How it Works
If you haven't transferred Marriott points to an airline loyalty program before, you can learn more in our detailed post on Marriott transfer partners. Marriott points normally transfer at a 3:1 ratio—3,000 Marriott points will get you 1,000 airline miles. However, when you transfer in multiples of 60,000 Marriott points, they'll give you a bonus of 5,000 airline miles. This means you can end up with 25,000 airline miles if you plan your transfers properly. This deal dates back to the days before the merger with SPG, so there is no deadline to get the 5,000 bonus miles.
To maximize the two limited-time promotions, you'll want to buy a quantity of Marriott points that sets you up with a multiple of 60,000. For example, if you have 31,000 Marriott points already, you'd want to buy a total of 29,000 or 89,000 to reach 60,000 or 120,000 respectively. As noted above, Marriott allows you to purchase up to 100,000 points per calendar year, but you are limited to 50,000 points per transaction. So, if you're starting with zero points in your Marriott account, you will need to make two purchases—50,000 and 10,000.
Once you've acquired your Marriott points, you'll transfer them to American. Instead of the normal 25,000, you'll end up with 31,250 AA miles after the 25% transfer bonus has been applied.  Marriott points purchases are processed by points.com, so you won't earn extra miles for using a credit card that earns more points on hotel stays or travel purchases. The ideal card to use for this transaction is one that earns a better than 1x rate on everyday purchases.
Capital One® Venture® Rewards Credit Card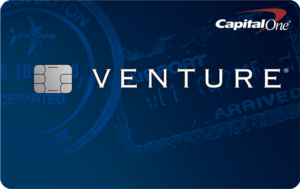 How to Apply
Capital One® Venture® Rewards Credit Card
Annual Fee$0 intro for first year; $95 after that
Welcome Offer 50,000 miles after spending $3,000 on purchases within 3 months from account opening
Following the revamp of Capital One's rewards program and the addition of airline transfer partners, the Capital One Venture has catapulted into our list of top travel rewards cards. The ability to earn 2X miles on every purchase and 5X points on hotels and car rentals booked through Capital One Travel provides a decent return on spending. Plus the card offers some great perks.
50,000 Miles after spending $3,000 on purchases within 3 months from account opening; worth $500 in travel if redeemed for a fixed-value, or potentially much more when transferred to airline partners
2 Miles on every purchase, plus earn 5 Miles on hotel bookings and car rentals through Capital One Travel
Fee credit for Global Entry or TSA Pre✔® (up to $100)
No foreign transaction fees
$0 intro for first year; $95 after that
2 Miles per dollar on every purchase, every day.
5 Miles on hotels and car rentals through Capital One Travel
A few other good options include:
After buying and transferring points, you have effectively paid $525 for 31,250 AA miles, which works out at 1.68 cents apiece. Marriott points purchases average just over 24 hours to post to your account. Marriott to American transfers take about 20 hours. Both numbers come from our Balance Watch feature, which will monitor your balance and send you an alert as soon as your points post.
Our Take
If you are looking for AA miles then stacking these two promotions is great way to go. American occasionally sells miles at around this price, but their mileage sales usually require you to spend thousands of dollars to get the best deal. (For example, this promo from last year offered a per-mile price as low as 1.65 cents, but only if you bought 150,000 miles for a cool $4,425.) This deal is attractive because Marriott allows you to purchase as few as 2,000 miles, so you can purchase just enough to get your account balance up to the next multiple of 60,000.
Don't forget, the promotions have different deadlines; if you want to combine them, you need to act before October 18, 2019. Despite the attractive price, we don't recommend buying miles without a game plan on how to use them. Since American will hold award tickets for five days, it's a good idea to get your flights set up before you buy and transfer.
Source: One Mile At A Time
AwardWallet Tip of The Day
Did you know you can filter the accounts in your AwardWallet profile by program? If you want to view only a subset of your loyalty accounts tracked by AwardWallet, use the Accounts Filter to display only the accounts you're interested in at the moment.
Show me how
Hide image
The comments on this page are not provided, reviewed, or otherwise approved by the bank advertiser. It is not the bank advertiser's responsibility to ensure all posts and/or questions are answered.