AwardWallet receives compensation from advertising partners for links on the blog. Terms Apply to the offers listed on this page. The opinions expressed here are our own and have not been reviewed, provided, or approved by any bank advertiser. Here's our complete list of Advertisers.
Credit card rewards and benefits can enhance the way you travel, providing travel experiences and opportunities you otherwise may not be able to afford. With the right combination of cards, it's easy to save a significant amount of money on travel, plus you can enjoy luxury perks and benefits typically reserved for elite status holders.
In this post, we're pulling apart a recent trip I took with my wife and kids over the busy New Years' holiday period, paid for almost entirely with points, miles, and travel credits. The outlay for our core travel expenses totaled less than $300, included flights for a family of four to Tampa, five nights at the Hyatt Regency Clearwater Beach, and a premium car rental. The retail value of these expenses was substantial, but our out-of-pocket cost was just $296.
Five Nights at the Hyatt Regency Clearwater Beach
We visit Clearwater Beach two to three times a year but never stay in hotels. We typically rent an Airbnb, earning 3X Ultimate Rewards points when booking with the Ink Business Preferred® Credit Card or Chase Sapphire Reserve®.
However, we were trying to keep our out-of-pocket expenses low, so we chose to book the Hyatt Regency Clearwater Beach Resort and Spa on points rather than pay cash for an Airbnb. Listed as a Category 6 property, the stay wasn't cheap at 25,000 points per night for a standard 2 Queen room. That's 125,000 points for a five-night stay.
We chose Hyatt as it's a 1:1 transfer partner of Ultimate Rewards. Unlike Marriott, Hyatt doesn't charge resort fees when booking on points; however, other fees may apply. In this case, the Hyatt Regency Clearwater charges $25+ tax daily for self-parking or $29+ tax for valet.
Suite Upgrade Courtesy of Hyatt Guest Of Honor Booking (More Perks and Benefits)
While I hold Hyatt Explorist status thanks to status matches detailed in our Ultimate Status Match Guide to Atlantic City, I had an ace up my sleeve. Many of my friends are top-tier Globalist Elites with Hyatt.
One of the interesting perks of Globalist Elite Status includes the ability to place a Guest Of Honor (GOH) booking on behalf of friends or family. Globalist benefits then apply to the guest for the duration of the stay. Perks and benefits include suite upgrades (if available), free parking, and free breakfasts.
A friend and a fellow Award Travel 101 community member was generous enough to book a GOH reservation on my behalf, which secured us an upgrade to a 2 Queen Suite Partial Gulf View. This provided us an extra 300ft2 of space, an additional bathroom, and a balcony complete with views out to the Gulf to sit and enjoy the sunset.
It's worth noting that GOH reservations need to be booked with points from the Globalist member's account. While Chase only allows you to transfer points to your own accounts and those belonging to members of your household, Hyatt lets you combine points with other members. (We've covered the rules for combining points here.) To pull off the GOH booking, I transferred Ultimate Rewards to my own Hyatt account, and then I authorized Hyatt to move them to my friend's account by filling out this form.
While we would not have paid to upgrade, we enjoyed a complimentary move that would have cost an additional $1,554 after tax ($275+tax per night).
Globalist Benefits Include Free Breakfast & Parking
Not only that, but our parking and breakfasts were comped too! And breakfast at the resort was pretty expensive. Charges for adults ran $22.95 per person, while children 12 & under were charged $1 per year of age.
Our daily breakfast charges amounted to $84.58 with tax and tip. When combined with the $155.15 in valet parking fees, we received almost $600 additional value using Globalist perks and benefits. Adding up all of the Globalist benefits, we received $2,132 in added value. If you appraise those services at their cash value, 125,000 points provided $3,892 in return. This raises the value of our points to just over 3¢ each. With very low out-of-pocket costs, we were able to enjoy the New Year's holiday on one of the highest-ranked beaches in the U.S.
Another benefit of staying at the property is you have access to free beach towels from the little hut across the street. While the city of Clearwater charges for chairs and cabanas, you can bill those fees back to your room. This could help you earn 6X Hyatt points if you hold the The World of Hyatt Credit Card. Watch out for your wallet though, the cost of a beach umbrella is steep in Florida!
Flights for Four to Tampa
Read any of the comments on budget Low-Cost Carriers (LCCs), and you'll find plenty of disdain. This isn't an area where complimentary perks and benefits abound. Domestic LCCs include Allegiant, Frontier, and Spirit. I'm not here to say that they are always great. In fact, the irony of this trip is that it would not have been possible without the travel vouchers awarded following two previous canceled LLC flights. Another point, our return flight for this trip was actually in jeopardy, and we didn't arrive home until 4 am after all delays. However, in certain situations, LCCs can be a reasonable choice if you are:
Short on points
Want/need a non-stop flight
Aren't on a strict schedule
Looking for the cheapest fare possible
Basic Policies for Low-Cost Carriers
Passengers should educate themselves about LCCs because knowledge of how they work can help alleviate many of the problems. Credit card perks and benefits can also help improve the quality of the situation. Here are a few things you should know in advance:
Purchasing a ticket is just that. When you buy a ticket on an LCC, there are no seat assignments. Seat assignments cost extra.
Baggage is not included. Checked and carry-on luggage are extras you need to purchase. Some carriers will provide preferential boarding when you are buying carry-on.
Have a backup plan if you are on a strict schedule. Cancellations aren't uncommon, and they can derail a trip. While not ideal, purchasing your ticket with a credit card featuring travel protection benefits can help you get reimbursed for non-weather related cancellations.
Take Advantage of Compensation From Flight Delays and Cancellations
Our first flight cancellation (Frontier Airlines) was in June 2018 at the beginning of a two week Florida vacation. We re-booked on Delta and received compensation 45 days later. Other benefits included $800 of complimentary Frontier vouchers.
Forty-eight hours before our re-booked November departure, we received notice that there was an equipment swap—which means the airline is changing the aircraft operating your flight. They swapped out a 240 passenger Airbus A321 for one carrying 176 passengers (Airbus A320), but they had sold 195 tickets. Now they needed to off-load 19 passengers. We accepted an offer of our original $800 refunded, plus an additional $1,600 in Frontier vouchers, to be 'bumped' off our flight and rescheduled our vacation rental.
Vouchers on Frontier are only good for 90 days, and we already had our trips booked through the summer of 2019. With a politely worded email, I was able to get the vouchers extended for another 12 months. That gave us through January 2020 to make use of them. Due to future travel plans already extending through Summer 2020, we had to fit the trip into the Christmas/Winter break. Of course, peak pricing travel!
Booking Flights for Four on Frontier
Believe it or not, this was the least expensive flight for the dates that worked for our schedule. Our travel dates were 12/30/2019 – 01/04/2020.
Unlike some other airline vouchers, Frontier's are one and done. We had (4) $400 vouchers, so I wasn't going to leave money on the table. I've long used part of my American Express Airline Fee Credit to cover the Discount Den membership fee of $59.99. That saved us $65 for these flights. However, we still wanted seat selection and baggage, so we opted for the fully refundable bundle.
If we had $1,600 in vouchers, you might be wondering how we only spent $12.80 for airfare. Given the loss of Priority Pass restaurant benefits from Amex, we'd recently signed up for the Sapphire Reserve. We still had $255.20 remaining from the $300 Travel Credit, so we used that to bring our total out-of-pocket expenses down.
Autoslash and Credit Card Perks and Benefits
We recently shared a guide to booking car rentals with AutoSlash. Our trip was booked on little more than a month's notice because we wanted to take advantage of the flight vouchers. However, due to the peak holiday pricing, many of the avenues I would ordinarily pursue were displaying rental car prices starting at almost $100 per day with taxes and fees. As regular travelers to the area, I'm typically accustomed to paying $175-200 per week for a Premium rental. However, the least expensive standard rental was coming up $468.
After a quick search with Autoslash, we had a Premium vehicle for $283 through Thrifty! That was an easy $185 savings!
Fee Credits
Many people ask, "Is it really worth paying such high annual credit card fees?" The answer depends on how you'll use them. My wife picked up the Sapphire Reserve in September last year, and she added me as an authorized user (AU). That means we pay $625 annually for that card because the fee is $550, and each additional AU is another $75.
Chase Sapphire Reserve®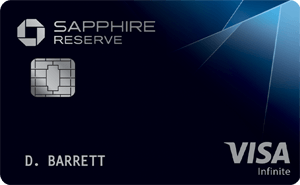 Apply Now
Chase Sapphire Reserve®
Annual Fee$550
Welcome Bonus Earn 60,000 bonus points after you spend $4,000 on purchases in the first 3 months from account opening. That's $900 toward travel when you redeem through Chase Ultimate Rewards®
Chase's flagship Ultimate Rewards card. You get a $300 travel credit, airport lounge access courtesy of a Priority Pass membership and industry-leading travel insurance benefits. New cardholders earn 60,000 bonus points after you spend $4,000 on purchases in the first 3 months from account opening.
Earn 60,000 bonus points after you spend $4,000 on purchases in the first 3 months from account opening. That's $900 toward travel when you redeem through Chase Ultimate Rewards®
$300 Annual Travel Credit as reimbursement for travel purchases charged to your card each account anniversary year.
Earn 5x total points on flights and 10x total points on hotels and car rentals when you purchase travel through Chase Ultimate Rewards® immediately after the first $300 is spent on travel purchases annually. Earn 3x points on other travel and dining & 1 point per $1 spent on all other purchases
Get 50% more value when you redeem your points for travel through Chase Ultimate Rewards®. For example, 60,000 points are worth $900 toward travel
1:1 point transfer to leading airline and hotel loyalty programs
Access to 1,300+ airport lounges worldwide after an easy, one-time enrollment in Priority Pass™ Select and up to $100 application fee credit every four years for Global Entry, NEXUS, or TSA PreCheck®
Count on Trip Cancellation/Interruption Insurance, Auto Rental Collision Damage Waiver, Lost Luggage Insurance and more
Member FDIC
10X points on Lyft rides through March 2025
10X points on hotels and car rentals purchased through Chase
10X points on Chase Dining (including prepaid reservations and prepaid takeout purchased through Chase)
5X points on airfare purchased through Chase
3X points on all other travel
3X points on dining at restaurants
1X points on all other purchases
However, the ability to save on meals using the Priority Pass restaurant benefits has saved us a lot. Since each AU is eligible for their own Priority Pass card, we were able to purchase $28 per person (X4), which meant we could order some items to go! This saved us $112 on this trip alone. In addition to the Sapphire Reserve $300 travel credit, we've also received over $320 in Priority Pass restaurant benefits since September.
While this wasn't free (you still have to tip), I'd say we received a decent value. Some might argue that many of these items are overpriced. I certainly would not have spent $112 for breakfast, but we still received a much higher value than the $30 tip we left. That wasn't the only credit I had either. We purchased $31 worth of snacks using up the remainder of my $100 incidental fee credits from the Amex Gold.
These were all items that saved us time until we could make a run to the grocery store. Yes, we used the kitchen!
Final Thoughts
While everyone values many of these benefits differently, we still were able to do something that we ordinarily would not have done. This was all due to travel award perks and benefits. Since we'd kept the trip expenses so low, we treated ourselves to a few things we usually wouldn't. We ordered food and beverages by the pool. Another evening, we didn't feel like leaving and ordered room service.
There are people out there who can afford to spend thousands of dollars per day on traveling/vacations. I'm not one of them, and you don't have to be either. Maximizing the benefits available to you right now can make trips like this possible because no one wants to pay full-price! Would you have done it differently?
AwardWallet Tip of The Day
Did you know that you can easily find out when any account was last updated? Click the
+ sign
next to the account and review the "Last successful update" date.
Show me how
Hide image
The comments on this page are not provided, reviewed, or otherwise approved by the bank advertiser. It is not the bank advertiser's responsibility to ensure all posts and/or questions are answered.