AwardWallet receives compensation from advertising partners for links on the blog. Terms Apply to the offers listed on this page. The opinions expressed here are our own and have not been reviewed, provided, or approved by any bank advertiser. Here's our complete list of Advertisers.
This promotion has ended; please review current/active promotions.
Travel is recovering quickly! If you need a few more miles to book a flight, you have a new bonus to consider. Now through June 30, 2021, you can get a 25% bonus when you transfer Hyatt and IHG points to American Airlines AAdvantage miles.
Promotions in past years have included several hotel partners—such as Marriott and Radisson. But unlike past promotions, this version only applies to Hyatt and IHG transfers.
Key Terms
The promotion is valid on transfers through June 30, 2021
You need to register for the promotion before transferring points
If you need to enter it at registration, the promotion code is HT621
Only valid for transfers from World of Hyatt or IHG Rewards to AAdvantage
Members must transfer at least 5,000 points to get the 25% transfer bonus
Without the promotion, 5,000 World of Hyatt points or 10,000 IHG Rewards Club points equals 2,000 AAdvantage miles. But after the 25% bonus, you'll get 2,500 AAdvantage miles. So, during the promotion:
5,000 World of Hyatt points = 2,500 AAdvantage miles
10,000 IHG Rewards Club points = 2,500 AAdvantage miles
This transfer bonus only applies to World of Hyatt and IHG point transfers. However, you can still transfer Marriott Bonvoy points to AAdvantage miles at standard transfer rates. Typically Marriot points transfer to AA at a ratio of 3:1. You'll also receive a 5,000-mile bonus for transferring at least 60,000 Marriott points. That means a 60,000-point transfer will yield 25,000 AAdvantage miles.
Is it Worth It?
World of Hyatt points
AwardWallet users have recently gotten an average of 2.24¢ per World of Hyatt point for redemptions. Since you'll only get 1 AAdvantage mile per 2 Hyatt points transferred during this promotion, you'll need to get a lot of value from your AAdvantage redemptions for it to make sense to transfer Hyatt points to AAdvantage miles.
World of Hyatt points quite valuable as Hyatt has reasonable award rates and some excellent sweet spots. World of Hyatt award nights start at just 5,000 Hyatt points per night. If those 5,000 Hyatt points were transferred to AA during this promotion, it'd yield just 2,500 miles. That's just one-fifth of the miles needed for a MileSAAver domestic award flight. Even in the best-case scenario, it's only one-half of the 5,000 AAdvantage miles needed for the cheapest domestic Web Special Awards that we've seen.
On the luxury end of the spectrum, you can stay at the Category 7 Park Hyatt Sydney for 30,000 points per night. Transferring 30,000 Hyatt points would yield 15,000 AAdvantage miles during this promotion. While you might be able to stretch the value of those miles through a Web Special, a night at the Park Hyatt Sydney is going to be more valuable for most travelers.
IHG Rewards points
The situation is just as bad when transferring IHG Rewards points. IHG points are less valuable than Hyatt points (AwardWallet users recently average 0.73¢ per IHG point), and they are easier to come by. However, the transfer ratio is not as good. Transferring 40,000 IHG points will yield just 10,000 AAdvantage miles with the promotion bonus. 10,000 AA miles is not going to yield much in terms of rewards, But on the other hand, 40,000 IHG points are enough for a night at several InterContinental properties around the world.
There's only one time when this promotion is really worth considering. If you are a few miles shy of a specific redemption with AA, then it could make sense to top off your account. Transferring a small number of points with the 25% bonus may be the best option for getting enough miles to book a reward flight.
Boosting Your AA Points Balance
If you need a larger amount of AAdvantage miles for an award, consider signing up for one of the AAdvantage credit cards. For example, the CitiBusiness® / AAdvantage® Platinum Select® Mastercard® is currently offering a 65,000-mile sign-up bonus after spending $4,000 in purchases within the first 4 months of account opening.
CitiBusiness® / AAdvantage® Platinum Select® Mastercard®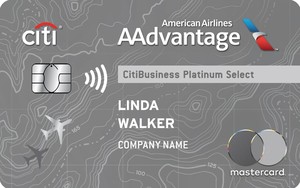 Learn More
CitiBusiness® / AAdvantage® Platinum Select® Mastercard®
Annual Fee$99, waived for first 12 months
Welcome Offer Earn 65,000 American Airlines AAdvantage® bonus miles after spending $4,000 in purchases within the first 4 months of account opening.
The AA Business Card is a great card to hold for any business owner that travels at least a few times per year with American Airlines. Get a free checked bag on domestic itineraries, priority boarding and a 25% discount on in-flight purchases.With these perks, it's easy to justify the annual fee of $99, waived for first 12 months.
Free checked bags for you and up to 4 companions on domestic itineraries
Priority boarding to help you win the race for overhead bin space
A 25% discount on inflight food, beverage, and Wi-Fi purchases
Earn 2X miles for every $1 spent on cable and satellite providers
Earn 2X miles for every $1 spent at gas stations
Earn 2X miles for every $1 spent on select telecommunications merchants
Earn 2X miles for every $1 spent on car rentals
Earn 2X miles for every $1 spent on eligible American Airlines purchases
Earn 1X mile for every $1 spent on all other purchases
Final Thoughts
Hyatt and American Airlines have deepened their partnership with crossover benefits for elites and elite status shortcuts. This has generally been positive for AA members that prefer Hyatt. However, this tie-up seems to have led to the elimination of several hotel partners and scaling back promotions with other hotel brands. It's good to see that AA is including IHG in this promotion. Still, while this month's transfer bonus is a good option if you are looking for a small points top-up, it's not worth it for a large transfer.
The comments on this page are not provided, reviewed, or otherwise approved by the bank advertiser. It is not the bank advertiser's responsibility to ensure all posts and/or questions are answered.