AwardWallet receives compensation from advertising partners for links on the blog. Terms Apply to the offers listed on this page. The opinions expressed here are our own and have not been reviewed, provided, or approved by any bank advertiser. Here's our complete list of Advertisers.
The Capital One Quicksilver Cash Rewards Credit Card is a mid-tier cash back card with an easy to understand rewards structure and no annual fee. The Capital One Quicksilver is perfect for cardholders who want reliable, consistent rewards and little hassle when it comes to redeeming the rewards they receive. Take a look and review the best features to decide if you need this card in your wallet.
Capital One Quicksilver Cash Rewards Credit Card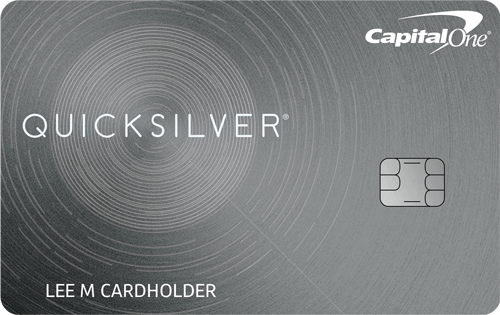 How to Apply
Capital One Quicksilver Cash Rewards Credit Card
Annual Fee$0
New Cardmember Bonus $200 Cash Back after you spend $500 on purchases within 3 months from account opening
$200 Cash Back after you spend $500 on purchases within 3 months from account opening
1.5% Cash Back on every purchase, every day.
No foreign transaction fees
$0 annual fee
1.5% Cash Back on every purchase, every day.
$200 New Cardmember Bonus
The Capital One Quicksilver is currently offering a new cardmember bonus of $200 after you spend $500 on purchases within 3 months from account opening. You are effectively getting 40% back on your first $500 in purchases. It's a one-time-only reward, and while $200 isn't the biggest welcome bonus available from Capital One, it's a pretty solid offer for a cash back rewards card with no annual fee and an affordable minimum spend.
Receive Solid, Consistent Rewards
Capital One Quicksilver cardholders will earn a steady 1.5% back on every dollar spent, in every category, all the time. You don't have to register with any account, there is no limit to the rewards that you can receive, and your points never expire. Simple!
The rewards earned using the Capital One Quicksilver can be redeemed for cash back at any time. Whether you are saving for a big event or just want to cash in your rewards each month for a statement credit (or get a check in the mail), you have plenty of flexibility.
If you're looking for a travel-focused rewards credit card with fantastic bonus categories, you can see our top picks on this page.
No Annual Fee
One of the best features of the Capital One Quicksilver is that it charges no annual fee, ever. This makes it a very attractive card for those looking for an everyday credit card with no hidden costs.
Track Your Credit
Capital One has jumped on board offering customers free access to credit scores via their monthly statements or online. This makes it easy to keep track of any changes and stay on top of your credit score before there is a problem. Or, you can enjoy watching your credit score rise as you are building up your credit.
Perfect for Building Credit
The Capital One Quicksilver is ideal for someone looking for solid rewards at no cost. It is a great card for building credit and receiving cash back. With no limits, you can receive a 1.5% discount, essentially, on all of your purchases. This might not seem like much, but if you use your card for everyday purchases (and pay off the balance each month), you will find that you build up a tidy little sum that you can redeem for statement credit or cash back whenever you want, all the while building your credit score.
Our Take
Capital One is proud of its "no hassle" policy. The Capital One Quicksilver is certainly among the best beginners cards Capital One has to offer. Receive cash back rewards, pay no annual fee, pay no foreign transaction fees, and get cash back or statement credit any time that you want to redeem your points.
This card is wonderful for helping to establish or build credit, and the simplicity of the redemption process makes it great for anyone who doesn't want to go through complicated redemption processes and portals to get great deals.
You can get better deals and travel perks with a travel-focused card like the Chase Sapphire Reserve®, but the Capital One Quicksilver stands out as a perfect credit card for cardholders who are just getting started on their rewards journey.
AwardWallet Tip of The Day
Did you know you can filter the accounts in your AwardWallet profile by program? If you want to view only a subset of your loyalty accounts tracked by AwardWallet, use the Accounts Filter to display only the accounts you're interested in at the moment.
Show me how
Hide image
The comments on this page are not provided, reviewed, or otherwise approved by the bank advertiser. It is not the bank advertiser's responsibility to ensure all posts and/or questions are answered.