AwardWallet receives compensation from advertising partners for links on the blog. Terms Apply to the offers listed on this page. The opinions expressed here are our own and have not been reviewed, provided, or approved by any bank advertiser. Here's our complete list of Advertisers.
Southwest Rapid Rewards® Plus Credit Card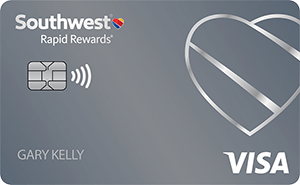 Apply Now
Southwest Rapid Rewards® Plus Credit Card
Annual Fee$69
Welcome Bonus Earn 40,000 points after you spend $1,000 on purchases in the first 3 months.
Earn 40,000 points after you spend $1,000 on purchases in the first 3 months. Plus, earn 3X points on dining, including takeout and eligible delivery services, for the first year.
3,000 bonus points after your Cardmember anniversary each year.
Earn 2 points per $1 spent on Southwest® purchases.
Earn 1 point per $1 spent on all other purchases.
All points earned count towards Companion Pass.
No blackout dates or seat restrictions.
Your points never expire, a benefit of the Rapid Rewards® program.
2X points per $1 spent on Southwest® purchases and Rapid Rewards® Hotel and Car Rental Partner purchases
1X point per $1 spent on all other purchases
The Southwest Rapid Rewards® Plus Credit Card is one of three personal Rapid Rewards earning credit cards offered by Chase Bank. New cardmembers can earn 40,000 points just for signing up for the card and meeting the minimum spend requirements, and all of those points count towards the coveted Southwest Companion Pass.
Southwest's loyalty program, Rapid Rewards, is a revenue-based frequent flyer scheme, so unlike traditional programs like Alaska's Mileage Plan, the cost of an award flight in points is tied directly to the cash price of the ticket. While that leaves less room to manipulate point values than a traditional mileage-based program, it does provide a firm value on which to calculate the cost of rewards travel goals.
The Southwest Plus Card is a great card for frequent flyers living in any of Southwest's hubs, and also for anyone trying to attain one of the most valuable perks in the industry, the Southwest Companion Pass.
Welcome Bonus
Earn 40,000 points after you spend $1,000 on purchases in the first 3 months. Plus, earn 3X points on dining purchases for the first year.
While there are other rewards credit cards offering similar signup bonuses, the Southwest Plus Card offers some unique advantages.
An annual points bonus on cardholder anniversary that comes very close in value to covering the annual fee. Lowering the out-of-pocket expense if you use those points every year.
There is also the advantage of being able to receive the signup bonus more than once. If you have previously had the Southwest Plus Card, and subsequently closed it due to a change in circumstance or having focused your travel goals elsewhere. You can obtain the signup bonus again after 24 months.
As per the T&C's:
"The product is not available to either (i) current Cardmembers of any Southwest Rapid Rewards® Credit Card, or (ii) previous Cardmembers of any Southwest Rapid Rewards Credit Card who received a new Cardmember bonus within the last 24 months. This does not apply to Cardmembers of the Southwest Rapid Rewards Business Card and Employee Credit Card products."
3,000 Bonus Points Each Account Anniversary
You receive 3,000 bonus Rapid Rewards points every year after your account anniversary, worth roughly $45/50 depending on how you value Southwest points. This effectively drops the annual out-of-pocket expense of the card to $20/30 if those points are redeemed in full each year.
No Blackout Dates, Bags Fly Free & No Change Fees
Southwest deserves its reputation as an airline providing exceptional value, particularly when compared to the three big legacy carriers.
Award flights booked using your Rapid Rewards points have no blackout dates, so you have the freedom to travel when you want, not when the airline has enough free space.
Bags Fly Free® – Your first two checked bags are free (subject to size/weight restrictions). This benefit alone could potentially save between $50/100 per flight.
And perhaps one of the most overlooked and under-valued benefits in rewards travel, Southwest charges no change fees if members need to make changes to an award ticket.
Receive Visa Signature Benefits
As a Visa Signature, cardholders receive multiple benefits simply for possessing the card, including Auto Rental CDW, Baggage Delay coverage, and Lost Luggage Protection. While the benefits are not as strong as some in the Chase Visa family, such as the Chase Sapphire Preferred® Card, for a card that attracts only $69 in annual fees, it offers significant protections for when the travel experience turns a little pear-shaped.
Does the Card Have Any Downsides?
The card has two features that leave it at a slight disadvantage to some of its competition:
Final Thoughts
While the Southwest Plus Card can't compete with the premium travel rewards cards that offer significant perks and charge a higher annual fee, it's a fantastic low-cost card that would suit any Rapid Rewards member looking for a low-fee travel rewards credit card. Bear in mind before applying this card is subject to Chase's 5/24 rule.
Offering a valuable signup bonus for its price point, the Southwest Plus Card will earn you 40,000 points after hitting the minimum spend, which can translate into a significant amount of travel if you play your cards right!
AwardWallet Tip of The Day
Did you know that you have a personal referral link in your AwardWallet profile? If you invite people to AwardWallet using your referral link, you will receive an AwardWallet upgrade coupon for every five members you invite. Also, if these users ever purchase an upgrade, we will credit your AwardWallet account with AwardWallet Bonus points, which can be redeemed for points and miles in your program of choice. We spend roughly 50% of the revenue we receive from those referrals to purchase those miles for you. All of this can be tracked via the
Invite to AwardWallet widget
in the left navigation bar on your
Accounts
 page.
Show me how
Hide image
The comments on this page are not provided, reviewed, or otherwise approved by the bank advertiser. It is not the bank advertiser's responsibility to ensure all posts and/or questions are answered.