AwardWallet receives compensation from advertising partners for links on the blog. Terms Apply to the offers listed on this page. The opinions expressed here are our own and have not been reviewed, provided, or approved by any bank advertiser. Here's our complete list of Advertisers.
Offers for the Marriott Bonvoy™ American Express® Card are not available through this site. All information has been independently collected by AwardWallet and has not been reviewed or provided by the card issuer. Some offers may have expired. Please see our card marketplace for available offers.
Capital One Rewards do not expire as long as your account is in good standing. If you close your account, you will lose any rewards that have not been redeemed. This applies to miles rewards and cash rewards.
The single most important thing to remember with Capital One Rewards is that if you close your account (and haven't transferred your points to an airline partner), your points will be lost. If you are considering the closure of an account, ensure you drain your balance using fixed-value redemptions or convert your points to airline miles to prevent losing your rewards. Remember, when you earn rewards with Capital One, they're kept with Capital One unless you transfer them to partners.
Capital One Rewards are stored differently than the rewards that you might earn with the Marriott Bonvoy™ American Express® Card. Rewards earned on a monthly basis with the Marriott Bonvoy Amex are deposited into your Marriott Rewards account. While they're earned in a similar manner to the rewards you'd earn from the Capital One Venture Rewards Credit Card, by everyday use of your credit card, Capital One deposits those rewards into a Capital One Rewards account whereas American Express deposits the Marriott points into your Marriott account. Those deposited Bonvoy points are then in your Marriott account, and the points expiration policy is dictated by Marriott. You could close your Marriott Bonvoy Amex at any time, and it would have no impact on the points you've earned.
Capital One Venture Rewards Credit Card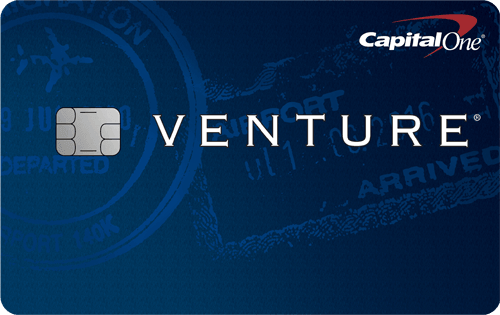 How to Apply
Capital One Venture Rewards Credit Card
Annual Fee$95
Welcome Offer Earn 60,000 Miles once you spend $3,000 on purchases within 3 months from account opening.
Following the revamp of Capital One's rewards program and the addition of airline transfer partners, the Capital One Venture has catapulted into our list of top travel rewards cards. The ability to earn 2X miles on every purchase provides a decent return on spending. Plus the card offers some great perks.
Earn 60,000 Miles once you spend $3,000 on purchases within 3 months from account opening; worth $600 in travel if redeemed for a fixed-value, or potentially much more when transferred to airline partners
2 Miles on every purchase
Fee credit for Global Entry or TSA Pre✔® (up to $100)
No foreign transaction fees
$95 annual fee
2 Miles per dollar on every purchase, every day.
What Happens if you Close a Credit Card?
If you close a credit card, the rewards associated with that card are lost. If you earn miles using the Venture or Spark Miles cards, you can transfer your points to airline miles prior to closing your card so you don't lose your rewards points.
What About Expiration Due to Inactivity?
Many rewards programs have points that expire due to inactivity; however, that is not the case with Capital One Rewards. If you're ever concerned about points expiring, or somehow losing your rewards, call the number on the back of your card to address your particular concern.
AwardWallet Tip of The Day
Did you know you can filter the accounts in your AwardWallet profile by program? If you want to view only a subset of your loyalty accounts tracked by AwardWallet, use the Accounts Filter to display only the accounts you're interested in at the moment.
Show me how
Hide image
The comments on this page are not provided, reviewed, or otherwise approved by the bank advertiser. It is not the bank advertiser's responsibility to ensure all posts and/or questions are answered.