AwardWallet receives compensation from advertising partners for links on the blog. Terms Apply to the offers listed on this page. The opinions expressed here are our own and have not been reviewed, provided, or approved by any bank advertiser. Here's our complete list of Advertisers.
The Ink Business Unlimited® Credit Card features a stellar welcome bonus and earns an unlimited 1.5% cashback on every purchase. While that combo alone would be an excellent value for a product with no annual fee, this card has the potential to be the most valuable business card in your wallet when paired with another card in the Ultimate Rewards family.
Ink Business Unlimited® Credit Card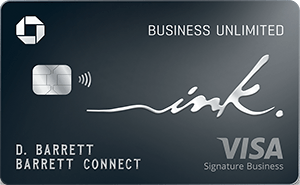 Apply Now
Ink Business Unlimited® Credit Card
Annual Fee$0
Welcome Bonus Earn $900 bonus cash back after you spend $6,000 on purchases in the first 3 months from account opening.
The best business card to earn Ultimate Rewards on non-bonus purchases, you receive a $900 cash back bonus after you spend $6,000 on purchases in the first 3 months from account opening. Earn 1.5% back on all business expenses.
Earn $900 bonus cash back after you spend $6,000 on purchases in the first 3 months from account opening
Earn unlimited 1.5% cash back on every purchase made for your business
No Annual Fee
Redeem rewards for cash back, gift cards, travel and more through Chase Ultimate Rewards®.
Earn rewards faster with employee cards at no additional cost. Set individual spending limits for greater control.
Round-the-clock monitoring for unusual credit card purchases
With Zero Liability you won't be held responsible for unauthorized charges made with your card or account information.
0% introductory APR for 12 months on purchases
Member FDIC
Earn unlimited 1.5% cash back on every purchase made for your business
On its own, the Ink Unlimited offers simple cashback with a fixed rate of return. But what makes this card unique is the fact that you can combine the rewards you earn with other Chase points that can be transferred to hotel and airline partners and redeemed at a much higher value.
If you hold any of these cards, you gain access to Ultimate Rewards transfer partners and the ability redeem points through the Chase travel portal for 25-50% more savings than the cashback value of the Ink Unlimited card on its own.
Ink Unlimited Signup Bonus
New cardholders of the Ink Unlimited earn $900 bonus cash back after you spend $6,000 on purchases in the first 3 months from account opening. That $900 is equal to 90,000 Ultimate Rewards if consolidated into the account of a premium Ultimate Rewards earning card it is potentially worth a lot more once transferred to Ultimate Rewards travel partners like United MileagePlus, Singapore KrisFlyer, or Hyatt.
Ink Unlimited Earning Potential
The Ink Unlimited features no bonus categories, instead, earning 1.5% cashback on all purchases, with no cap on the cashback you can earn. As a standalone card, those points can be redeemed for 1¢ each as cashback or towards travel through the Chase Travel Portal, so at face value, the card earns less than the class-leading business cash back cards which earn 2% on every purchase.
But if you have one of the other Ultimate Rewards cards mentioned previously, your rewards become exponentially more valuable. When viewed as a companion card, the Ink Unlimited fills the gaps the other Ink cards don't cover:
The Ink Business Cash® Credit Card features 5% cash back at office supply stores and on cellular phone, landline, internet and cable TV services and 2% cash back at gas stations and restaurants on the first $25,000 spent in combined purchases each account anniversary year.
The Ink Business Preferred® Credit Card earns 3x points per $1 on the first $150,000 spent in combined purchases on travel, shipping purchases, Internet, cable and phone services, and advertising purchases made with social media sites and search engines each account anniversary year.
But both of these cards earn only one point per dollar on purchases outside the bonus categories. The Ink Unlimited steps into that void, providing a solid 1.5% cashback on all purchases with no annual limit.
Feature Benefits
As a no-annual-fee rewards card, the Ink Unlimited doesn't feature the long list of benefits like its more expensive business or consumer cousins. But it does offer some perks that may come in handy if you don't have coverage on another card.
Auto Rental Collision Damage Waiver – A standout feature of many Ultimate Rewards earning cards is that Auto Rental CDW is primary coverage, even when renting a car in the US, rather than secondary coverage offered on similar cards from Amex, Citi, and other providers. When you rent for business purposes, you can rest easy knowing that you're covered with primary CDW auto insurance.
Travel and Emergency Assistance Services – Help is just a phone call away when you're away from home, call your Benefits Administrator when you run into trouble, and they will connect you with the best medical/legal referrals available, or any other assistance you require.
Roadside Dispatch – A benefit few cardholders are aware of in most instances, Roadside Dispatch will connect you to a local roadside service company to help with tire changes, lockouts, fuel delivery, or a jump start.
Purchase Protection – Covering new purchases for up to 120 days from the day of purchase. Cardholders are covered up to $10K per claim ($50K per account) against damage or theft of newly purchased items.
Extended Warranty Protection – Extends new U.S. manufacturer's warranties for one extra year, on eligible warranties of three years or less.
Application Restrictions
When Chase dropped the press release announcing the Ink Unlimited, you could almost hear the collective groan of despair from all those folks sitting over 5/24. Like all of Chase's in-house rewards cards, the Ink Unlimited is subject to Chase's 5/24 policy, which restricts new card applications to applicants with less than five new personal card accounts opened in the previous 24 months. While the card is subject to 5/24, as a business credit card, it won't count towards your 5/24 status. Don't know if you'll qualify for a business credit card? You may already be eligible and not know it!
Final Thoughts
Chase has listened to its customers, supplying the perfect card to fill that non-bonus expenses gap and compete with The Blue Business® Plus Credit Card from American Express which earns 2X Membership Rewards® on everyday purchases up to the first $50K each year, then 1x.
While the earn rate is less on the Ink Unlimited, we rate Ultimate Rewards a little more valuable than Membership Rewards, and the fact there is no cap on earning points allows business owners to continue maximizing points on every purchase well past the cap imposed on the Blue Business Plus. Pair the Ink Unlimited with the Ink Preferred, and you have a formidable Ultimate Rewards earning combo of cards for your business.
AwardWallet Tip of The Day
You can choose to store all of your loyalty account passwords locally on your device, instead of storing them in our secure database. If you choose this option, you can (and should) periodically back them up into a file. In the event that you delete your cookies, these passwords will be deleted. With a proper backup, you'd be able to safely restore from that backup file.
Show me how
Hide image
The comments on this page are not provided, reviewed, or otherwise approved by the bank advertiser. It is not the bank advertiser's responsibility to ensure all posts and/or questions are answered.