AwardWallet receives compensation from advertising partners for links on the blog. Terms Apply to the offers listed on this page. The opinions expressed here are our own and have not been reviewed, provided, or approved by any bank advertiser. Here's our complete list of Advertisers.
Offers for the Alaska Airlines Visa® Business card are not available through this site. All information has been independently collected by AwardWallet and has not been reviewed or provided by the card issuer. Some offers may have expired. Please see our card marketplace for available offers.
Offers for Bank of America cards mentioned in this post have been updated as of 08/26/2023
Despite a rather small route network confined to the Americas, the Alaska Airlines Mileage Plan program is a favorite among frequent flyers. We've gone so far as to crown Mileage Plan as AwardWallet's favorite frequent flyer program. This is due in large part to the Alaska Mileage Plan sweet spots that you can book with your miles.
Although Alaska Airlines is the fifth largest carrier in the United States, its frequent flyer program punches above its weight class. Alaska Mileage Plan partners with dozens of airlines around the world — including all Oneworld member airlines. The award booking process is simple, and the program offers some excellent premium cabin award sweet spots. It's clear why so many travelers gravitate towards the Mileage Plan program.
In this post, we'll highlight some of the best sweet spots for redeeming Alaska Mileage Plan miles for maximum value.
Note that Alaska recently changed how it displays its award chart (see the new one here). And we've unfortunately seen some negative changes to award pricing since the program moved to a consolidated chart. One of the worries is that Alaska will slowly roll out more devaluations. However, there are still some excellent Alaska Mileage Plan sweet spots. It might be worth booking them now, before further losses, so let's look at what they are.
Alaska Airlines Mileage Plan Airline Partners
One of the main reasons Mileage Plan remains such a popular program is the lengthy list of airline partners on which members can book award flights. After Alaska Airlines joined the Oneworld Alliance in March 2021, Mileage Plan members have enjoyed a greater array of partner airlines they can book using miles. You can now earn and/or redeem Alaska miles with 28 airline partners.
Of those 28 partners, Mileage Plan members can redeem their miles for award travel on 24 airlines. Best of all, almost all of these partner awards can be booked online at alaskaair.com. The remaining four partners are "earn only" when you book their flights at alaskaair.com.
Here is a list of all Mileage Plan partners as of June 2023:
Topping Off Your Alaska Mileage Plan Account
Travelers have several options to add to their Alaska Airlines Mileage Plan account balance. This includes excellent personal and small business credit cards, the extensive list of partners on which you can earn Mileage Plan miles, and the ability to transfer points from other programs.
Earn through flying
Mileage Plan members can earn miles when traveling on partners that include American Airlines, British Airways, Japan Airlines, Qatar Airways, and more. Members also can earn miles through the Alaska Airlines shopping portal, dining portal, and with a long list of hotel and car rental partners.
Transfer points
If you have a rather large points and miles balance with other major programs, you may be able to transfer them to your Mileage Plan account. Here are some of the transfer partners that allow members to transfer their points or miles to their Alaska Airlines Mileage Plan account:
Related: Alaska Airlines Mileage Plan: A Complete Guide
Alaska credit cards
As previously mentioned, Alaska Airlines offers both a personal and business co-branded credit card. Both cards offer new cardholders the opportunity to earn bonus Mileage Plan miles after qualifying spend and continue to earn miles on everyday purchases. For personal use, Alaska Airlines offers the Alaska Airlines Visa® credit card. For business use, Alaska Airlines offers the Alaska Airlines Visa® Business card.
Here's a current look at the welcome bonuses available for new applicants:
Alaska Airlines Visa® credit card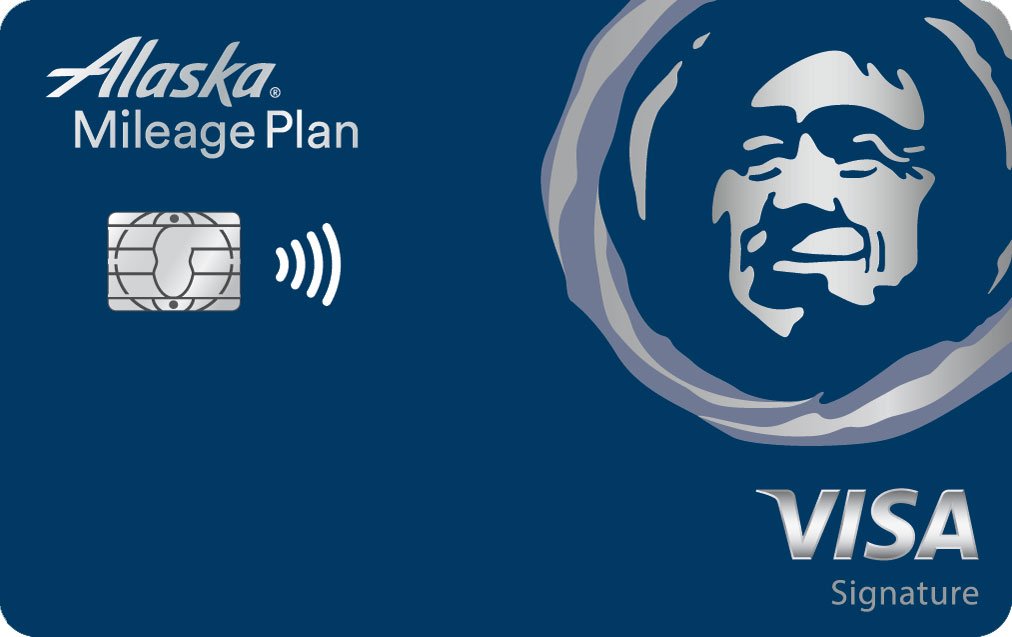 How to Apply
Alaska Airlines Visa® credit card
Annual Fee$95
Welcome Bonus LIMITED TIME ONLINE OFFER - Buy One Get One is Back! Alaska's Famous Companion Fare™ + 40,000 Bonus Miles. Buy one ticket, get one for just the taxes and fees ($0 fare plus taxes and fees from $23) and get 40,000 bonus miles with this offer. To qualify, make $3,000 or more in purchases within the first 90 days of opening your account.
Earn 3 miles for every $1 spent on eligible Alaska Airlines purchases
Earn 2 miles for every $1 spent on eligible gas, cable, streaming services and local transit including ride share purchases
Earn 1 mile for every $1 spent on all other purchases
Alaska Airlines Visa® Business card
Alaska Airlines Visa® Business card
Annual Fee$70 for the company and $25 per card
Welcome Bonus Get 50,000 bonus miles, $100 statement credit and Alaska's Famous Companion Fare™ ($99 fare plus taxes and fees from $23) after you make $3,000 or more in purchases within the first 90 days of opening your account.
Buying Alaska miles
Alaska Airlines also runs regular promotions that offer up to a 50% bonus when purchasing Mileage Plan miles. During these promotions, purchasing miles is a great way to top off your account for that dream award redemption. We do not recommend speculatively buying miles without a plan to use them, however.
Tip: Mileage Plan Miles don't expire as long as you keep your account active. Keeping your account active includes earning or redeeming at least one mile in a 24-month period. If your account goes inactive, you'll still have another year to reactivate your account before losing your miles.
Best Alaska Mileage Plan Sweet Spots
Whether you're hoping to redeem miles for a luxe trip in first class across the globe or a last-minute domestic flight in coach, redeeming Alaska Airlines Mileage Plan for award tickets can yield excellent value.
In recent AwardWallet redemptions, Mileage Plan miles have provided an average of 2.57¢ per mile. However, the exact value depends on what type of award you book:
Short-haul economy: 1.17¢ per mile
Long-haul economy: 1.33¢ per mile
Short-haul business/first: 3.8¢ per mile
Long-haul business/first: 4.39¢ per mile
One of the best features of the Mileage Plan program is the ability to book awards with a stopover on one-way awards. Some mileage programs don't even allow one-way awards, let alone stopovers on one-way awards. The ability to add two additional destinations to a round-trip award adds huge value to Alaska awards. There are some restrictions in terms of stopover destinations, however.
You can add a stopover to most award tickets. But what are the Alaska Mileage Plan sweet spots in terms of value? Without exact award charts anymore, they're more difficult to identify (and some have disappeared altogether). But based on our searches, here are some of the best.
U.S. West Coast to Nadi, Fiji (stopover) to Australia or New Zealand in business class: 55,000 miles + $54
Fiji Airways awards using Alaska Mileage Plan miles remain one of the best ways to fly business class to the South Pacific. You can fly to Sydney, Melbourne, Brisbane, or Auckland for just 55,000 miles one-way. The best part? Add in a stopover in Fiji for no extra miles. This is actually a great way to make this award work at all, given the generally few-and-far-between award space on the U.S.-Fiji routes.
The Fiji Airways A350 business class cabin looks stellar. More than once, I've booked a ticket to fly the cabin; sadly, I've had to cancel each time. Business is the way to go if there is award space. However, you can fly in Fiji Airways economy for 40,000 miles from the US to either Australia or New Zealand — and still add a stopover in beautiful Fiji.
United States to Hong Kong (stopover) to Asia or Middle East in Cathay Pacific first class: 70,000 miles + $60
Booking an award from the United States to Hong Kong and then onward to the Middle East is a fantastic way to maximize the value of your miles. However, as you might imagine, finding award availability for this routing is a challenge. Award space was already limited, but post-COVID, both business- and first-class award seats on Cathay are nearly impossible to snag. Still, if you're lucky, you can book this routing from just 62,500 in business class or 70,000 in first class.
United States to Germany in Condor business class: 55,000 miles + $48
Condor is a small leisure carrier based in Germany, operating a handful of routes between Germany and the Americas. While the airline wasn't previously known for offering an amazing business-class product, this has changed in recent years. Condor recently unveiled a new business product on par with many larger and more well-known competitors.
Mileage Plan members can book business class flights between North America and Europe for an affordable 55,000 miles. This award redemption is one of the lesser-known and most underrated options offered to Mileage Plan members, creating great sweet spots on a quality product.
U.S. to South America in LATAM business class: 45,000 miles + $19
Given that LATAM is now a major Delta partner, I've been surprised how long these awards have stuck around. It used to be difficult to book awards such as Los Angeles to Santiago, Chile, as you had to call to see if there was award space. However, you can easily book tickets online now. A nearly 11-hour flight in business class for 45,000 miles is an excellent deal.
Asia to Europe in Finnair business class: 60,000 miles + $58
This is one of the best uses of Alaska Mileage Plan miles that doesn't touch the U.S. Travelers can fly between Asia and Europe in Finnair business class. That's a spectacular price, especially due to the current Russian airspace closure. Hong Kong to Helsinki rings in at over 14 hours of flying.
United States to Australia in Qantas business/first class: 55,000/70,000 miles + $60
We'll be completely blunt about this redemption: Finding Qantas business class availability is a challenge. And finding first class award availability is close to impossible. Qantas first class from the U.S. to Australia is considered a unicorn of the award travel world.
However, Qantas business class award availability can exist. Taking advantage of Mileage Plan's generous routing rules, you could book Sydney as your stopover destination and continue onward to Perth on a single award, paying just 55,000 miles for over 10,000 miles in Qantas business class (considering the entire route). It jumps to 70,000 Alaska miles for a ticket in first class.
United States to Europe in Finnair business class: 70,000 miles + $19
While a little pricier when compared to the other options on this list, Finnair's new business-class product makes this a worthwhile redemption. Business class award availability on Finnair's routes between the U.S. and Finland can be hit or miss, however.
A flight from Los Angeles (LAX) takes over 10 hours, making this a great deal if you can find award space.
U.S. West Coast to Tokyo in Japan Airlines business class: 60,000 Miles + $19
Mileage Plan awards on JAL are one of the devaluations the program has experienced since rolling out a combined award chart. From the West Coast, the prices are still the same. However, flying to Japan from the rest of the country is now more expensive. Departing Dallas, you'll pay 80,000 miles.
What's interesting is that you can connect in the East Coast or Midwest and still pay the West Coast price. Given the general lack of JAL award space, this might be the only way to snag a seat at times.
If you can find first class award space, flights from the West Coast are still a good deal at 85,000 miles. This is a jump from the previous 70,000 miles price —  but still a good use. JAL first class is top-notch.
Cheap domestic flights within North America – or last-minute tickets
Alaska Airlines utilizes a distance-based award chart for domestic flights. Here's how Alaska Airlines breaks down domestic award pricing:
Hop: Flights less than 700 miles start at 5,000 Alaska miles
Skip: Flights between 701 and 1,400 miles start at 7,500 Alaska miles
Jump: Flights between 1,401 and 2,100 miles start at 10,000 Alaska miles
Leap: Flights over 2,101 starting at 12,500 Alaska miles
Last-minute flights can be a great use of miles. Here's an example: Available for just 12,500 miles, this last-minute flight is currently selling for over $300 one-way. That's over 2.4 cents per mile on a simple economy award!
The West Coast stopover trick
Additionally, Alaska Airlines allows travelers to add stopovers on most domestic itineraries. As is the case with any distance-based award chart, the key is to use this to your advantage. If you live in an Alaska hub, you can use a "stopover" to essentially get half of two trips for the price of one. Consider the following itinerary if you live in Seattle. You can use one ticket to book a return segment from New York (coming home from your vacation there), continuing on to Hawaii weeks later (to start your vacation there).
Related: Alaska Airlines Flight Pass Now Comes with Elite Status, But There's a Catch
Final Thoughts
With some of the best premium cabin award sweet spots of any frequent flyer program in the world, Alaska Airlines Mileage Plan deserves its place at the top of our list of favorite award travel programs. With partners that include American Airlines, British Airways, Cathay Pacific, Japan Airlines, and Qatar Airways, there are plenty of ways to redeem Mileage Plan miles for travel across the globe.
You can earn miles with Alaska Airlines co-branded credit cards, on eligible flights, or by transferring points or miles from other accounts to your Mileage Plan account. Plus, Mileage Plan miles won't expire so long as you keep your account active. Now that some of our favorite sweet spots have disappeared and others have gone up in price, you might consider booking one of these sooner than later.
What's your favorite Alaska Mileage Plan sweet spot?
AwardWallet Tip of The Day
Did you know that you can easily find out when any account was last updated? Click the
+ sign
next to the account and review the "Last successful update" date.
Show me how
Hide image
The comments on this page are not provided, reviewed, or otherwise approved by the bank advertiser. It is not the bank advertiser's responsibility to ensure all posts and/or questions are answered.